Extract Data From Lotus Notes Database to Excel – Tested Solution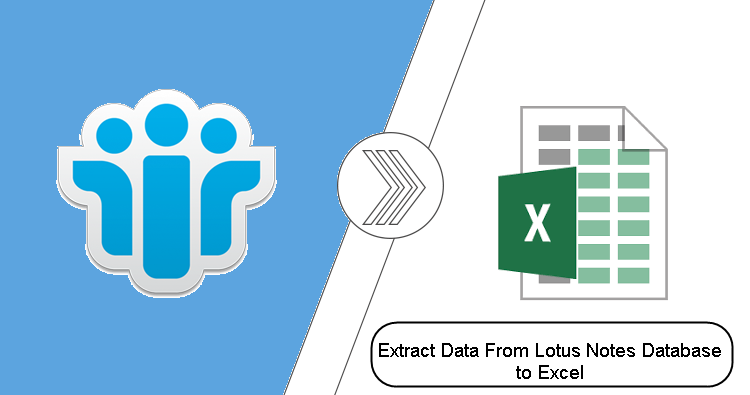 We all know that Lotus Notes is known as one of the most popular are secure emails clients that provides a wide range of security and data encryption features. But sometimes these encryptions and security make things worst like you can share the NSF file with anyone else.
So, when you need to share the file then there is no option available that can help you in order to share Lotus Notes emails, contacts, and other data items. Now in this situation, users start seeking the way to solve the problem.
Now, this type of need arises the query of how to extract data from Lotus Notes database to Excel. Hence, there are many users seeking for a solution to export the Lotus Notes database to Excel because the CSV format is one the most popular and one of the most used file formats.
Moreover, this file format stores all types of data in tabular form. So most of the users choose this file format over others. Along with all these reasons the are also some more reasons that force users to this extraction process.
Reasons to Move Data to Excel
As previously stated, the Excel file format saves its data in comma-separated fields, making data retrieval from Excel files quite simple. However, there are other explanations as well, which are listed below:
The nicest thing about Excel files is that they can be opened on any platform, including a computer, tablet, laptop, or mobile phone.
Excel files use far less capacity, making sharing considerably easier and quicker.
Users can back up their data using the Excel file format.
Now that you know why users want to export Lotus Notes data items to Excel, you can go on to the next step. Let's go on to the next step in the conversion procedure.
How to Extract Data From Lotus Notes Database to Excel
When it comes to converting Lotus Notes data to Excel format, you may do it for free and without spending any money. It means that you may manually convert Lotus Notes.nsf files to CSV for free. So, without further ado, here are the procedures for finishing this project.
Before you begin the procedure, the most important step is to create a backup of your data. Because if something goes wrong during the operation, you may immediately recover your data from the backup.
Manual Steps to Extract Data from Lotus Notes to Excel
1. First, open the Lotus Notes on your machine.
2. When the email client has opened, select File from the Drop-Down menu.
3. Then, to convert the file to CSV, select the Export option.
4. Now, a pop-up window appears, allowing you to choose a name and save the location for the converted database.
5. Then, from the Save As go to the Drop-Down menu, select the file type.
6. Select the option that best suits your needs from the Export dialogue box, then click the OK button.
7. You'll be able to see your converted files at your target location after the process to extract data from Lotus Notes database to Excel.
The Manual Method's Limitations
Although the preceding technique is free and does not need any payment, it does have certain limits, which are listed below:
The first drawback of this strategy is that it has problems, such as the ability of non-tech users to do this activity on their own.
All database elements from NSF files could not be transferred.
During the conversion of the NSF database to Excel , there's a potential you'll lose data integrity.
This method is unable to transform many data items in bulk.
Now, every user is asking themselves, "If the manual procedure has restrictions, what is the ideal solution for this conversion?" The solution to this question is as follows:
Professional Way to Extract Data From Lotus Notes Database to Excel
We've observed that the preceding manual technique has several limitations, making this job time-consuming and long for novice users. To make the task easier, we'll examine an automated alternative in this part. NSF Converter is a program that allows you to save Lotus Notes databases in a variety of file formats. Users may save Lotus Notes data items in a variety of formats, including Lotus Notes NSF Files to MBOX, CSV, MSG, EML, HTML, PDF, and TXT.
Users may also use this utility to convert Lotus Notes contacts or names.nsf files to different vCard formats (vCard 2.1, 3.0, and 4.0). Now that you've learned about the tool's capabilities and benefits, let's look at how it works.
Working Steps of the Tool
1. First, downlaod and install the utility on your machine.
2. After the installation, Open the tool.
3. Now, to add the NSF files Select the NSF File(s) radio button and click on the Add File(s) or Add Folder option.
4. After that choose the Export Format CSV.
5. Choose the Data Items Categories like mails, contacts, calendars, and tasks.
6. From Advance Settings choose options like HTML Formatting, Internet Header, and others.
7. Select the Destination location to save the converted database.
8. Once all settings are, done click on the Export button to complete the task to extract data from Lotus Notes database to Excel.
Also, Read Lotus Notes Related Queries
Final Word
Will this be the time to warp up the things, Here in this blog we have introduced the way to extract data from Lotus Notes. Basically, due to limitations of methods many users are not able to complete the task. Hence, this blog will provide you with the manuals as well as automated methods to extract data from Lotus Notes database to Excel.