Use the Easiest Methods to Unlock PDF Form For Editing
Stuck in a PDF file-related problem, looking for a solution or the easiest way to unlock PDF form for editing? Here is the easiest, most efficient, and most affordable solution for you! And you WON'T need any permission password for it.
PDF files can be restricted to perform any editing on it. This is called owner-level security. If you are using the Adobe Acrobat application you will need a permission password to unlock owner-level security from PDF. One such situation arises when the user has to edit a PDF form. Sometimes its fields are locked and users find a hard time filling those fields.
Portable Document Format is the most preferred format for archiving, sharing, and printing documents in any organization or industry. Hence, you should try this automated tool that is designed to remove all types of PDF restrictions.
Best Solution to Unlock PDF Form For Editing
Use SysTools PDF Restrictions Unlocker which is the best Offline PDF Security Remover Software. It comes with advances features and can be easily install on Windows an Mac OS. Some of the highlighted features are mentioned below to unlock PDF file to edit:
– It doesn't requires Permission Password to remove restrictions.
– Removes all kinds of PDF restrictions.
– Available for both Windows & Mac.
– Preserves PDF formatting and attachments.
– Removes document open password as well, also known as user-level security.
– It can instantly process a large number of PDF files.
– Provides an inbuilt option "Print" the resultant files.
– Removes 128 (AES & RC4) / 256 bit AES encryption.
– Compatible with all the versions of Portable Document Format.
– Adobe Acrobat Installation is NOT required.
How to Unlock PDF Form For Editing Using The Tool?
The tool is quite easy to operate, just follow these instructions and you will be able to unlock your PDF forms without any hassle:
1. Install and launch the software on your system.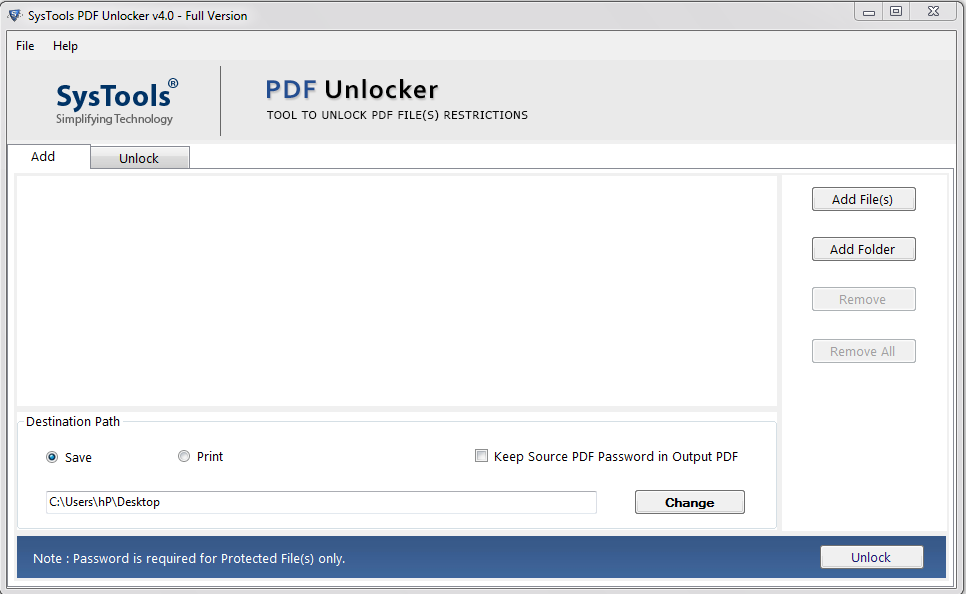 2. Click on Add Files / Add Folder buttons to insert restricted PDF forms.
3. Click on the "Change" button to provide the saving location for the resultant PDF forms. You can even choose to print the PDF form by selecting the "Print" radio button.
4. Lastly, click on the "Unlock" button Unlock PDF form for editing.
Your PDF Form is now Unlocked! Now you can do any desired modification to the document. You can try PDF Form Filler to easily OPEN, EDIT, & FILL PDF forms. This tool can also edit or insert in form which is secured with protection password.
Also Read: Learn How to Add Page Numbers to PDF Without Acrobat
The Bottom Line
The discussed software is the best security remover for PDF documents. Millions of users and thousands of organizations across the USA, UK, Australia, China, France, India, Japan, Russia, etc. are using the tool to unlock PDF form for editing and other PDF restrictions like printing, signing, editing, etc.