Migrate Email From One Platform to Another – 2021 Best Email Migration Tool
If you have ever tried to transfer anything from one platform to another you know; while it sounds simple, in truth, it can be a complex, time-taking, painful experience.
No matter how much data you are migrating (small or big), finding a method that can help you is a challenge. It is due to the fact that email migration can be a risky task as data can be lost in between.
Maybe you've tried to migrate data from one mobile device to another and know what I mean. But when you check in the destination device you will see lesser data. What happens? Your original device data size doesn't match with the destination device? It means the data is lost during the migration process.
Sadly that a similar problem occurs while manually migrating email from one platform to another.
Manual methods can handle the few plain email transfer tasks just fine. But when you need to migrate multiple data with emails – such as attachments, contacts, calendars, documents – the chances of data loss gradually increase and you might lose your important data.
The worst thing is, you will never know what data is lost until it's too late. It requires experience and expert observation to notice the loss.
Hello! We are about to migrate from Office 365 platform to Google Suite platform. I was wondering what is the best email migration tool.

I know about the Google Data Migration service, but it only seems to use for email migration. Migrating contacts & calendars is quite harder and no support for Google Drive d ata migration.

Any advice? I am not much a technical expert, so please suggest a simpler tool for migrating emails from one platform to another. Thanks in Advance!
Two Migration Methods—Which do You Choose?
For the Cloud users, there are only two migration methods in front of them which are:
1. A free Solution: All cloud platform provides the option to migrate some other Cloud platform users to their platform.
If you have a lot of time and technical knowledge and don't mind losing some of your data then along the way… then, sure, this method might work for you.
2. Paid Professional Solution: When is no matter of money, but instead of 100% migration success, then you should go to the route of choosing Best Email Migration Software.
Email migration task is complex and requires skill and many hours in the process. But, all these workloads can be reduced by a quality tool.
With SysTools, you can get the best email migration tool to solve all types of migration problems.
Solution For Migrating Email From One Platform to Another
The professional solution is provided by the Experts who are skilled and invested time in creating a professional tool for the migration. The most renowned tool is SysTools Migrator, which is an all-in-one migration utility for all cloud platform migration. This Email migration tool can also transfer calendars, contacts, documents of multiple users from one cloud platform to another. Additionally, it provides a filtering and mapping option during the migration process.
Download Software Purchase Now
Top Benefits
Accurate & Reliable: The migration tool is suggested by the Migration Experts as the 100% secure and most reliable utility for email migration.
Multiple Platform Migration: Tool is integrated with multiple cross-platform migrations, such as G Suite, Office 365, etc.
Save Time: Thanks to the user-friendly interface of tool which provides a quick migration process.
Save Money: A single utility for multiple cloud platform migration.
Incremental Migration: After completion of migration once, in the next attempt, it only migrates new and updated data.
Filters: The Email migration tool provides two filters: Category and Date Filter; for selective data migration.
Multiple Mapping option: Multiple sources and destination user mapping option for fast and easy migration of emails and other data.
Generates Migration Report: The migration report helps the user in understanding data that has been migrated successfully – with detailed explanation.
Choose to migrate emails from one platform to another:
Quick Migration Steps:
For migrating email from one platform to another platform, follow the steps below:
1. First, Launch the Cloud Migration Tool & Activate it.
2. Then choose the desired Source and Destination platform for migration.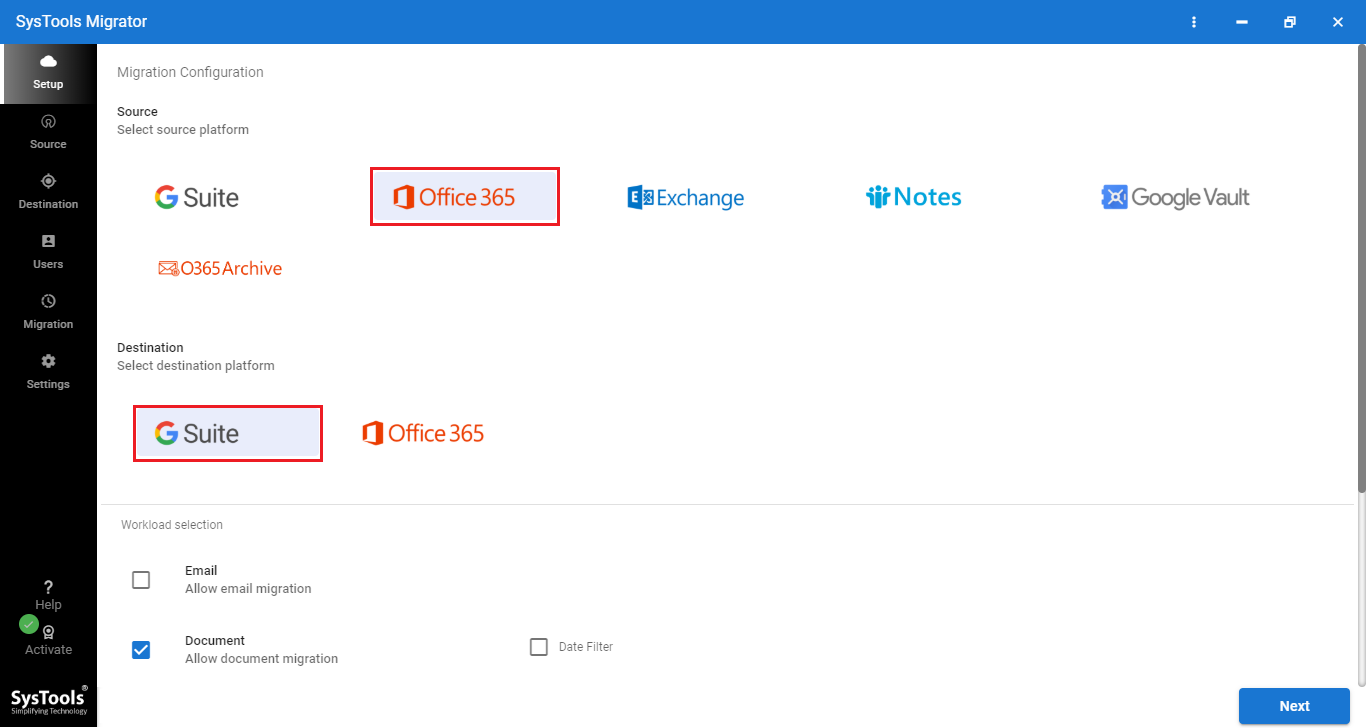 3. Select the Category as "Email" and Set Date-range filter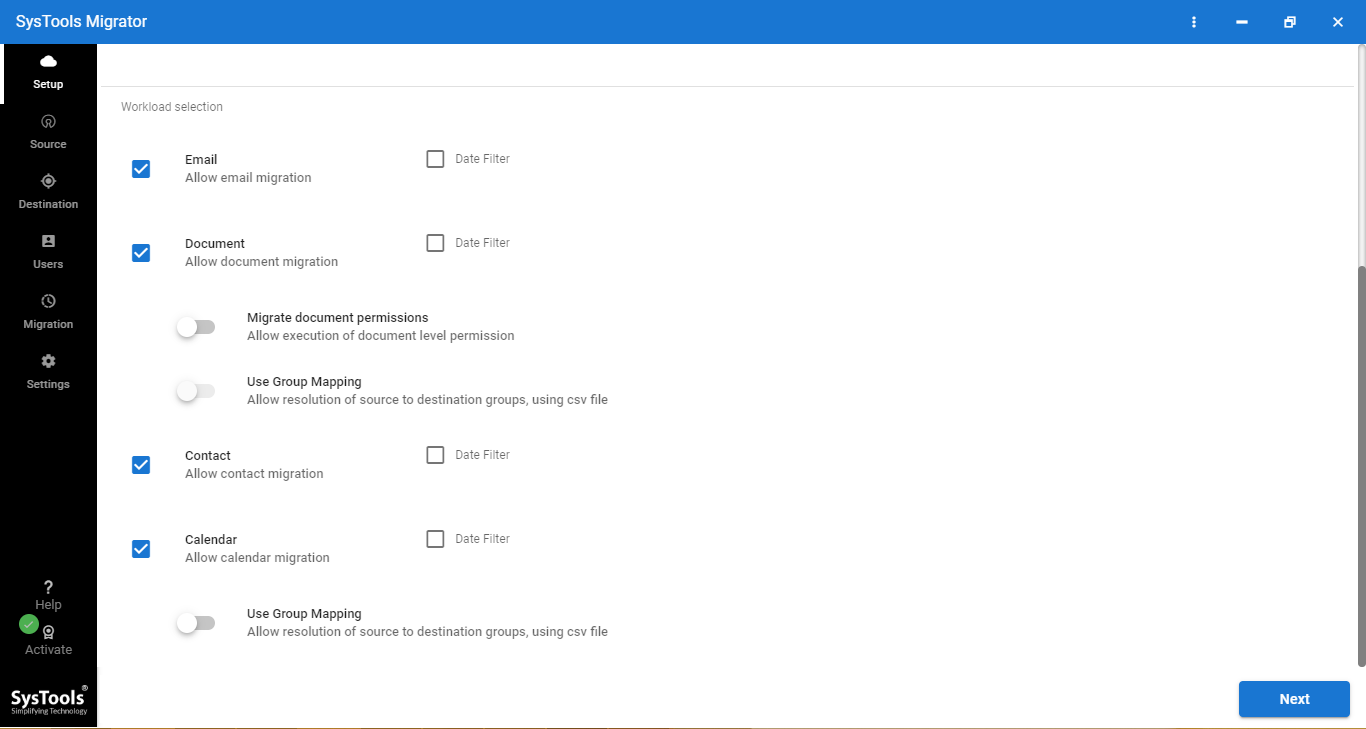 4. Enter Source Admin Id, Application Id, and click on the Validate button.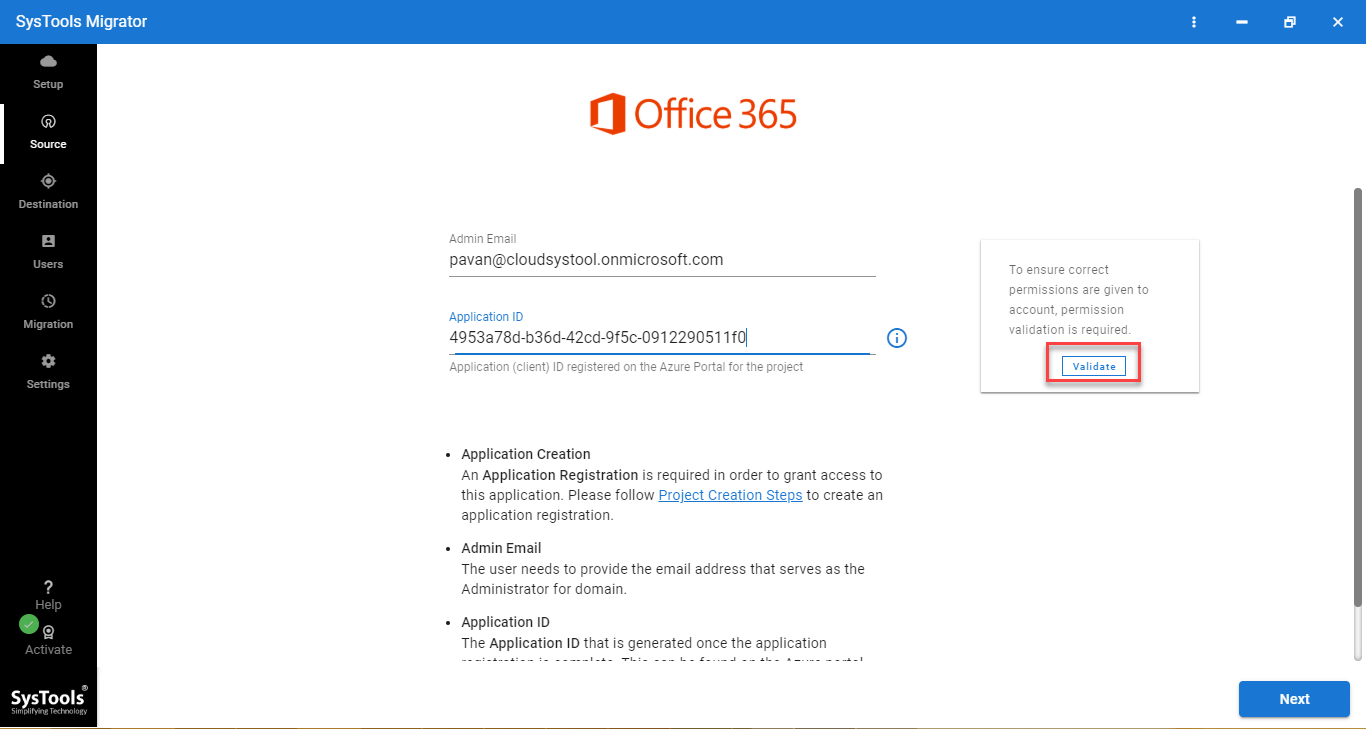 5. For Destination, enter Admin Id, Application Id, and Validate.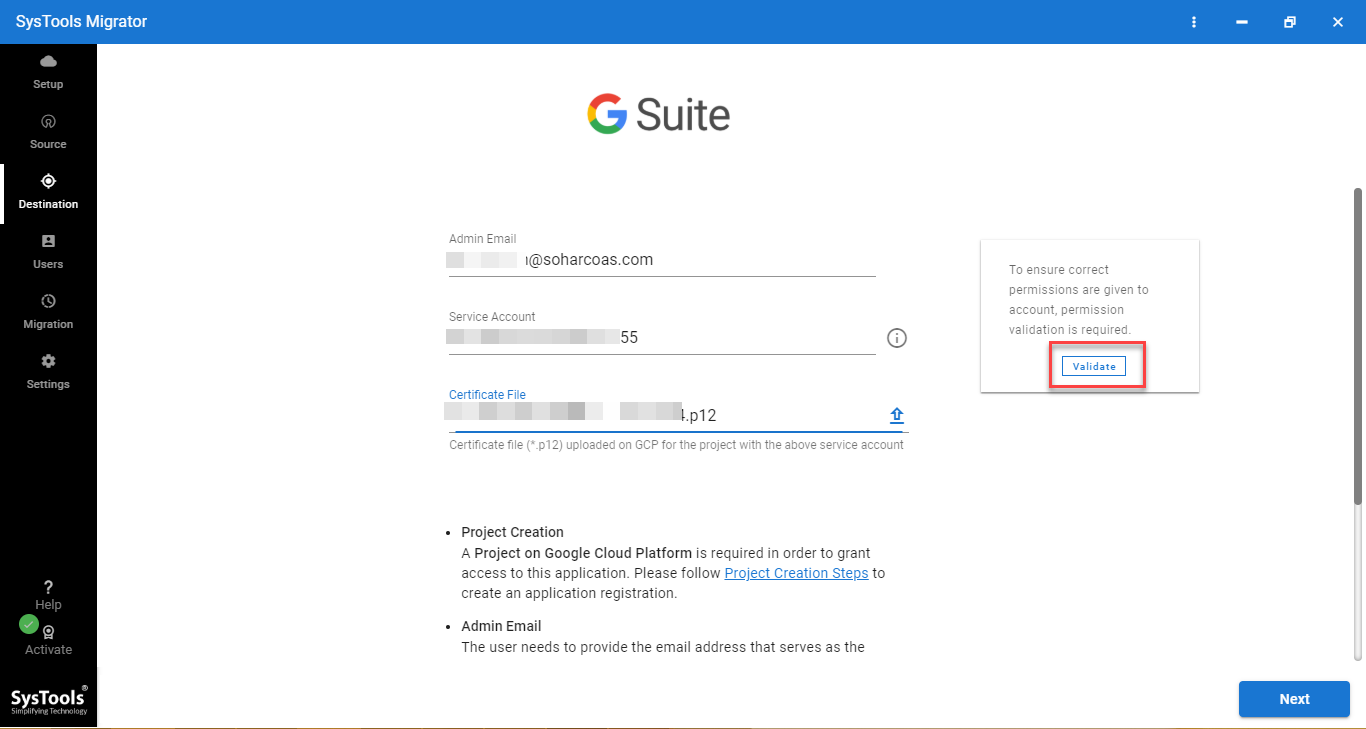 6. Choose the option for source and destination mapping.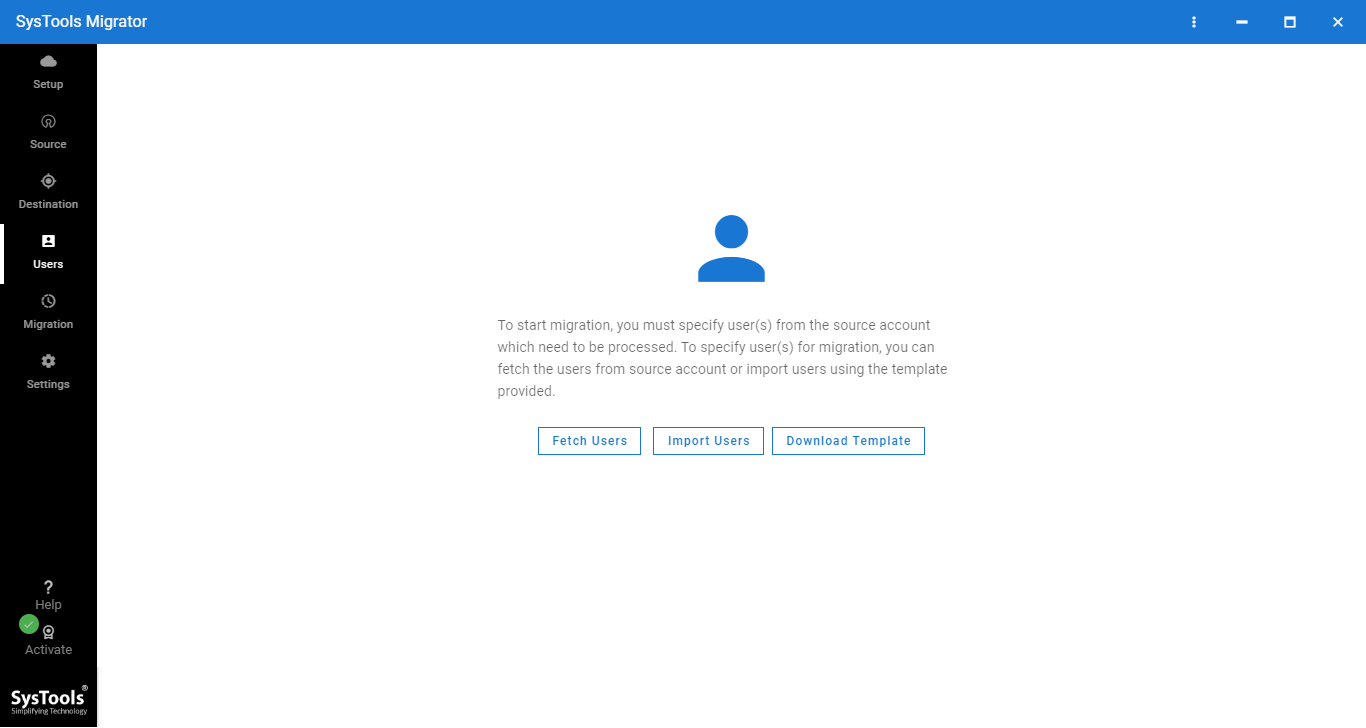 7. Select the Users accounts for migration and Apply Priority.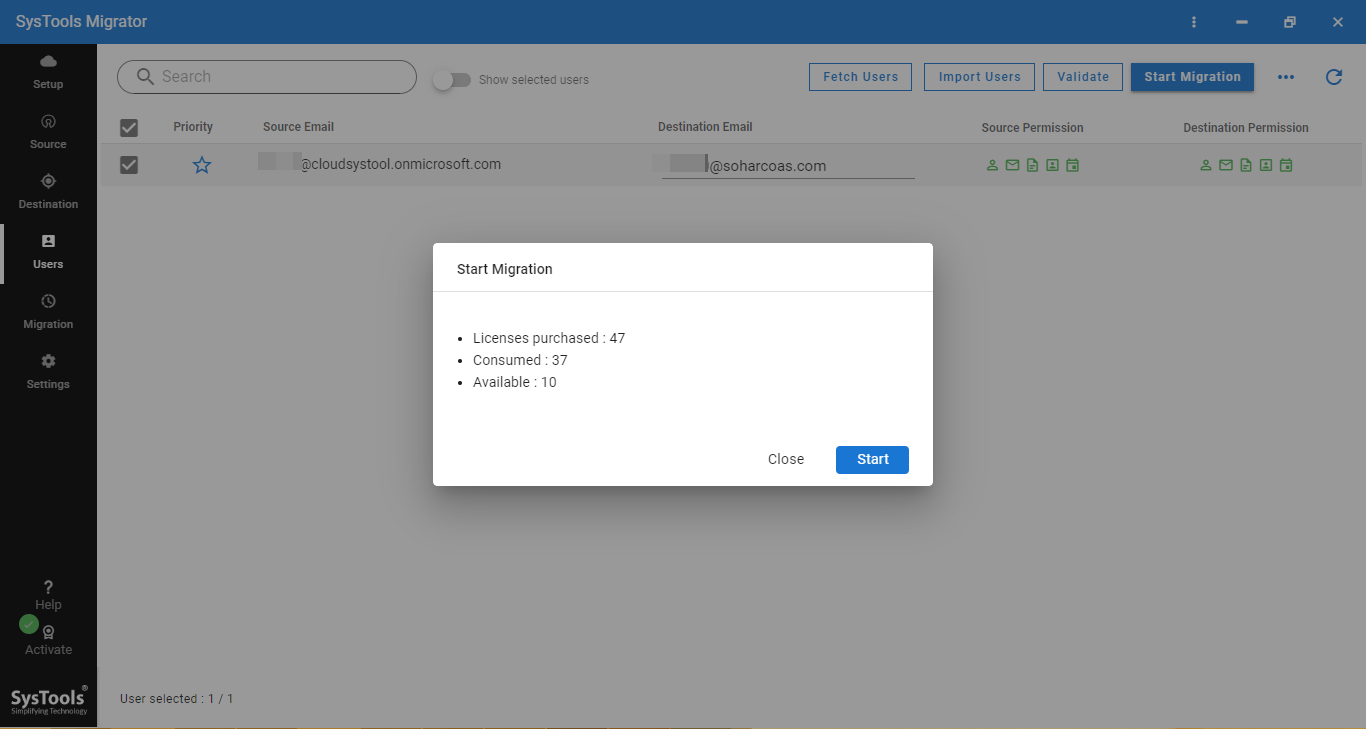 8. Click on the Validate button to authentication of Accounts and then click on the Start Migration button.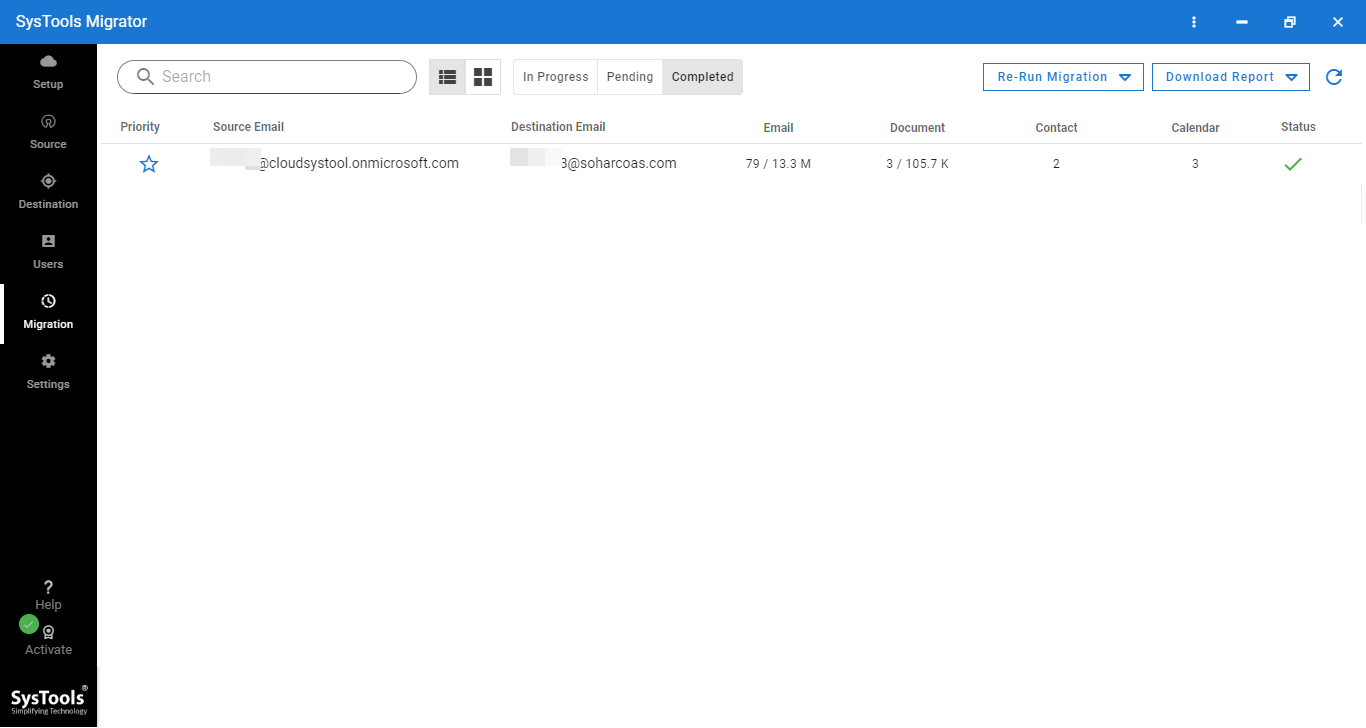 Conclusion
Migrating email from one platform to another platform can become a risk task and could lead to data corruption if proper techniques are not used. In this blog, we have suggested the best email migration tool provided by SysTools, which is known for its excellent service for its users. The migration tool mentioned above is tested and recommended by the MVPs and Expert for 100% migration success. Don't think too much, first try the free demo version of the tool for testing. The demo version comes up with 2 licenses with no limitations.