Google Takeout Extractor to Convert Google Takeout Files to Multiple Formats
Got a bunch of files after downloading Google data via its Takeout service, but unable to understand how to use it in your applications? Well, no worries, here you get the best-in-class Google Takeout extractor wizard to help you convert Google Takeout mailbox into several formats. Plus, know what other file formats signify and how to use them.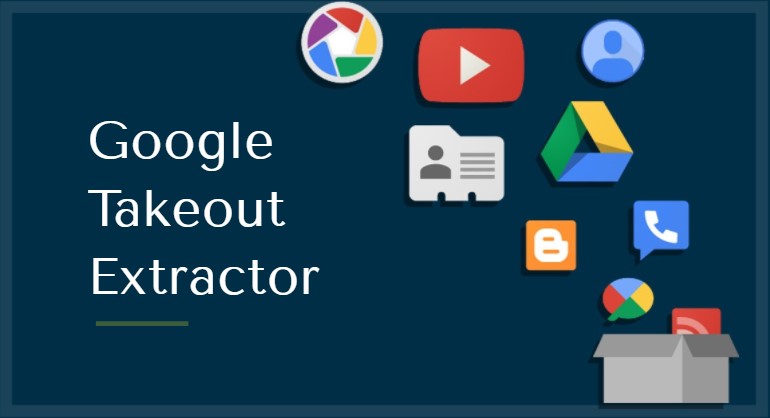 Of course, knowing how to extract Google Takeout files is the first priority.
So, let us get started.
How to Extract Google Takeout Files?
It depends on the file you got from the Takeout service.
If it's a ZIP File (ends with .zip extension):
First, you need compatible applications to decompress and extract ZIP file contents. Some popular examples are WinRAR, 7zip, Winzip, etc. In fact, if you have Windows XP & above OS, you can directly unzip this file:
Right-click on the ZIP file.
Select Extract All.
Voila! It's done. All the compressed data is now extracted in the folder.
If it's a TGZ File (ends with .tgz extension):
TGZ requires a compatible application. Some examples are Winzip, WinRAR, 7zip, etc. Remember that this file is known as TAR file. So any extractor that supports TAR will do. Once you have the compatible application, do the following:
Double-click the TGZ file.
Click on the required Extract option.
Save the extracted files in the preferred destination path.
Now that you have extracted the Google Takeout file and can see all of its content, it is time to take a look at the Google Takeout converter.
Download Google Takeout Extractor for Windows & Mac
You can download the free version of the Google Takeout extractor from below. This free trial version allows you to export the first 25 emails from the Takeout MBOX file. Of course, full conversion without limitations is also available. But, you will need the full version license for that.
Google Takeout converter comes in 2 variants separated by OS:
Windows-oriented tool extracts data into 6 formats: PST, PDF, EML, MSG, NSF, and HTML.
Mac Oriented tool extracts data into 9 formats: PST, PDF, EML, EMLX, MSG, HTML, CSV, MHT, and TXT.
Click to scroll down to the Mac section.
So choose as per your requirements.
Features of Google Takeout Extractor
A simple interface to cater to the needs of both technical and non-technical users.
Ability to view and read Google takeout data before conversion.
Process the Takeout MBOX file of any size big or small without hassle.
Naming convention and split file feature available for selected extract formats.
Supports multiple Takeout MBOX files at once.
Preserves the data integrity, formatting, and attached files.
Option to convert Google Takeout MBOX to PDF, EML, PST, MSG, and other formats.
Here's how to extract Google Takeout mailbox files:
1. Run the Google Takeout converter on your Windows machine and click on the Add File button from the ribbon bar.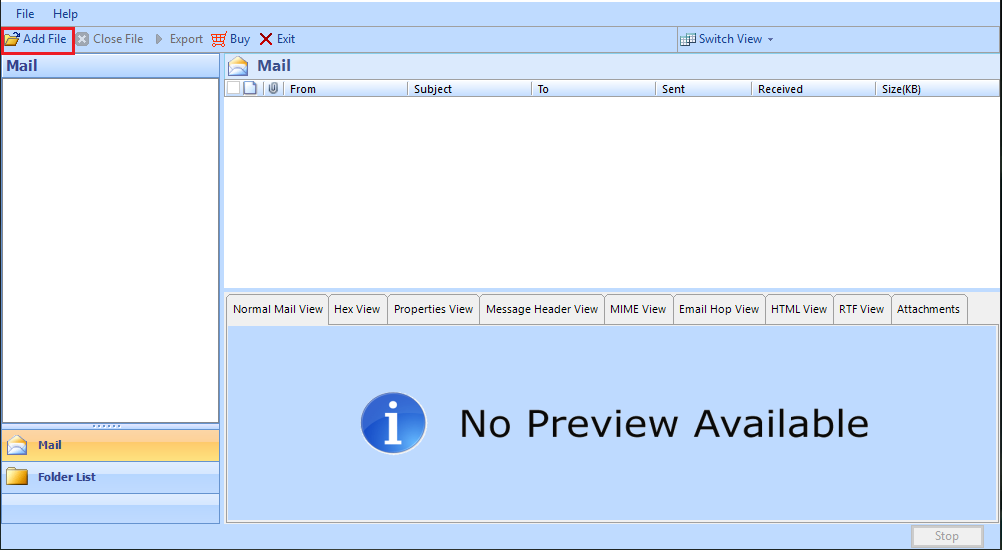 2. Then, keep the default options and click on the Next button to proceed.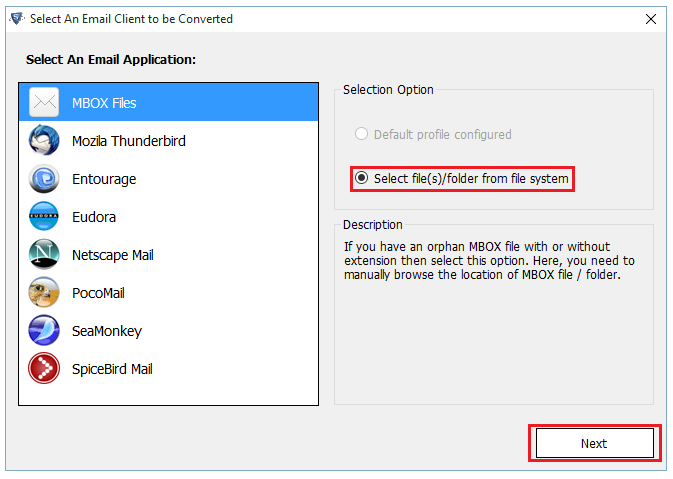 3. Now, browse and add the Google Takeout MBOX file, then click the Process button.

4. After that, the software will scan and preview all the Google Takeout email messages. Here, to proceed click on the Export button from the ribbon bar. Alternatively, if you want to extract only specific email messages, then you can mark the checkboxes and right-click >> Export option.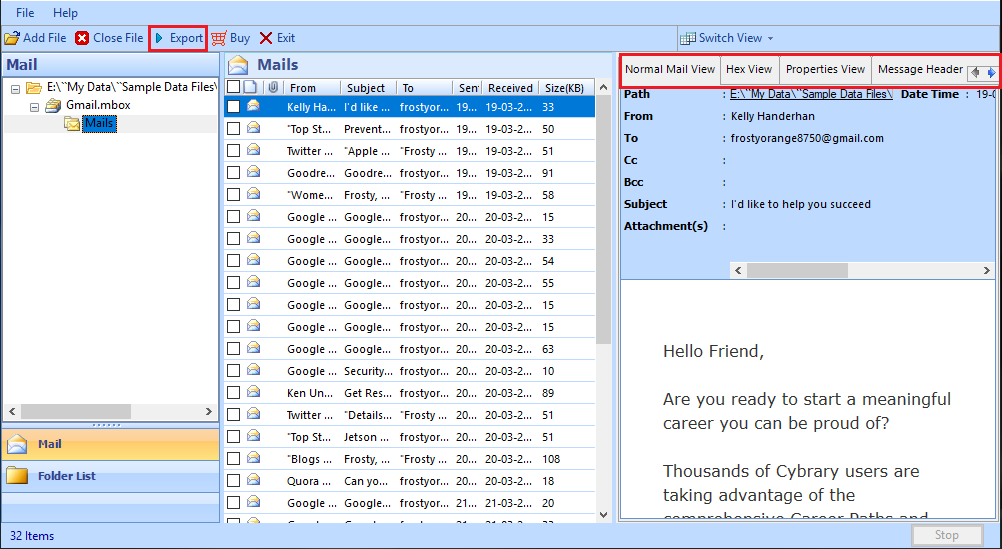 5. Select the desired file format and apply advanced settings such as name convention, split file, page size, margins, etc., according to the selected format.
6. Change the destination location to where you want to save the converted data, and click on the Export button to start the conversion process.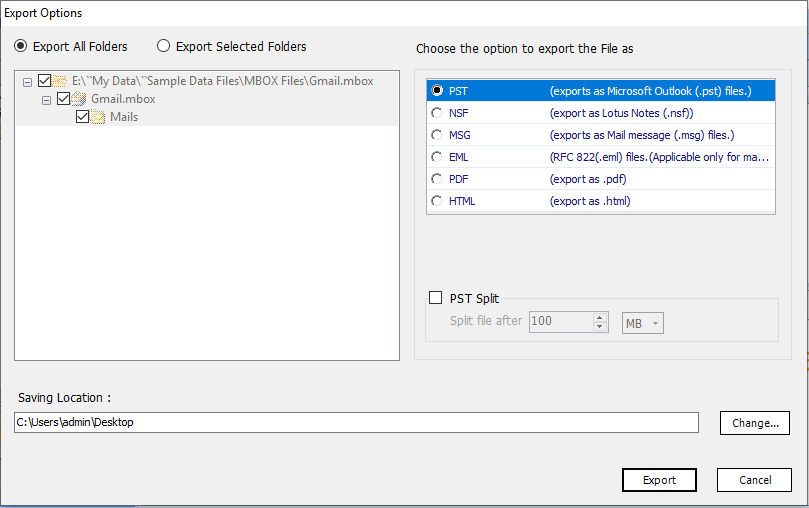 Google Takeout Extractor for Mac
Your one-way solution to preserve the folder structure and get Gmail Takeout's mailbox in the required format.
Google Takeout converter software is also available for Mac OS X 10.8 and all the above versions.
Steps to Extract Google Takeout to Other Formats:
Step 1: Start Google takeout extractor program.
Step 2: Click "Add Files" to add Takeout MBOX file.
Step 3: Select the extract format.
Step 4: Click "Export" to start exporting Google Takeout file.
Google Takeout Files Other Than MBOX
Takeout provides the ability to take backup of almost every Google application's data. But the stuff that one would truly want to import into another program is limited. We will focus on the ones that generate the most queries on the internet.
ICS file – Google Calendars are extracted in ICS format. Since it is the standard format for calendars, almost all email applications support importing of ICS calendars.
VCF file – Google Contacts are extracted in VCF format. Many major email applications have the option to open VCF contacts like Gmail contacts, MS Outlook, Thunderbird, Mac mail, etc.
Drive folder contains the documents saved in your drive.
Chrome folder contains the bookmarks page that you can import into any Chrome profile.
Conclusion
Extracting Google Takeout files is easy once you are aware of the compatible methods. And if you want to convert Google Takeout mail data, then you already know the best tool to do so: Google Takeout Extractor. It will easily process your files regardless of the file size. Also, you can rest assured that you will not lose any information whether attributes, attachments, or formatting during the conversion process.