How to Export MBOX to MSG – Batch Conversion
Know the proper step-by-step method to convert MBOX to MSG files with screenshots. You can use this method to gain individual messages files for all the emails inside the MBOX files. It also allows converting multiple MBOX files at once into the MSG format. Afterward, read the messages in Outlook 2019, 2016, 2013, 2010, 2007 & 2003 or simply use a free MSG viewer for it.
MBOX file is a simple yet efficient mailbox file format to store multiple email messages in a single file. Email clients like Thunderbird and Apple Mail use different types of MBOX files to store their emails and attachments.
But, the world is not limited to just this email format. MBOX messages can sometimes be exported to other file formats, such as MSG. However, without a thorough understanding of the technical components of file conversion, data loss occurs. To avoid such problems, we'll show you how to convert MBOX files to MSG files in this article.
Let's look at an example of two user queries:
"Hello, I've been using Apple Mail for the last four years of my work career." I recently started working for a company that uses Microsoft Outlook for emailing and event management. As a result, I'll also have to convert to Outlook. My current emails are in MBOX format, and I'd like to convert them to an Outlook-readable format. MSG files, according to what I've heard, are Outlook compatible. Is there a way to convert MBOX to MSG? Any recommendations would be greatly appreciated."
"I have to send out inbox files to my clientele on a continuous basis in this field of work." The majority of the time, MBOX and EML files will suffice. However, some folks prefer MSG files, which can be difficult for a Thunderbird user such as me. I'm at a loss on what to do about this and would love to find a means to convert MBOX emails to MSG files."
MBOX emails must be converted to MSG files, as evidenced by user requests. Let us now turn our attention to how to create MSG files and the technical components of such a conversion.
How do I convert MBOX files to MSG?
MSG files are not supported by any MBOX email client (such as Thunderbird or Mac Mail). You can retrieve email messages in various formats, such as PDF, HTML, and CSV, by using several alternatives. However, there is no means to obtain MSG files.
Because there are no native alternatives for converting MBOX to MSG, some software applications are used. MBOX Converter, a sophisticated program for batch converting files into MSG format, is our recommendation for this work. If you are a Thunderbird user, it can automatically retrieve the email client data from your computer without any user action. It also allows users to add MBOX files based on their needs.
You can download a free trial version of the program to see how simple it is to use. The demo version's only restriction is that it can only convert 25 emails per folder from MBOX to MSG. Aside from MSG, this program can convert MBOX to PST, EML, PDF, NSF, and HTML.
A 5 Step Process to Export MBOX Emails to MSG
Step 1: Start MBOX Converter and click Add File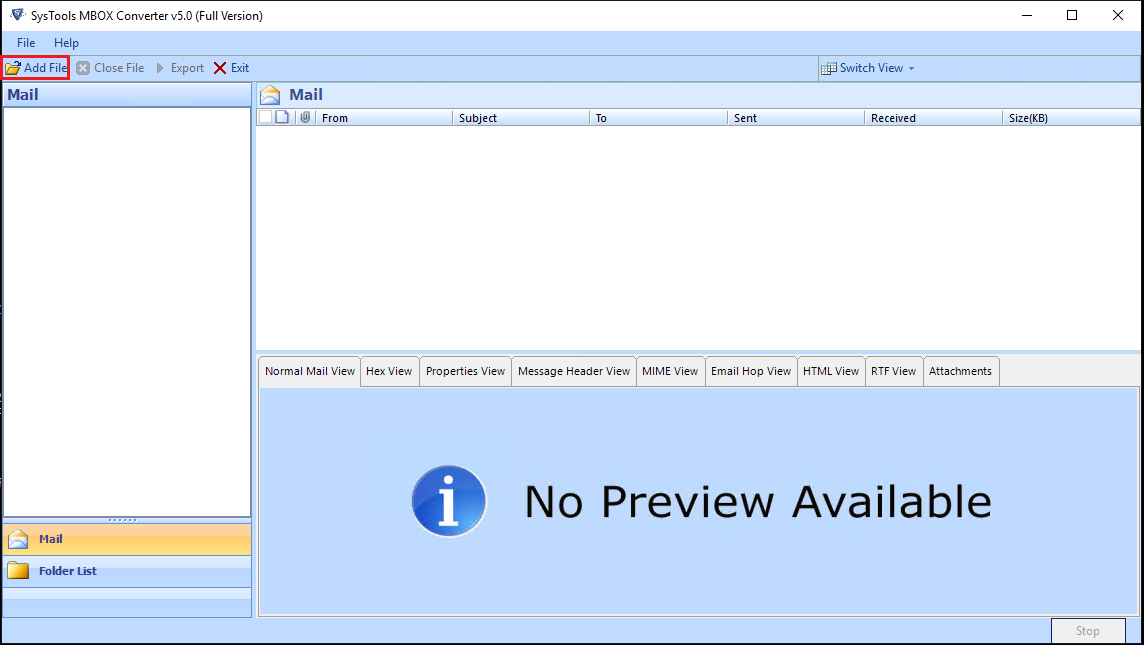 Step 2: Select MBOX Files and choose Next button.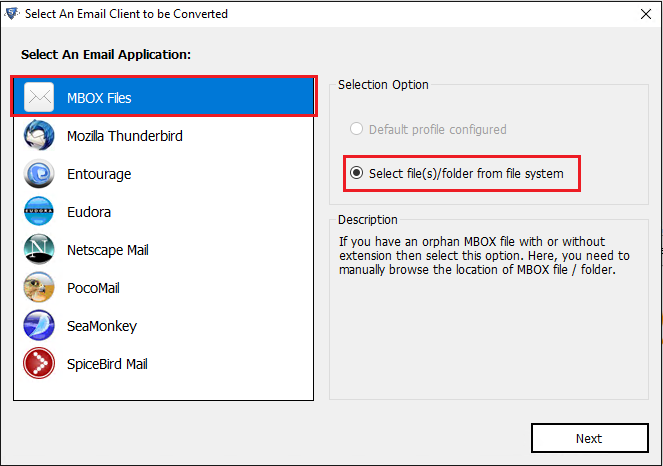 Step 3: Browse the MBOX FILES as per requirements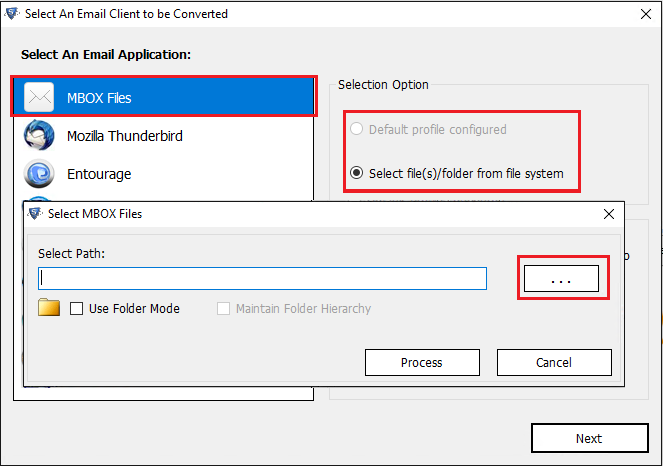 Step 4: Preview the emails and attachments in software interface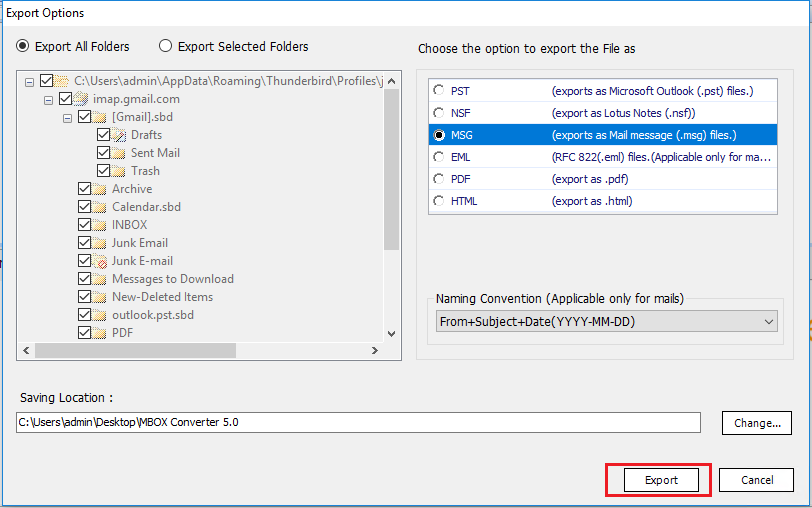 Step 5: Click MSG and Export MBOX to MSG file.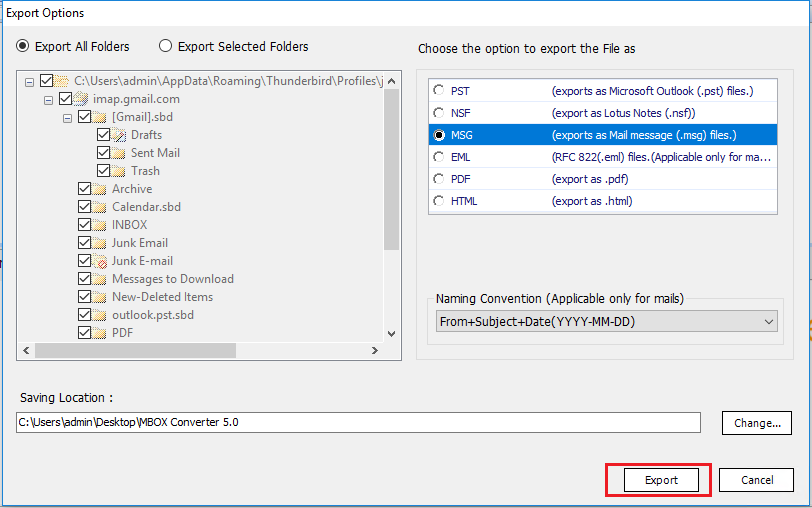 The MSG files for the mailboxes have now been successfully exported. It's worth noting that there are a few advanced functions not covered in these stages that you can use with this tool. You may learn more about them in the following section or just refer to the product guide to see the entire conversion process in detail.
Some of the Advantages of Using Professional Software
Process Thunderbird Database: The data is automatically retrieved from configured Thunderbird identities by the software.
Choose to add MBOX files: If you want to add MBOX files and export them to MSG, you can select "Select file/folder from the local system" instead of "Default Profile Configured."
Naming conventions: A user can use the program to create naming conventions for saving transformed MSG files with certain names. Date, Subject, To, and a variety of combinations are among the naming options.
Selective Email Conversion: The app previews email messages prior exporting MBOX to MSG. You can tick the checkboxes connected with emails in this interface and then right-click to select the Export option. This feature allows you to convert email messages selectively.
Factor of compatibility: The program stated is compatible with all major Windows operating systems, namely Windows 10, 8.1, 8, 7.
Note: If you want to convert MBOX to MSG on Mac OS, you can download the Mac version of the tool from here:
Final Thoughts
For consumers who are unfamiliar with the finer details of the conversion, exporting one file format to another becomes significantly difficult. We offered a way to export MBOX to MSG files with the goal of overcoming such a barrier and preventing data loss. The post also explains a simple 5-step technique as well as the advantages of employing the given strategy.