Convert MBOX to EML Files for Free
MBOX file is a mailbox storage text file that saves all emails in a concatenated manner. It stores both emails and attachments of some of the most popular email clients like Mozilla Thunderbird, Mac Mail, Spicebird, etc. In fact, even webmail services like Gmail provide their users with the option to download their mailbox data in MBOX format.
Despite all this, many users prefer a single message format like EML over storing all emails in a single file. That is the reason behind converting MBOX to EML files. In this post, we will dive down and showcase free manual methods to export MBOX files to EML format with and without email clients.
What differentiates MBOX & EML formats?
A EML file has the .eml extension. One EML file represents one email message. So, the count of EML files is exactly the number of email messages you have in your mailbox.
A MBOX file has .mbox extension. But it also has several modified versions that work with a similar structure such as MBX file, file with no extension (Thunderbird MBOX), and more. An MBOX file represents an entire mailbox having the same name as the MBOX file, say Inbox represented as Inbox.mbox. It stores multiple email messages in a single file.
Methods to Convert MBOX to EML Files for Free
There are three methods to convert MBOX files to EML format depending on the platform you are using. Also, you will need the help of an application to carry out the process.
The methods are: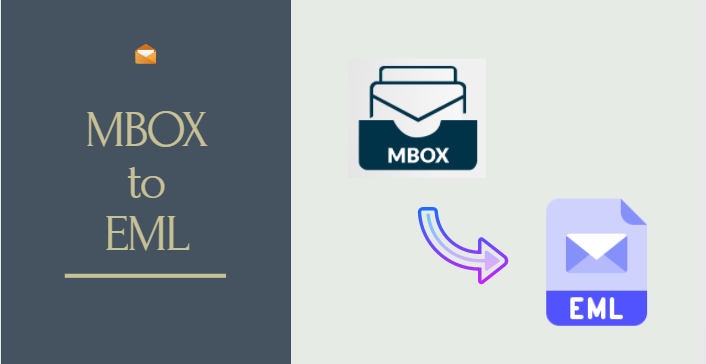 Using Thunderbird to Save MBOX emails as EML
→ Import MBOX to Thunderbird
Run Mozilla Thunderbird.
Right-click on Local folder, then click on Settings.
Copy the path shown in Local directory.
Now, close Thunderbird and go to the copied path on your computer.
Copy and paste your MBOX file at this location.
Start Thunderbird and you will find the MBOX data in the Local folders section.
→ Convert MBOX to EML
Select the email messages that you want to save as EML.

Use Ctrl+A to select all messages, if that's what you want.
Use Shift+arrow key to select multiple message at once.

Right-click on any of the selected messages.
Select the Save as option.
Choose the folder in which you want to save all the selected emails and click Select folder.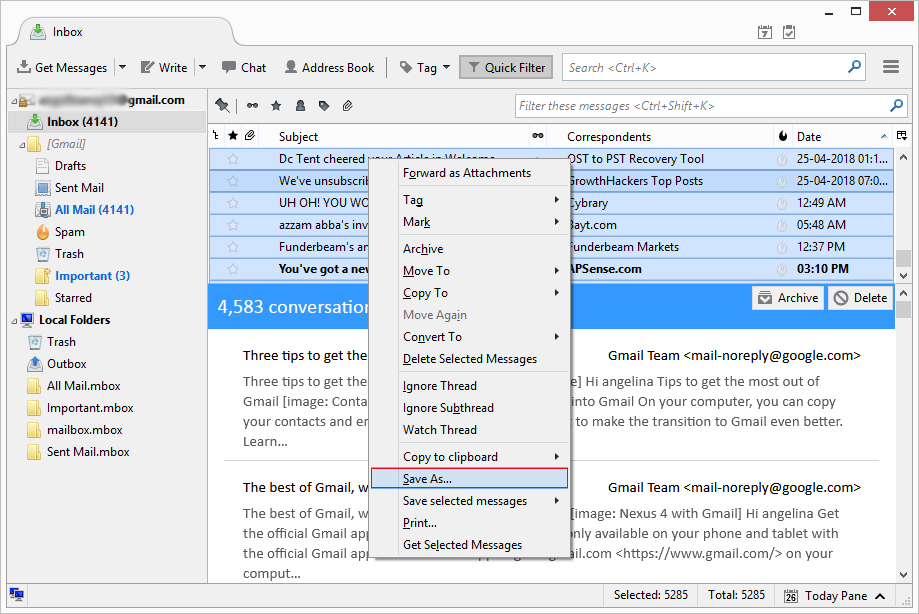 That's it..!! With this, you have successfully converted MBOX files to EML format.
Using Mac Mail to Download MBOX emails to EML
→ Import MBOX to Mac Mail
Run Mac Mail app.
Click on the File menu and select Import Mailboxes.
Select the source as Files in mbox format, then browse the MBOX file.
You will find the messages in the Import mailbox.
→ Save message as EML
Select the message you want to save as EML.
Go to File and click on Save as option.
Choose Raw message format.
Select the destination where you want to save the email.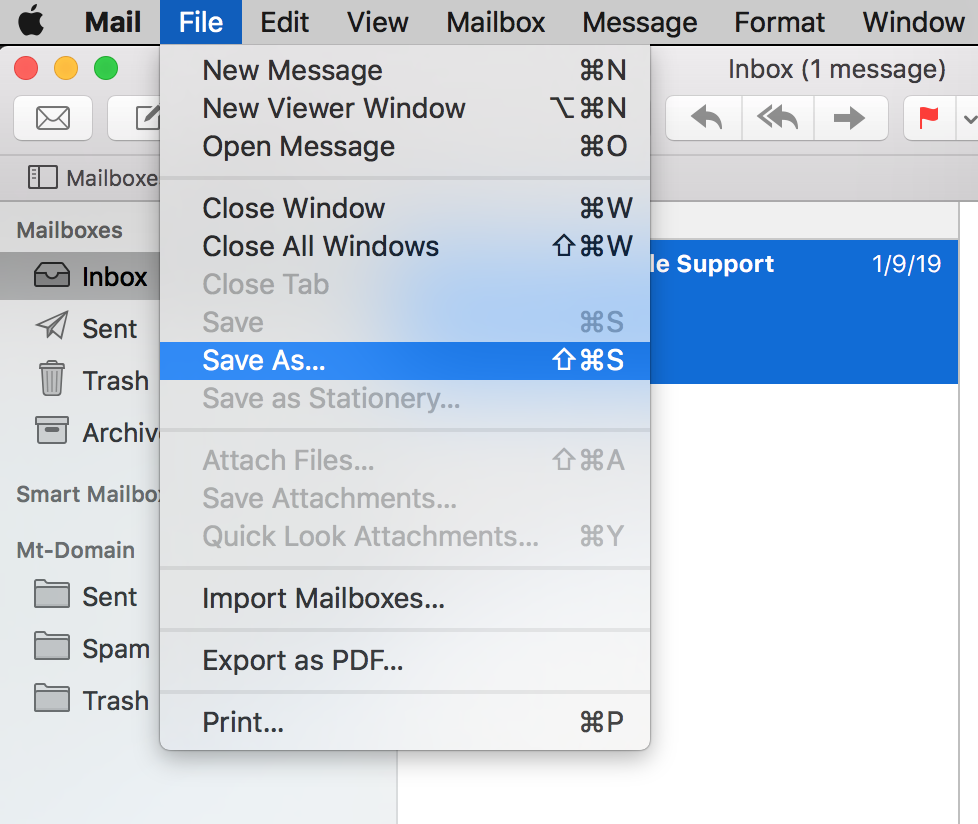 Another way to convert MBOX files to EML format is to drag and drop the email message to your desktop.
That's it..!! The process is complete.
MBOX to EML Converter – Retains Attachments & Folder Structure
A professional utility like MBOX Converter allows you to easily convert MBOX files to EML format. It retains the attachments and keeps the folder structure intact. With this tool, you can convert all kinds of MBOX files in an easy manner regardless of their origin. It works with orphan MBOX, without extension mailbox files, and all other variants of MBOX format.
You can use the free demo version of the tool to export 25 items per folder. It is for testing purposes. Also keep in mind that this tool also lets you export MBOX files to PST, PDF, NSF, MSG & HTML formats. Treat them as additional features.
How to convert MBOX files to EML?
Follow these instructions:
1. Run the software on your system.
2. Click on Add Files button.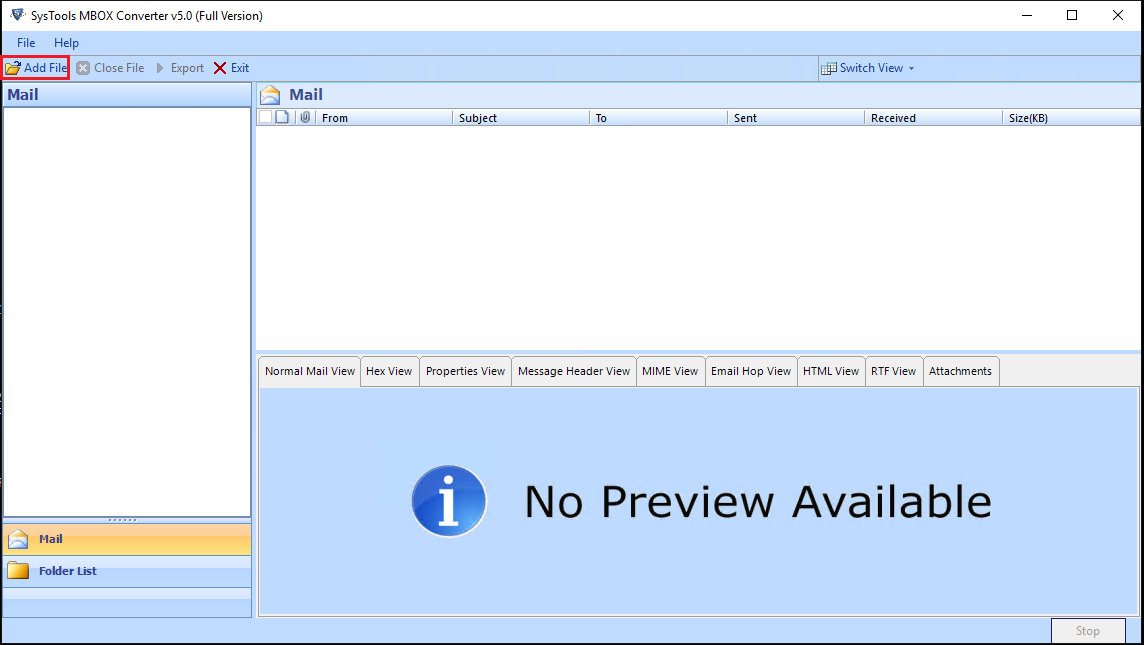 3. Select MBOX files and click Next.
4. Browse and add the MBOX file(s) into the software, then click on the Process button.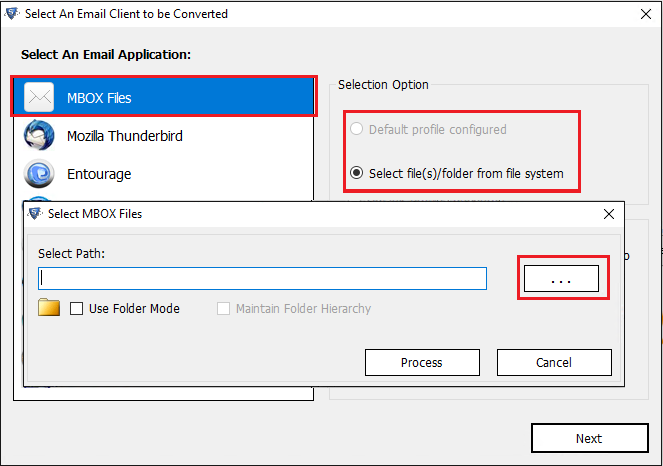 5. Preview the emails, then click on Export button from the ribbon bar.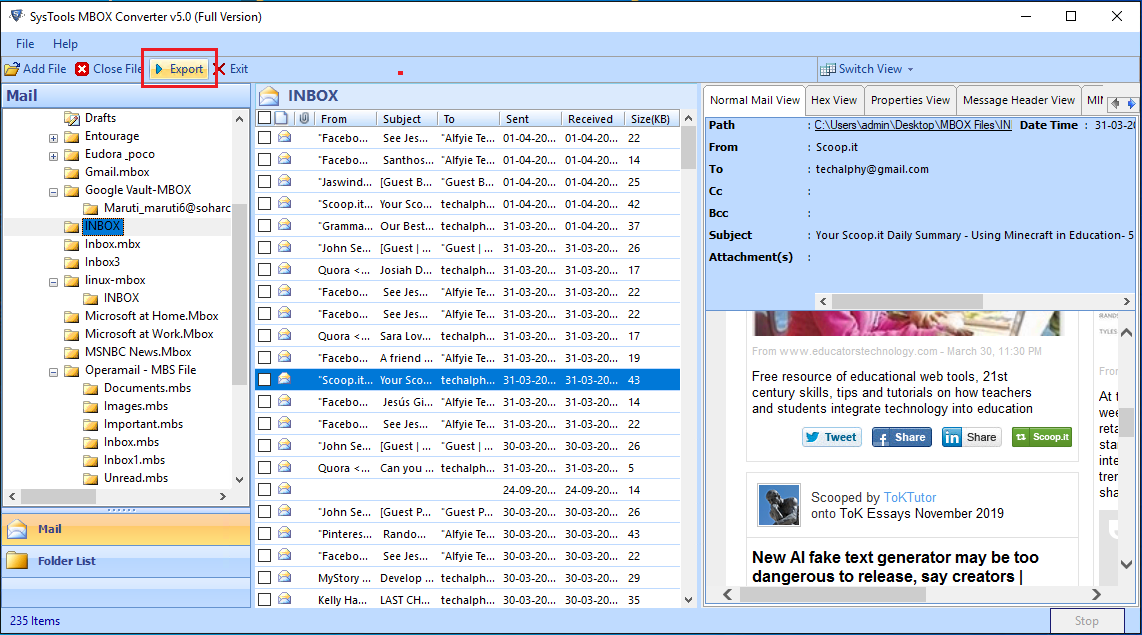 6. Select EML and apply naming convention on the mailbox.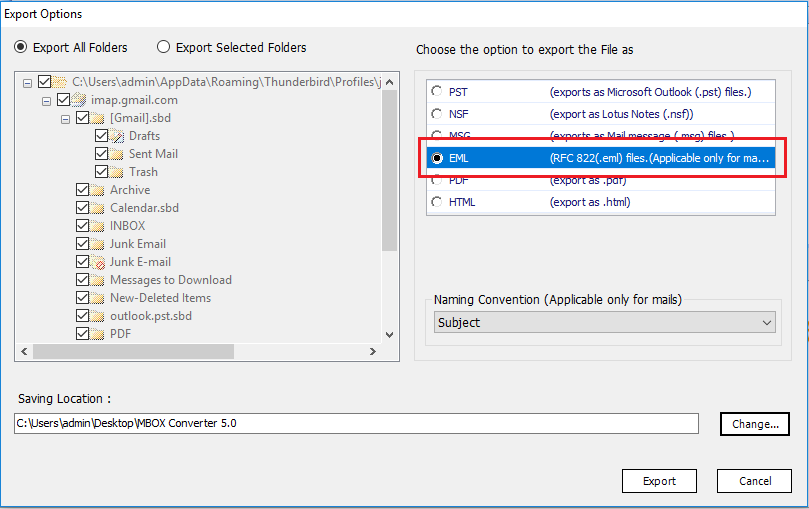 7. Click on Export button to start the conversion process.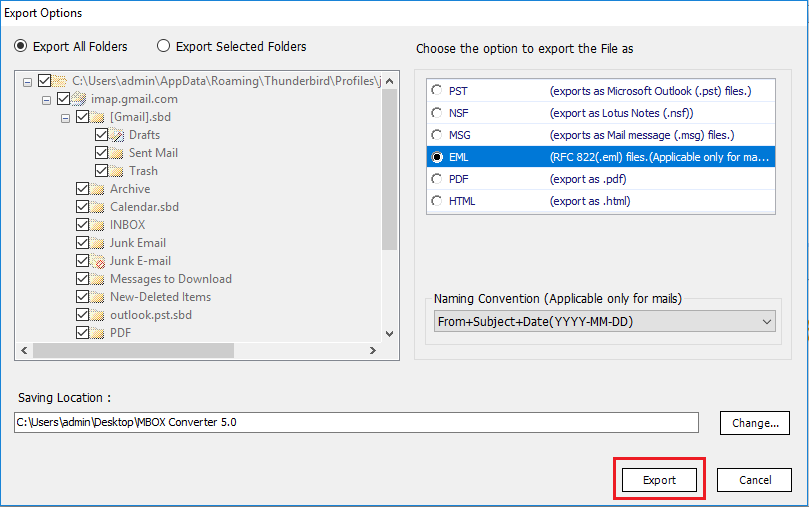 Conclusion
In this post, there are 3 different methods to convert MBOX to EML files. It showcases using Thunderbird on Windows, Apple Mail on Mac as well as a professional utility to get the job done. You can use a method as per your requirements.