How to Restore BKF File in Windows XP and Other Versions?
Nowadays data loss is a common issue, so people are advised to take the backup of data regularly in order to protect their data. A backup file ensures the safety of data and it can be restored in any case of accidental deletion, corruption, data loss, and such other conditions. Thus, in the situation of sudden data loss, users can successfully restore lost or damaged files from the backup data. But it is only possible when the data backup process is taking place regularly. In this blog, we are going to tell you the solution for how can we restore BKF file in Windows XP and other versions.
What About Microsoft Backup Utility and BKF Files?
Microsoft provided a free and inbuilt backup tool known as NTBackup backup XP Utility. In 1997, it firstly came with Windows NT and other subsequent versions. Then, it also included in Windows 2000, XP, Win Server 2003, and Windows Vista. Later on, it was replaced by Windows backup and restore utility. Therefore, there is no NTBackup application that exists with later versions on Windows systems. The latest backup software uses Virtual Hard Disk (or VHD) file format to create the backup in Windows.
It may happen sometimes that the user has taken the backup of system files in Windows XP by using the NT backup tool. And, currently, they are using Windows 7, 8, 8.1 and other versions which do not have the NTBackup utility. Now, if the user wants Windows backup BKF to restore which was created by NTBackup then, the question arises "how to restore BKF file in Windows XP, 7, 8, and other versions". It's not impossible. Users can still use the NTBackup program with the following two ways:
Use the old Windows system where backup files saved. Go to the location: C:\Windows\System32. Then, locate the NTBackup folder and copy files from there. Now users can transfer files using any removable device.
Users can also download the NTBackup utility from the Internet. With the nbackup.exe, related DLL files are necessary to download and store at the same place in the system.
How To Restore BKF File in Windows XP via NTBackup?
Step 1: After downloading the files, open ntbackup.exe. "Welcome to the Backup or Restore Wizard" window will open, and then click on the Next button.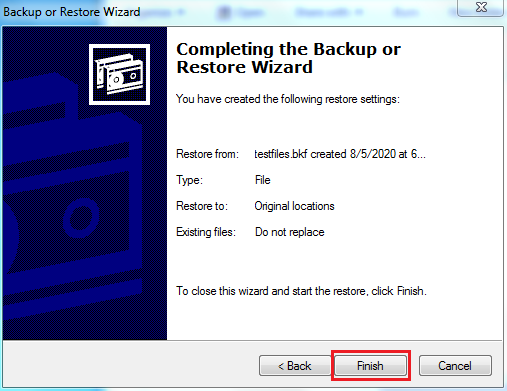 3: Choose "Restore files and settings" option and click Next.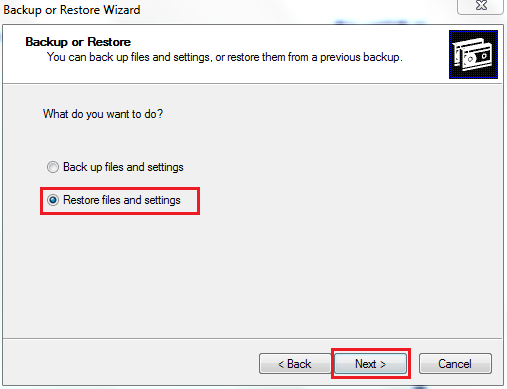 4: Browse Windows backup BKF files to restore and click OK.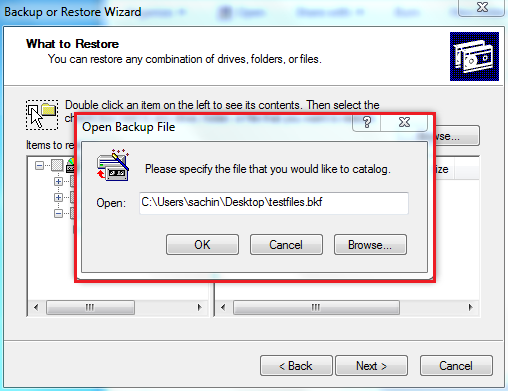 5: Click on Advanced button to specify additional restore options.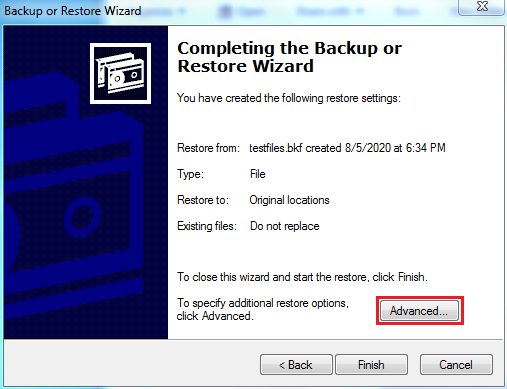 6: Now, Browse destination location to save restored Windows backup BKF file.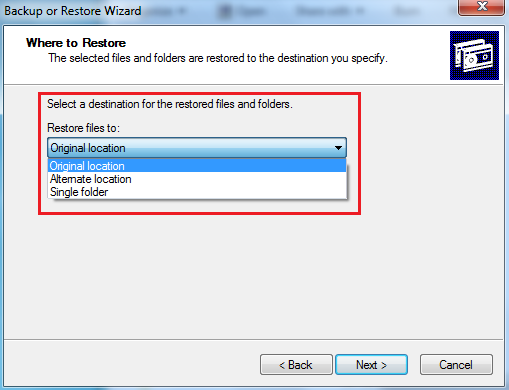 7: Then click the Finish button to end the process.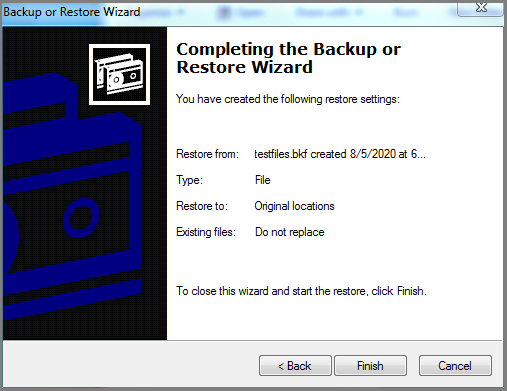 What, if NTBackup Windows XP Tool Fails?
In case, if the provided solution using NTBackup utility fails, then it is better to opt professional automated tool named BKF Repair Utility. The tool also provided a demo version for free. Users can download the demo version to test the performance and ability of the recommended tool. It supports Windows backup BKF file created by NTBackup utility in any version of Windows utility.
Moreover, It is compatible with all versions of the Windows OS including the latest. It means users can successfully restore or extract data from BKF file in Windows XP and other versions. It is also capable to restore the corrupted or damaged BKF files in few simple working steps.
Professional Solution to Restore BKF File in Windows XP
Step 1. Launch the Software and Scan BKF File.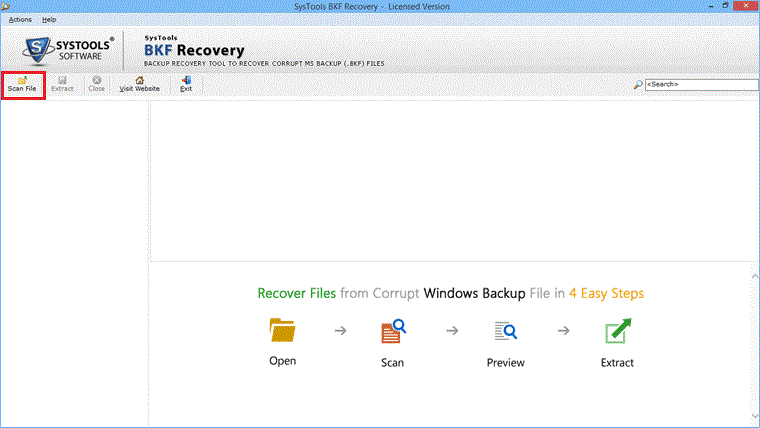 Step 2. Preview data contained in provided corrupted backup files.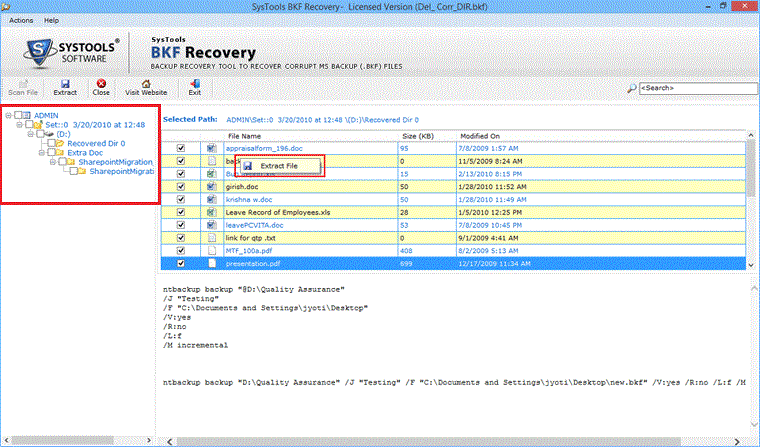 Step 3. Browse the Destination location to save the BKF file in Windows. Now, click Extract.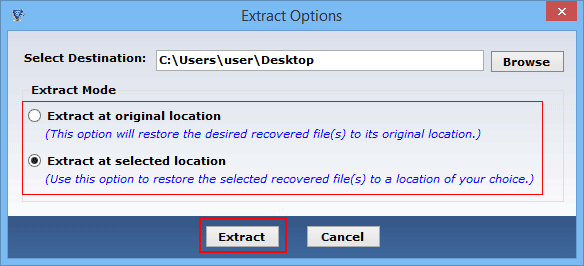 Step 4. After extracting files, the tool will show the Extracted Path where files have been saved.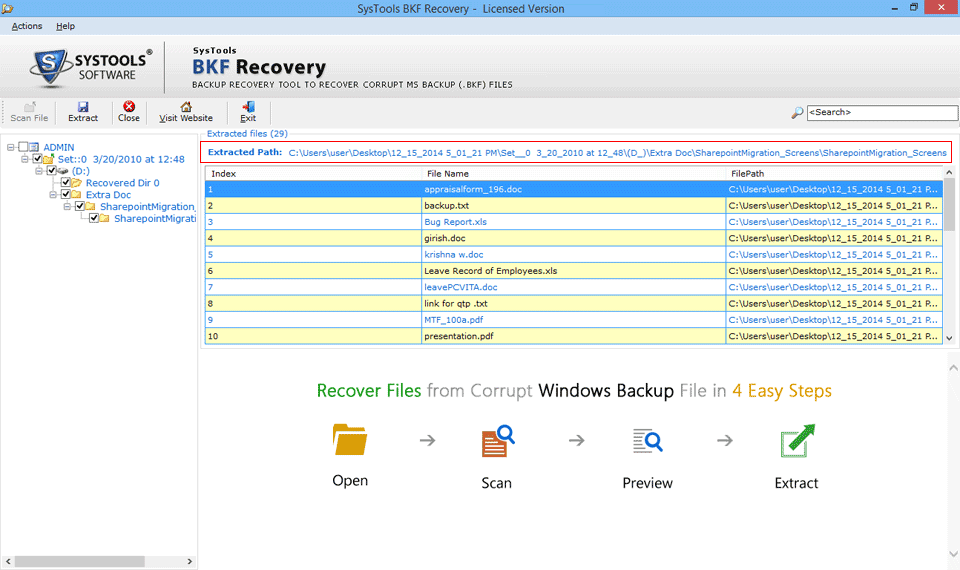 Conclusion
In this article, we have provided the solution to restore BKF file in Windows XP and other versions. The stepwise complete solution is given to restore BKF files by using NTBackup Windows XP utility. In case if it fails, then we recommended our readers to opt automated tool to Windows backup BKF restores. The software is advance enough to repair and open BKF file in Windows system without data loss in a hassle-free manner.