Learn How To Open BKF File in Windows 10, 8.1, 8, 7?
If you have BKF files and want to open it into Windows OS, then this blog will help you. Here we will discuss the solution of how to open BKF file in Windows 10, 8.1, 8, 7. So let's start.
Backing up data is always advisable to keep the data safe in case of any hazardous situation so that afterward user can retrieve the entire data from the backup of data. Therefore, now day's people generally like to save the backup of every bit of their data by using possible methods. Saving the backup of some kind of files is easy where in case of some other files, it is not really easy.
As we know, in order to save the backup of files in the Windows system is possible with nt5backup software. But, how can open, view and repair BKF data file? So here in this write-up, we are going to suggest you an instant and efficient solution to view and save the BKF in Windows system. Before discussing How to View BKF File in Windows and How to restore corrupt BKF files in Windows, let's have a look at what the BKF file actually is?
What is .bkf File Extension?
BKF is a file format used to save the backup file in the NT series of Windows i.e. Windows XP. Up to Windows XP, NTBackup utility is incorporated with the Operation System and it was very easy to save the backup of data and restore it with the same utility. The backup file created with NTBackup software saved the BKF file format. But the scenario is changed with other versions of Windows OS.
Way of Using NTBackup Utility in Latest Windows OS (i.e. Windows 10, 8.1, 8, 7):
Since NTBackup utility is not available in above versions of Windows OS. So, in order to extract BKF data file, user can get the nt5backup.cab file by simply downloading from Internet i.e. free of cost. This nt5backup.cab file is a .rar file that comprises of an executable file and two .dll files.
ntbackup.exe
ntmsapi.dll
vssapi.dll
Points To Remember To Open BKF File in Windows 10, 8.1, 8, 7
After installing the ntbackup file in Windows 10 system, now proceed with the execution process. For this, one needs to keep in mind that ntbackup.exe i.e. executable file is not enough alone to view BKF file in Windows 10. However, it is mandatory to keep the other two .dll files (ntmsapi.dll, vssapi.dll) at the same location as the ntbackup.exe file. Otherwise, users will not be able to use this ntbackup.exe file to view, read and restore BKF files in Windows 10. The .dll files work as supporting files for ntbackup.exe file. To complete the task, all three files should be present at a similar location. While restoring the data using this executable file, try to avoid restoring data at the original location, so that the present files should not be overwritten. You can move the restored data to the desirable folder afterwards.
How To Open and View BKF File in Windows System Manually?
1. After installing the .cab file in Windows 10 system, all the three files will appear as follows.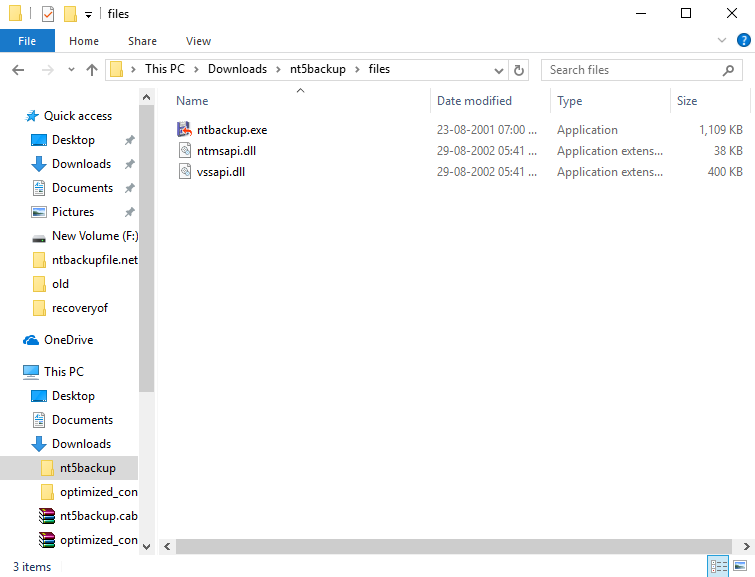 2. Double click on ntbackup.exe. A notification pops up displaying the message that it does not restore the data from the tape. User, need to keep the BKF file on the system. Click OK.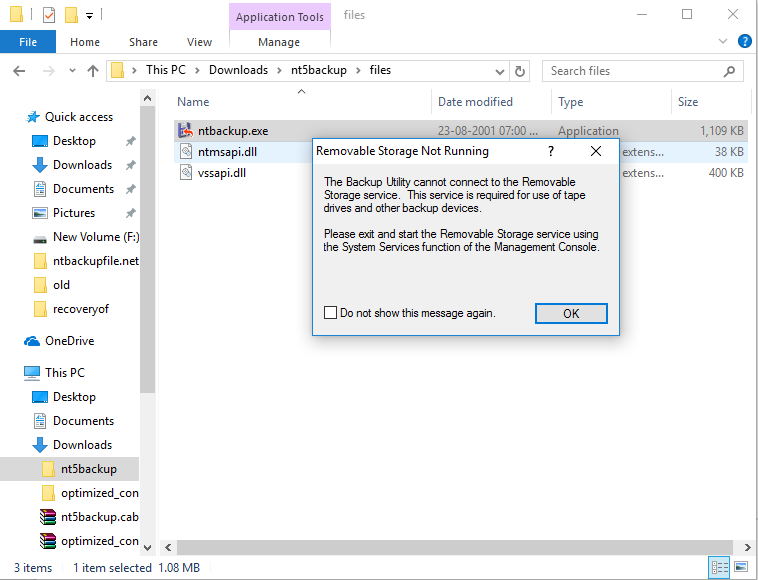 3. Then, a window will pop up including Advanced Mode feature. To save the time in practicing multiple steps, click Next.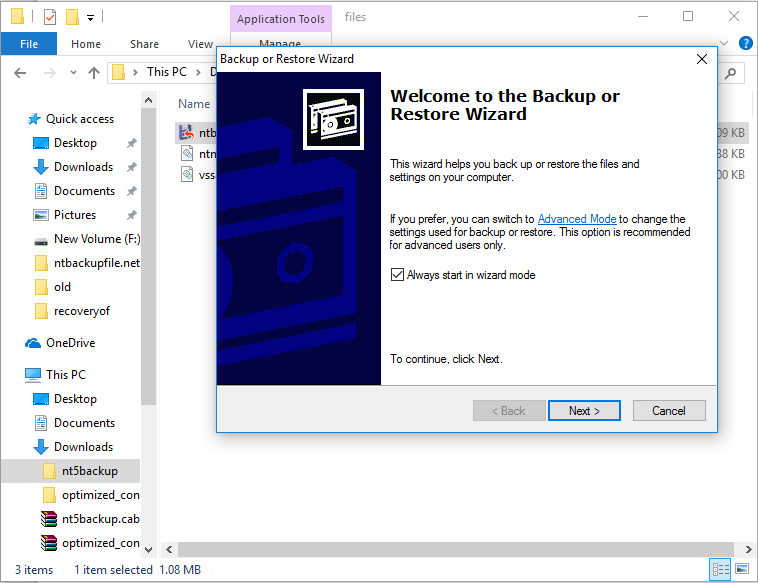 4. Hit the Restore and Manage Media from the tab view.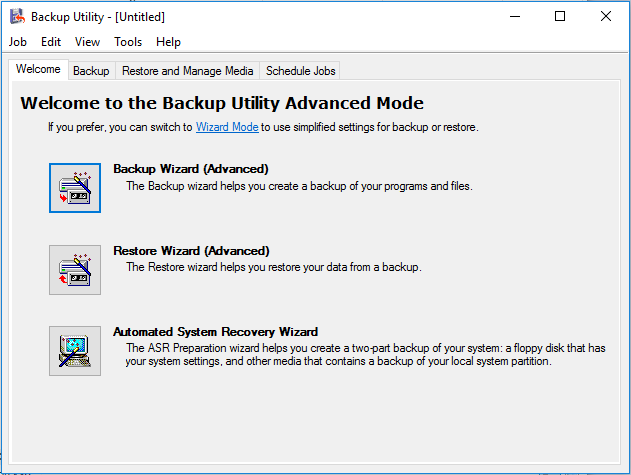 5. Then, a screen will appear to choose the location to save restored file.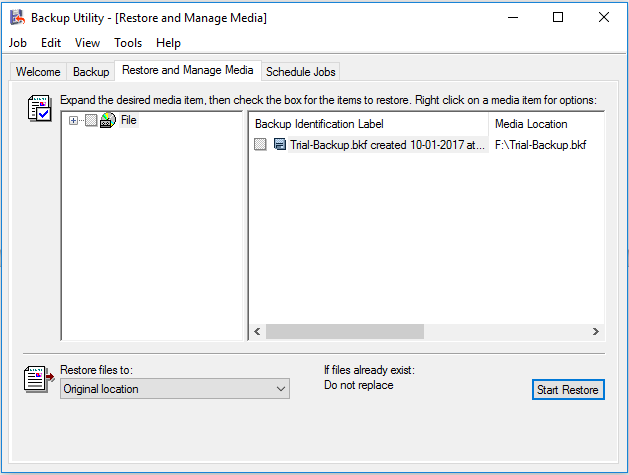 6. Instead of original location, save the restored file at alternate location.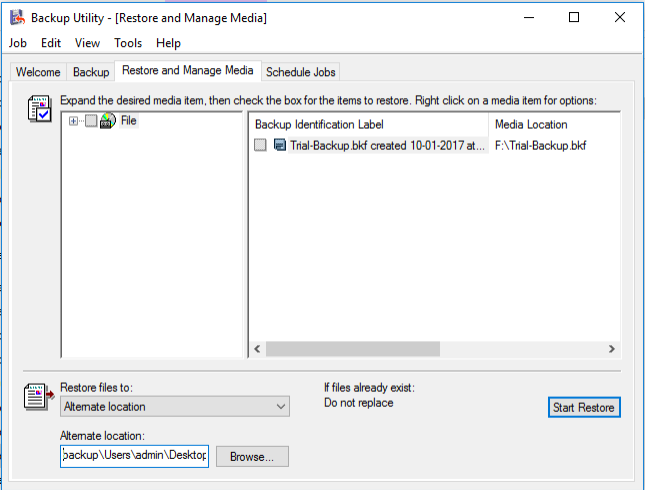 7. To select a file for backup, click on Tools > Catalog a backup file. Browse for file to backup.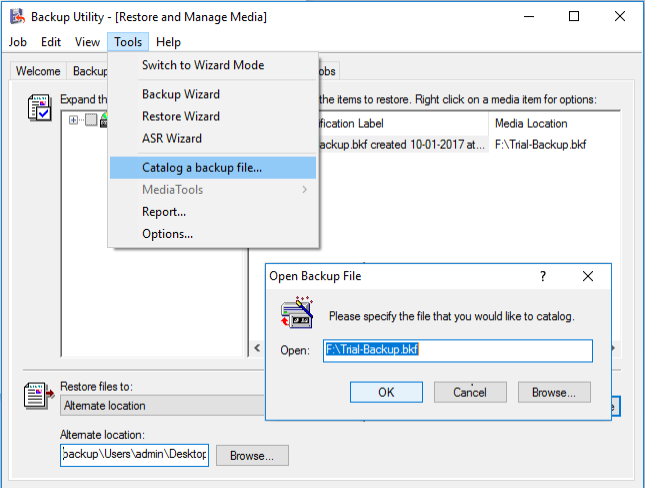 8. Hit the Start Restore button. The best part of this utility is that you can restore the selective files as well.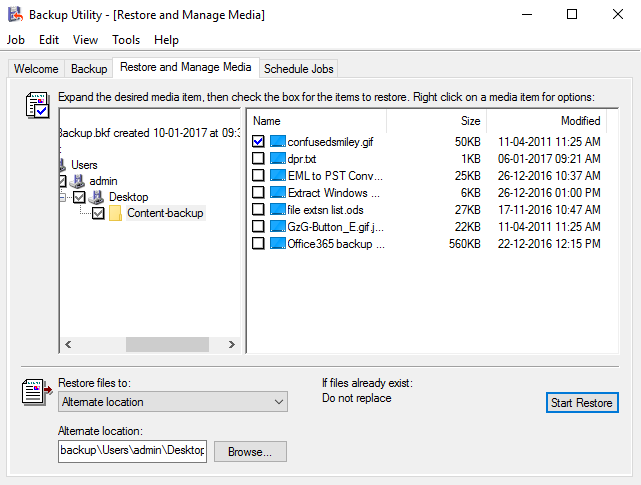 9. After that, click OK on the notification that pops up.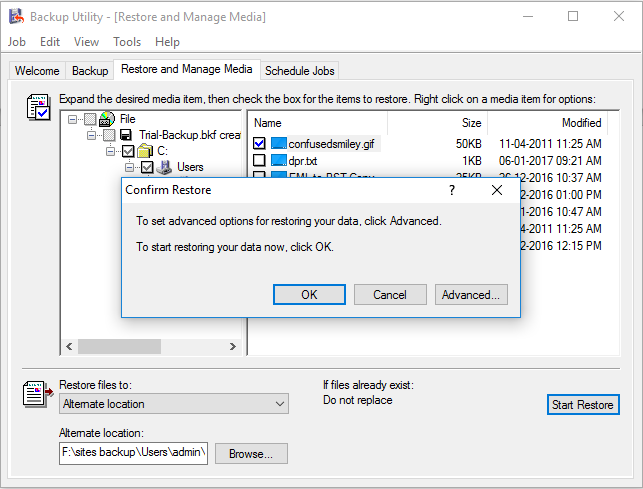 10. In the next Window, it appears in the status Completed with Skipped Files. It is nothing like that, entire data will get restored.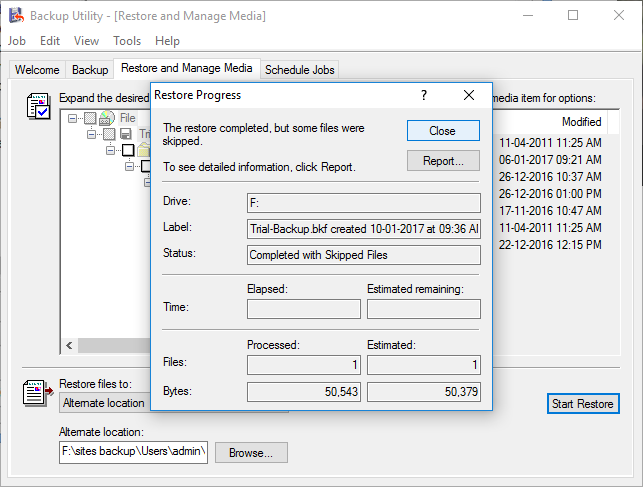 11. To go back to the Wizard Mode, follow Tools > Switch to Wizard Mode.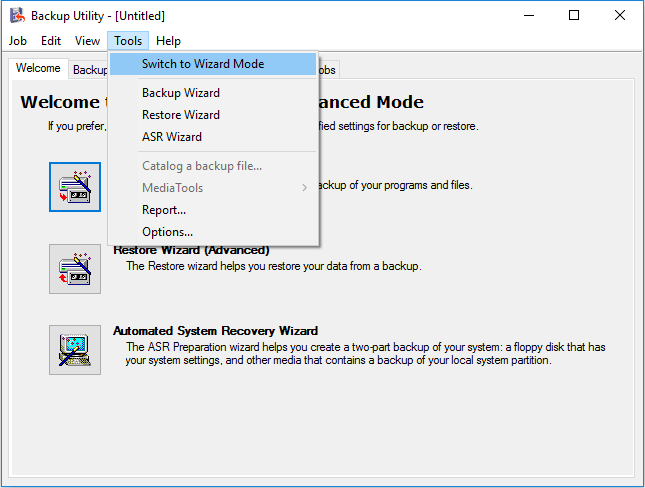 The above mentioned method can be used to view BKF file using a utility provided by Microsoft, and it is workable only if your BKF file is healthy. It is also a lengthy and time-consuming process, so most of the users prefer to use an automated solution on how to open BKF file in Windows 10.
What if BKF Files Are Corrupted?
In case you have a corrupt BKF file or facing some issues in above method then, you can go with BKF Recovery tool. That will easily view and repair BKF data file in Windows 10. Free BKF Viewer Tool is one of the best third party software and a perfect solution to view BKF files in Windows. It is especially designed to help users in viewing the data of BKF files in a hassle free manner. Users can use the application to perform the task conveniently. Demo version of this Utility is also available for free. You can download the trial version of the program to test its performance and functionality. After having the satisfaction, one can buy its licensed version at an affordable price range.
Step By Step Guide To Open BKF File in Windows 10, 8.1, 8, 7
Step 1. Download BKF Viewer Software
Step 2. Select the BKF file you want to open.
Step 3. Select any of the options: Quick, Deep or Range based according to the Needs
Step 4. Preview BKF file with all items
Conclusion
BKF files are the backup files that can help Windows users to get back their lost data in healthy states. In this blog, we described step by step solution on how to open BKF file in Windows 10, 8, 7 using nt5backup utility. But, if BKF files are damaged, then user can use trustworthy software like BKF File Viewer which is capable to recover the corrupted BKF file and view BKF file data.