MBOX Migrator – Export MBOX Files with Secure MBOX Migration Tool
If you make a list of the 50 most popular email applications in use all over the world, you will notice that a bulk of them support MBOX file format. Be it native MBOX support or the option to export their mailbox in MBOX, most applications have at least one of them. But, of course, there are those email clients that have no support for the MBOX format. To get your MBOX data in these applications, you need MBOX Migrator software.
Whether it's importing your important MBOX data in a non-MBOX application, or converting MBOX to other popular file formats, the MBOX Migration tool is a necessity. And that's why in this write up we will explain one of the most popular and globally used MBOX Exporter applications.
MBOX Migrator – A Necessary Software for Windows & Mac OS
To pick the right software for MBOX migration from a plethora of available tools, you need to consider several important factors. Performance, accuracy, efficiency, and cost are the major factors.
QuickData MBOX File Migrator stands firm on all ends. It is designed with impeccable features to ensure the accuracy of its conversion procedure. The powerful set of algorithms used during the development phase results in high performance and efficiency during migration. All of this at a minimal cost makes this the perfect MBOX exporter in many conversion scenarios.
We will talk about the major features and advantages in the upcoming section. But, first, let us differentiate the two software based on the Operating system: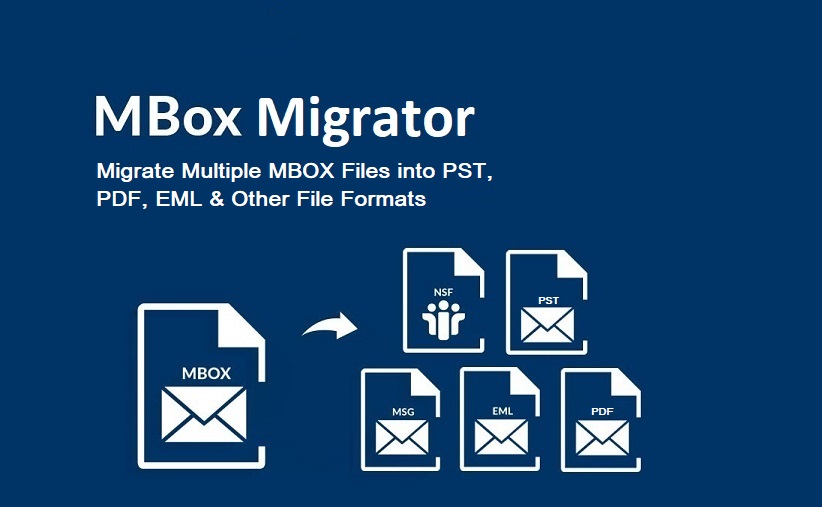 MBOX Migration Tool – Export Emails on Windows
First of all, you should know that this impeccable software allows you to migrate your MBOX files to a total of 6 popular file formats, namely:
If you want to move data to Microsoft Office 365, then use our MBOX to Office 365 Migrator for an effortless migration experience.
MBOX Migrator preserves the email attributes, formatting, and folder structure during the conversion process. So you can rest assured that you will get the intended export files without any harm.
Advantages of MBOX exporter tool
Allows migration of MBOX files in bulk
Supports MBOX format regardless of origin
Supports all variants like .mbox, MBOX with no extension, .mbx, .mbs
Keeps attachments and other email content intact after conversion
Auto-detect mailbox database of email clients like Thunderbird
Able to convert MBOX to PST format
Provides the option to move data from MBOX to MSG format
Allows exporting MBOX to EML files
Supports easy MBOX to PDF conversion
Supports Windows 11(64-bit), 10, 8.1, 8, 7, Windows server 2008, 2012, 2012R2, 2016, 2019.
Steps to Migrate MBOX Files using the software:
Run the software and click the Add File button from the ribbon bar.

Keep the default options and click the Next button to browse the MBOX files you want to convert.

The software will provide you with a full preview of all the emails after scanning the MBOX file.

Select the file format that you wish to migrate your MBOX files. Each format has its own set of advanced options, so choose as per your requirements.

Finally, click on the Export button to start the MBOX migration process.

Once done, you will get your converted files along with a report that details the process.

MBOX Migrator for Mac – For Mac OS X 10.8 & All Above Versions
The MBOX Migrator for Mac wizard provides a lot more options to export MBOX files, namely:
PST
PDF
EML
HTML
EMLX
CSV
TXT
MHT
MSG
Quite convenient, isn't it! Well, this MBOX migration tool also provides plenty of advanced options for each export format. You only need to add the file, select the format, apply advance options and convert MBOX files. The best thing is that this tool will not tamper with the email details. It preserves all the metadata properties in their original form during and after the conversion process.
Benefits of MBOX exporter software
9 different file formats to convert MBOX files.
Supports adding and migrating multiple files at once.
Maintains inline images and attachments.
Provides advanced options like Split file, date-range filters, name conventions, etc.
Works on Mac OS X 10.8 and all the above versions.
A standalone tool that does not require supportive email applications.
Instructions to use MBOX migrator to convert MBOX files:
Run the software and add MBOX files using Add File(s) or Add Folder(s) button.

Click the Next button.

Select the file format in which you want to convert your MBOX files.

Apply Advanced settings (remember that all formats have a separate set of advanced settings).

Click on the Export button to start the MBOX migration process.

Finally, the process is complete and you can view the converted files along with the export report.
Observational Verdict
MBOX being the most popular mailbox format to store mailbox emails, it is not a surprise that MBOX Migrator is in demand. Whether it's migration from MBOX-email client to non-supported application, or file conversion to meet one's need, all sorts of users require MBOX migration.
Well, we got exactly what you need right here. Download the aforementioned MBOX Exporter tool for Windows and Mac platforms and convert MBOX files without any hassle.