How to Split and Merge PDF Documents On Windows & Mac OS
Many users are looking for an effortless solution to know how to split and merge PDF documents. Splitting and merging PDF documents has been a time-consuming process especially when it comes to maintaining formatting, page numbers, and the table of contents.
A lot of people faced certain difficulties in dividing and combining PDF files. Sometimes it becomes very difficult to manage large-sized PDF files containing a huge number of pages. That's why they want to split large PDF into smaller files. On the other side when the users have a huge number of PDF documents then it is quite difficult to organize them. Therefore the best way that users find is to join multiple PDF into a single PDF document.
So, keeping all things in mind, we are going to discuss the best software that can be used to split and combine PDF files.
How to Split and Merge PDF Documents By Using a Tool?
After deep research, we analyzed that there are various online tools available in online marketing. But there are great chances of file formatting and data loss. Therefore, we found that the PDF Split and Merge Tool is one of the best and efficient software that is capable to split and combine pdf files within a few simple steps.
Let's know some more functionalities & innovative features of the software split and merge PDF documents.
Prominent Features of the Tool
The utility can rapidly Break and Combine PDF Pages in Batch.
Maintain file formatting, layout and orientation in resultant PDF documents.
Doesn't impose any limitation on the number of PDF Files to split & merge Adobe PDF file
Support password-protected PDF documents for splitting and merging process.
Easy to use, interactive GUI and 100% result oriented tool.
Supports Windows OS 10 & below and Mac OS X 10.8 & above versions.
Compatible with all versions of Adobe PDF documents.
Let's explore the working procedure of the tool that shows how to split and merge PDF documents.
Guided Steps For How to Split and Merge PDF Documents
Scenario 1: Splitting PDF into Multiple Files
The tool to separate and merge pdf files provides different PDF Splitting Modes to separate PDF pages and split pdf into multiple files.
Break PDF by Page: By using this option, the tool will create a single page PDF file that contains the particular page that you have mentioned in the text box.
Split PDF by Each Page: With the help option, the software creates multiple PDF files containing the single page.
Divide PDF by Page Range: Users can use this option to combine PDF files of a particular page range separated by a comma. For example: 1-2,5-6,1-2
Split PDF by Size (MB): With the help of this option, you can easily split PDF files into small parts using a common size for all.
Break PDF by Even Pages: This option allows you to create a separate PDF file containing all the pages in an even number of count of all added PDF files.
Split PDF by Odd Pages: By using this option, the software will split up odd-numbered pages of the selected PDF files.
Split PDF into Small Files
Look through the easy steps required to split and combine PDF files. Initially, lets see how to use the tool to split Adobe PDF files.
1. Download & Run the Software. Click on the "Split" option.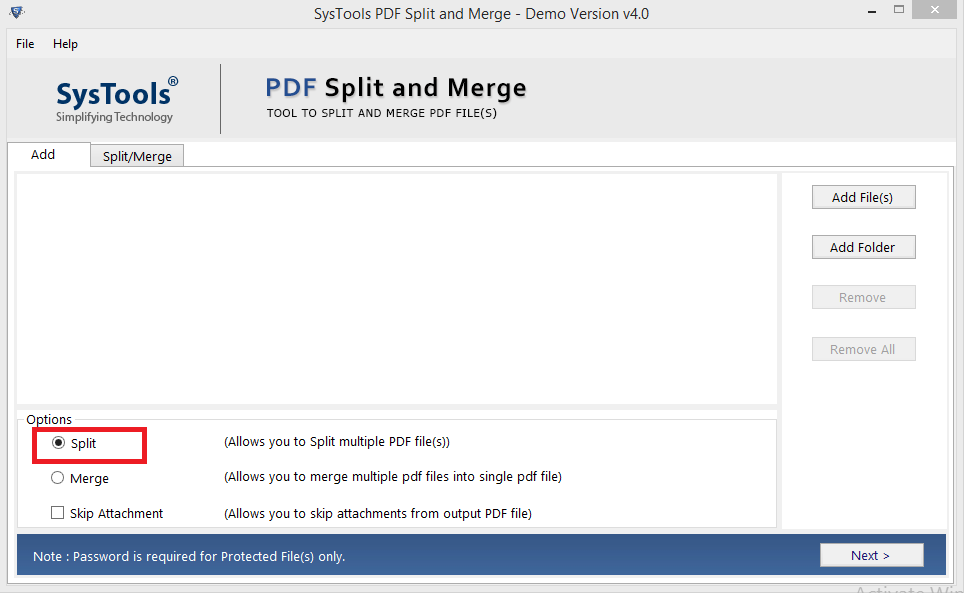 2. Next, click on the "Add Files / Add Folder" option to browse PDF Files for split.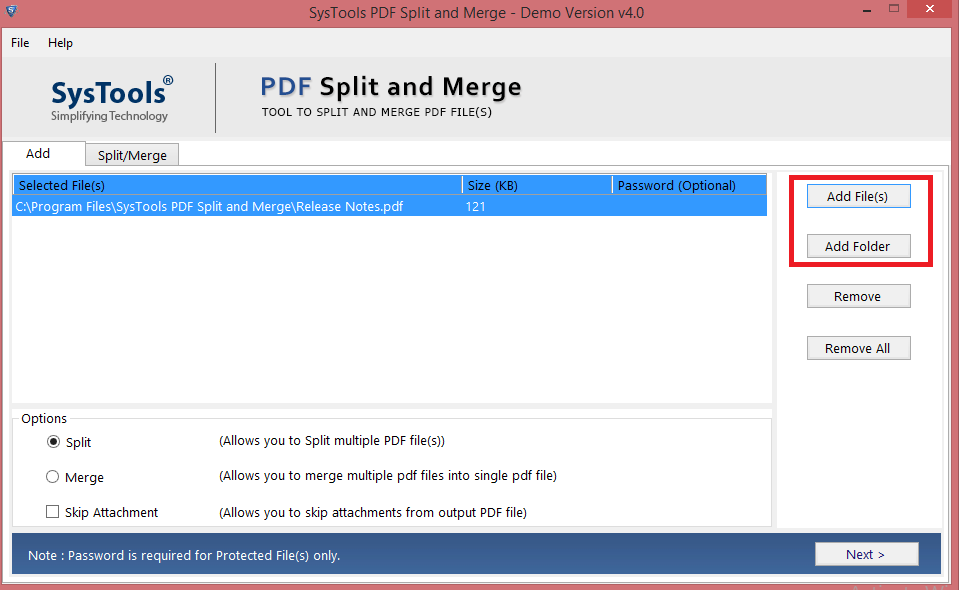 3. Choose the Suitable Split PDF Options & click on "Split"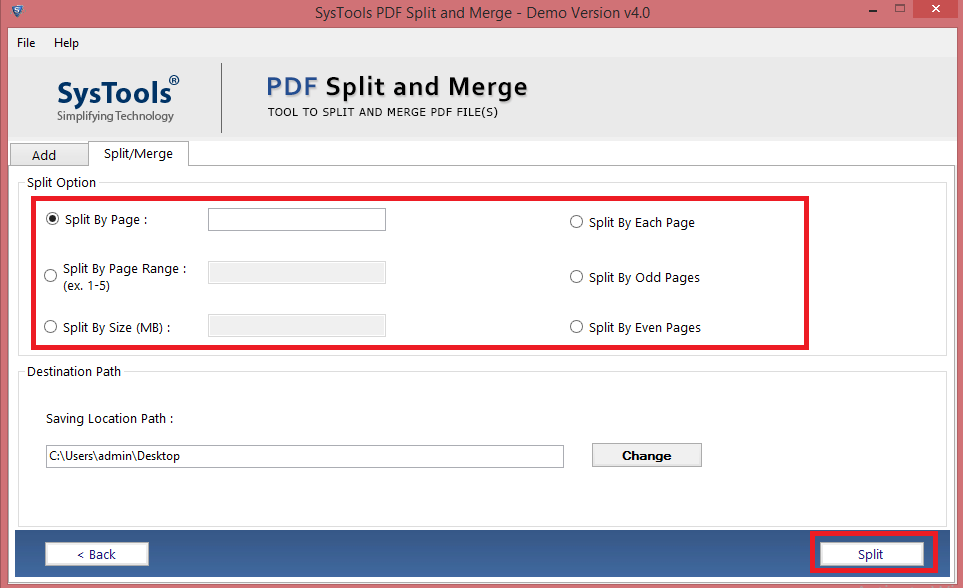 4. Splitting of PDF Files is completed successfully.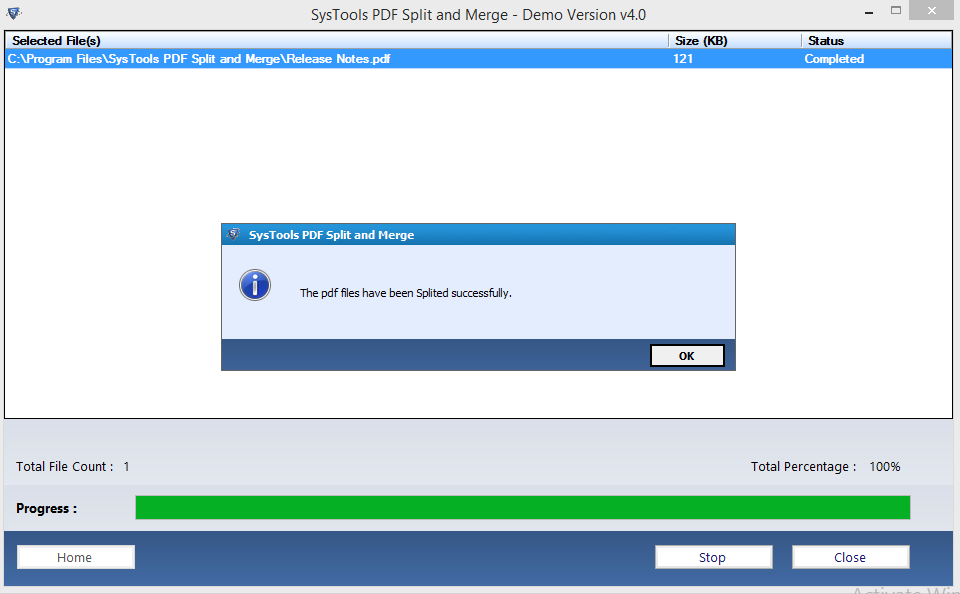 Read More: How to combine pdf files into one on mac? 
2: Merging Large PDF into Single One
The software provides different merge options to organize the documents more efficiently which are listed below:
Split Merged PDF by Size
Merge PDF by Page Range
Combine Multiple PDF into New PDF
Merge PDF Files in Existing PDF
With the help of this same utility one can split and merge PDF documents and now can join two different PDF files into one.
Quick Steps to Merge PDF Documents
Step 1: Launch the software and select the "Merge" option.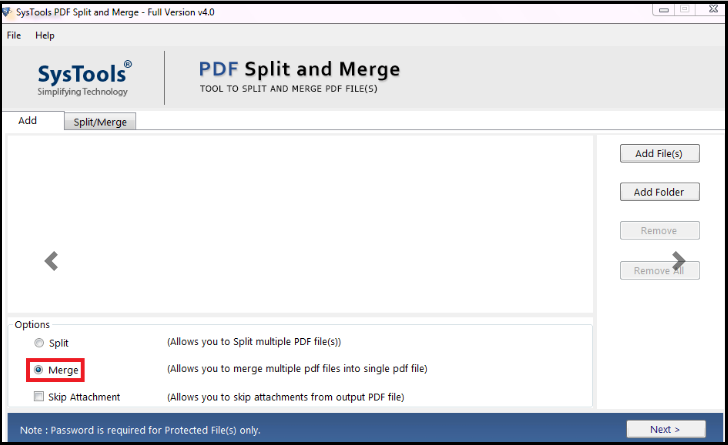 Step 2: Choose the "Add File(s) or Add Folder" option to insert PDFs. Click on the Next button.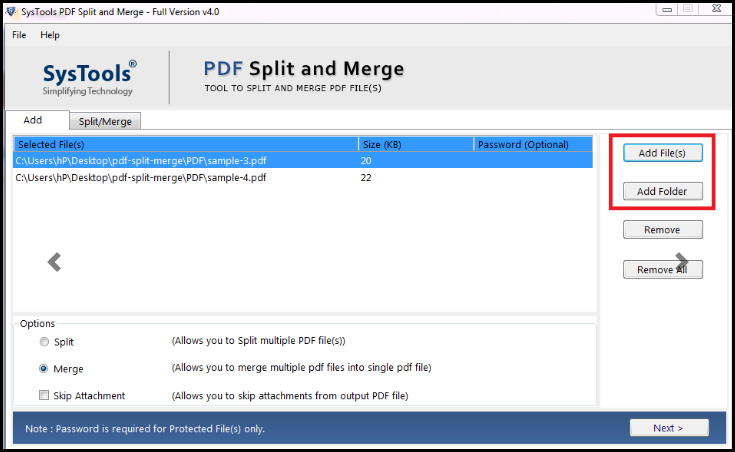 Step 3: Select the "Merge" options and set the destination location where you want to save the PDF files. Next, click on the" Merge" button to start joining the PDF files.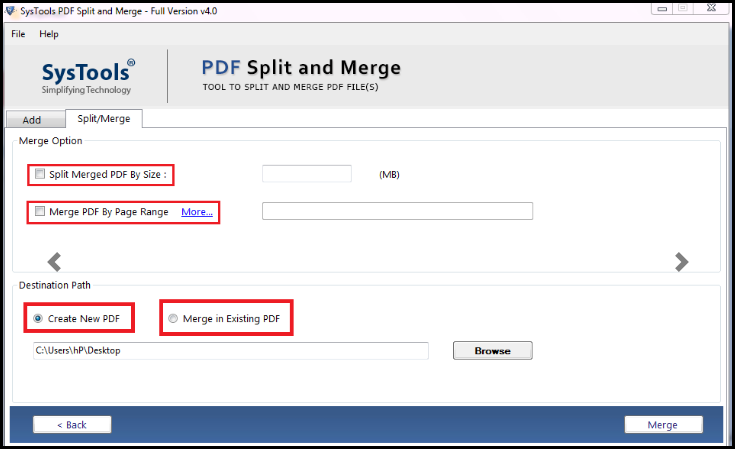 Step 4: Finally, the tool will display a pop-up message stating that "PDF files are merged successfully" click OK.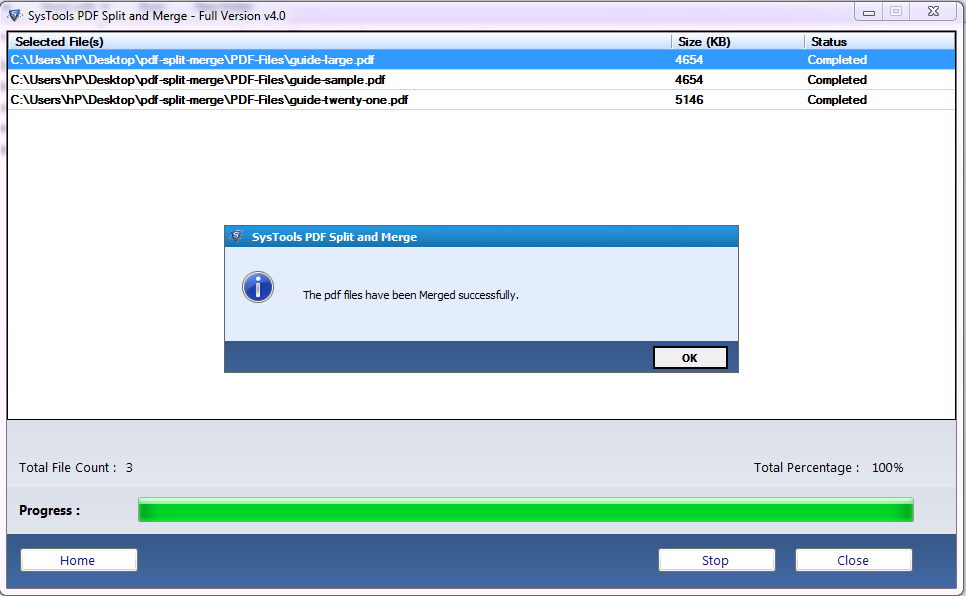 Now, you have learned how to use same tool to separate and merge PDF files.
Also, read to know "how to combine corrupted PDF files together in one PDF".
Final Verdict
In this article, we tried to resolve the user's query .i.e. how to split and merge PDF documents. So, we hereby mentioned the result-oriented tool that can easily split and combine PDF files with 100% accuracy. By using this software users will get all features in one software. If the users want to spit the large PDF files into one then they can effortlessly perform this task by using the Split option of the software. On the other hand, if the users want to merge PDF pages into one single file then the Merge option will work for them.