Why All Old Emails Missing from Outlook Inbox Application?
"Hey, I'm Mark Allison from L.A, United states & facing a strange issue of old emails missing from Outlook inbox. I've searched a lot for these emails & still don't have any clue how to get them back. Please suggest to me the best possible way that can easily solve this issue as I need those emails for my official use."
This is a genuine user query & we can see how worried & desperate a user is about the solution. It's quite common for users to face this scenario nowadays, However, with the right knowledge & methods, one can get back all of the required.
Below are some most common reasons for the disappearance of your emails. With this informative guide, we can find the ideal solution in no time with proper safety measures.
All Emails Missing from Outlook Inbox Due to These Reasons
Before we start getting our missing emails back, we must understand the reason why these emails disappear. That's how can understand what we have to do in order to get these emails back.
Normally, there can be several issues with your Outlook email missing & below are the reasons mentioned. Later on, we will start executing the steps to prevent such scenarios.
There's a high possibility that may have been moved to any of the other folders like deleted or archive.

The Internet bandwidth disturbance is another reason why this issue occurs to a lot of users around the world.

This is also possible that the default filters & settings may have blocked your emails from entering the folder.

Minor mistakes in setting up the email account are also possible which often causes the email disappearance.

The firewalls can also block your emails or even the errors in the profile configuration is also possible.

There are chances that the particular email may be deleted accidentally. Evidently, after 30 days, it also gets deleted permanently.

View settings also cause this error in a lot of cases that we examined & solved.
Common Ways to Fix Old Emails Missing from Outlook Inbox Issue
Your emails may be transferred to another folder that you are not aware of. Or you may not have made the required changes in the setting. Follow the below steps first to find your emails in different locations & solve the missing or Outlook PST file not found error smartly.
Have a Look at the Other Folders
Users must check their other folders also in order to find out the email in case it may be transferred accidentally. There are a number of folders that may have the emails you are searching for.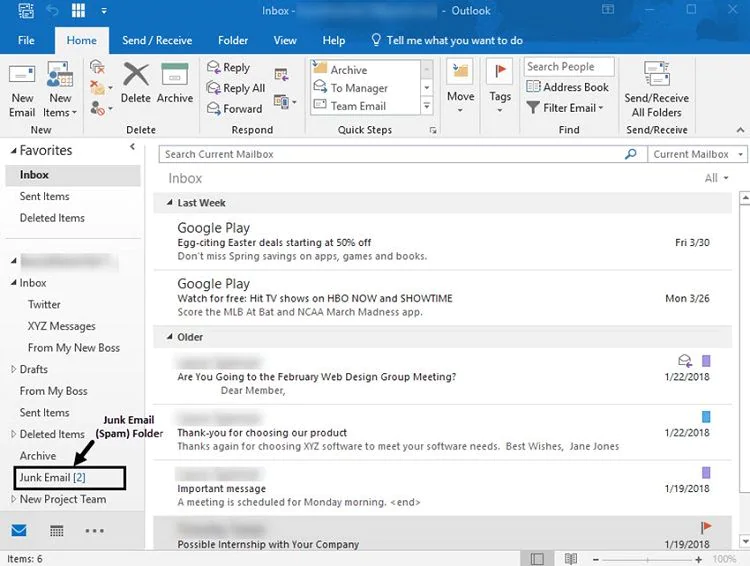 Below are the folders that you should always check if your emails are missing.
Junk Folder

Phishing Folder

Blocked Folder

Archive Folder
Save the Outgoing Mails
If the email missing from the outlook was from the Sent folder, then you need to make some minor changes in order to prevent all emails missing from Outlook inbox. 
There is an option present in the setting for not saving the sent email. Enabling it may cause the missing of your email from Outlook 2016 & above.
Follow the below steps to disable that mode-
Open Outlook

application

>> Go to File >> Info >> Account Settings

option.

Click

on the

Email

tab & enter it

>> Click

on the

Change option.

Go to

the

Advanced

category &

Turn On

the

"Leave a copy of messages on the server"

option &

Save changes.

Recover Deleted or Disappeared Emails Automatically
There are chances that your emails be deleted unintentionally & now you need them back. We all are humans & this mistake is quite common among users. We have a solution to fix this. You can use the Microsoft Outlook PST Recovery Tool to get old emails missing from Outlook inbox.
This utility is quite efficient & can easily recover accidentally deleted emails in Outlook with out-of-the-box features. You can follow the steps mentioned below to get all the missing emails back in your Outlook inbox.
Step-1. Click on the Add File button to add the PST file from which data is missing. 
Step-2. Click on Quick or Advanced Scan as per your preference.
Step-3. Deleted or missing files will be shown in Red color. Select the required ones.
Step-4. Set the Destination Folder path & then Select the resultant File Format as PST.
Step-5.  Click on the Export button to get back all of the deleted files.
Along with the recovery, this utility can easily Repair Outlook 2019, 2016, 2013, 2010 PST File without any hassles. Moreover, users can get a detailed report at the end. Smart Date & category filters can also save time. Evidently, this is why experts recommend this solution to users.
All Emails Missing from Outlook Inbox due to View Settings
The default view settings of Outlook can also block emails in some scenarios. Follow the below steps to change the default settings of the view settings.
Step-1. Launch Outlook & then Navigate to the View tab. Enter View Settings to Open the Advanced View Settings window.
Step-2.Click on the Filter option available from the various options & then proceed further.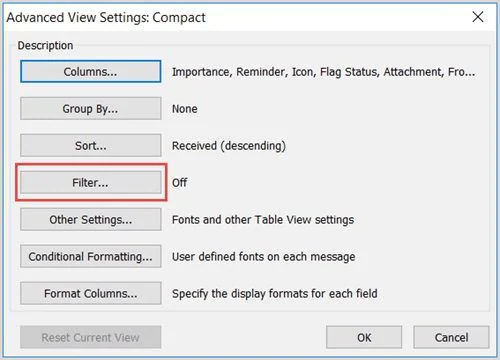 Step-3. Disable these Options in the More Choices tab. Uncheck all the filters & then Click on Save to solve all emails missing from Outlook inbox.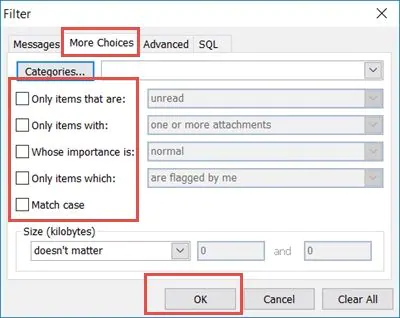 To Conclude
If you are facing the issue of disappearing your old emails in Outlook, now you have the solutions. The automated solution we discussed is the most advanced solution & highly recommended by IT Experts. It's not difficult anymore to get back the emails that disappear or get deleted accidentally. 
To end the problem of old emails missing from Outlook inbox, check out all the key points mentioned above. There are times when a small setting change can solve the entire issue. In case of file deletion, opt for the automated solution without a doubt.