How do I Convert MDB to Excel – Solved
MDB is a file format of the database created by Microsoft Access where Excel generates the XSL file format. Now Microsoft Access generates the ACCDB file format which came in 2007. Somehow you need to share the data of your database, then you will not give him or her access to your database. Then you need to convert the file format of the files by which the receiver can access the information of the database in the form of Excel easily.
Suppose you need to show the database to your team members then you will not open the database in front of them. Also here you need to export MDB file to Excel (XSL) file. For this generated problem, you will see the different methods to convert MDB to Excel (XLS) file format in this blog.
What are Microsoft Excel and Access?
Both are the application software of Microsoft but both differ from each other according to their specialities and functionalities. You will see all the main components of both the application software which make them differ from each other.
A) MS Excel:-
It is discovered in 1885.
It is used to create formulas and dashboards.
It is mainly used to generate the report and for data analysis.
You can modify the data using Formulas in Excel.
The spreadsheet is used to generate charts and graphs and tabular models in Microsoft Excel.
Excel is adaptable in nature because users can change it according to their needs.
B) MS Access:-
It is discovered in 1992.
It can create the database and connections easily.
It also helps in data analysis and also creates a database to maintain the data of employees or students.
Queries are used to modify the data.
It is used as part of RDBMS (Relational Data Base Management System).
Note:- As you can see both of the software are far far different from each other. Excel is easy to use as compared to MS Access. You need programming knowledge to use most features of MS Access but in Excel, you do not need.
Methods To Convert MDB to Excel (XSL)
There are different methods that can convert MDB to Excel (XSL) in an easy way. But, officially there is no manual method. So, you can use the Online method to perform the task. If you do not want to use the online method then you can use the Professional method. The professional method is easy and secure in every criterias.
Method 1. Online Method to Convert MDB to Excel
MDB is a file format that is generated by Microsoft Access. You can convert MDB to Excel (XSL) in an easy way with online methods. It is the most easiest method which can perform any job in three or four simple steps.
Follow the steps that to convert mdb file to Excel by online method.
Step 1. Open any web browser or search engine on your computer system.
Step 2. Search your query on the search engine.
Step 3. Select any website and browse your file in it to convert and then press enter or the button which is preferred to perform that task.
Step 4. Simply click on the "Download" button and your updated file will be there where you want.
Note:- You can convert MDB to Excel (XSL) in an easy way. But your data is not secure in the online methods. It synchronizes all the data on its database that's why experts do not prefer this method to convert MDB files to Excel. You can use the professional method to export the mdb database to Excel. It is a safe and secure method for your data.
Method 2. Use Export Option in Access to Export MDB to Excel (XSL)
This method is provided by Microsoft Access itself to convert MDB to Excel. This manual method is free to use for a lifetime. Anyone can use this method.
Steps to use this manual method to export mdb to excel.
Step 1. Open the file in Microsoft Access that you want to Export.
Step 2. Go to "External Data" and then select the "Excel export" option from the given options.
Step 3. Browse the destination location where you want to save it and then press "OK".
Step 4. Now you can see your file at your desired location.
Note:- Manual method is also a secure method and it is also given by Microsoft. But it takes very much time due to its one-by-one conversion of files. You can convert only one file access mdb to excel one file at one time, for converting bulk files you can use professional method.
Also read about how to recover deleted data from Access.
Method 3. Convert MDB to Excel (XSL) Using Professional Method
Technical experts recommend this method to convert MDB to Excel (XSL). The Best MDB Converter Software allows to convert mdb files to Excel. You can access the demo version of this tool without having to pay a single penny. This method is much more secure as compared to other methods.
You can easily browse the files to convert. It can recover the little bit problems by pressing the recover button then you can access the converted PDF file easily. There are different file formats in which you can convert the database file using this tool. You will see other features in steps.
Follow the steps to export mdb database to Excel using this professional method.
Step 1. Run the software on your computer after the compilation of the installation process.
Step 2. Browse the database file which you want to convert by clicking on the "Open" option after selecting.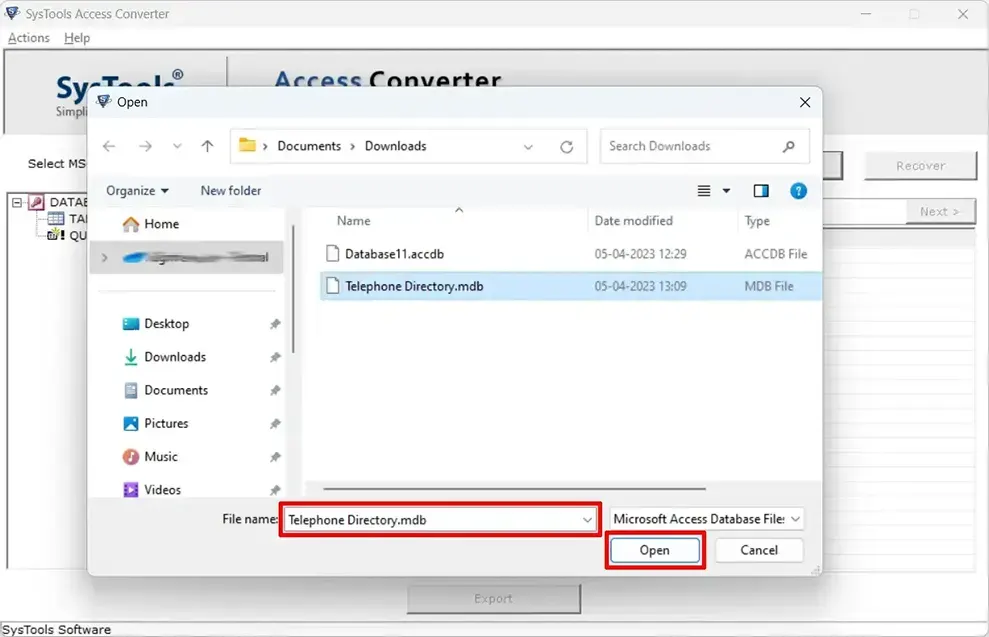 Step 3. Press the "Recover" button to fix some corruption in the Access file if they are present and it will provide you a detailed table of your process.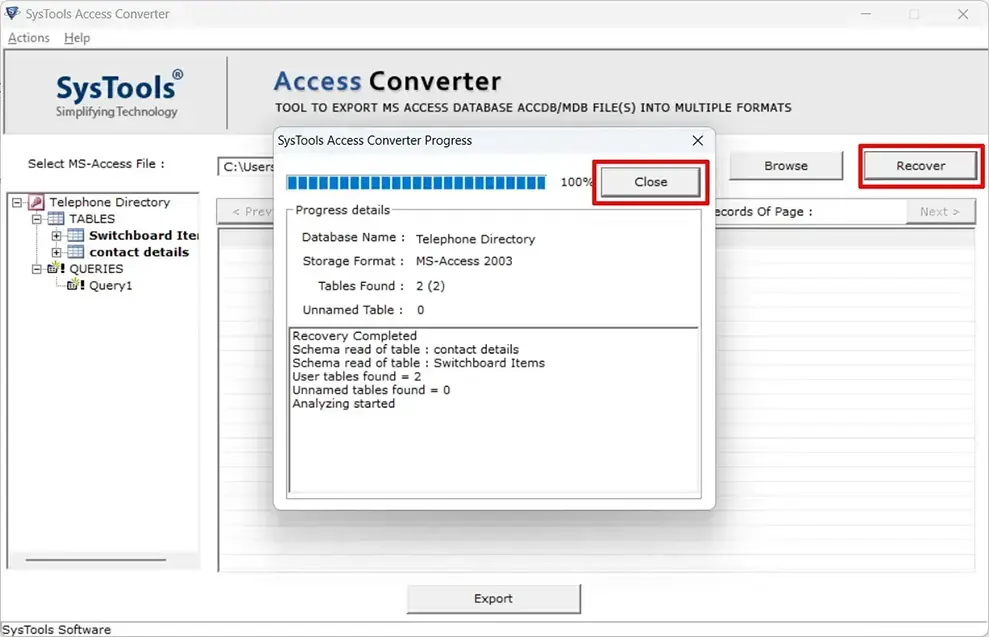 Step 4. Press "Enter" or click on the "Export" button then select the file format in which you want to convert.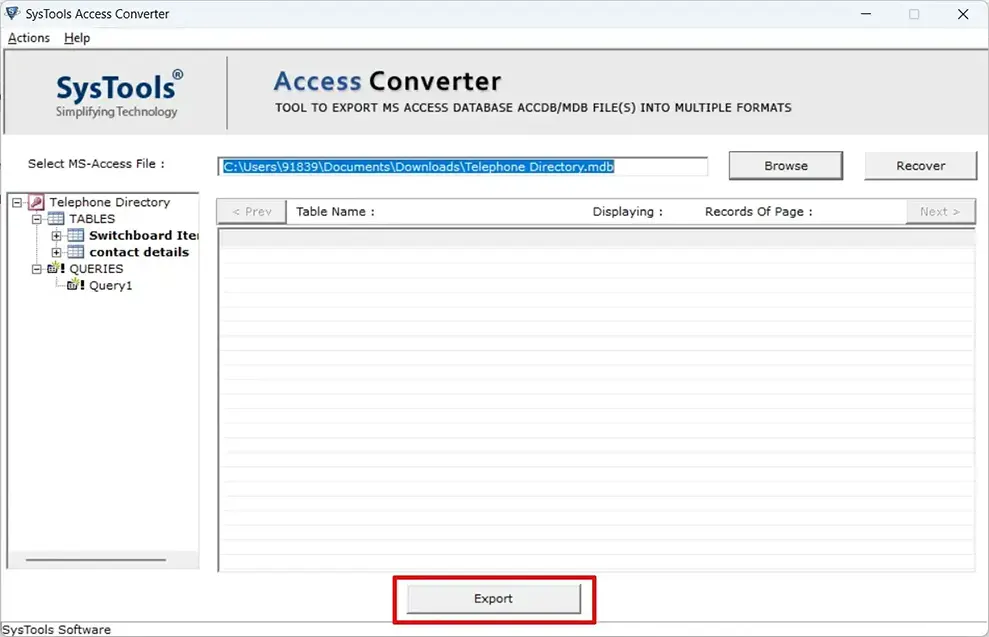 Step 5. Click on the "Export/Save" button after choosing the "Schema" Option.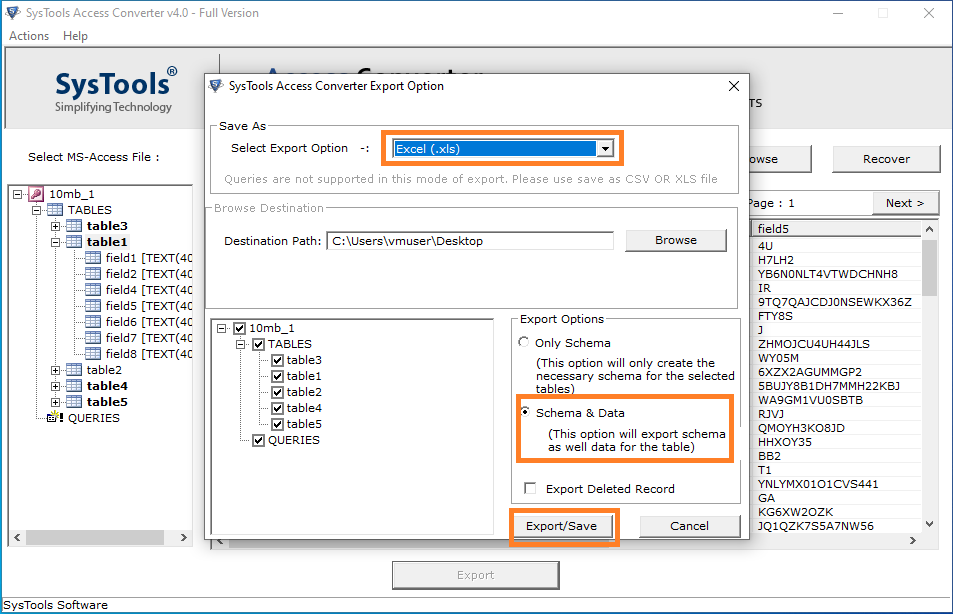 Step 6. When the process of converting will complete press the "OK" button to close the data shown after compilation.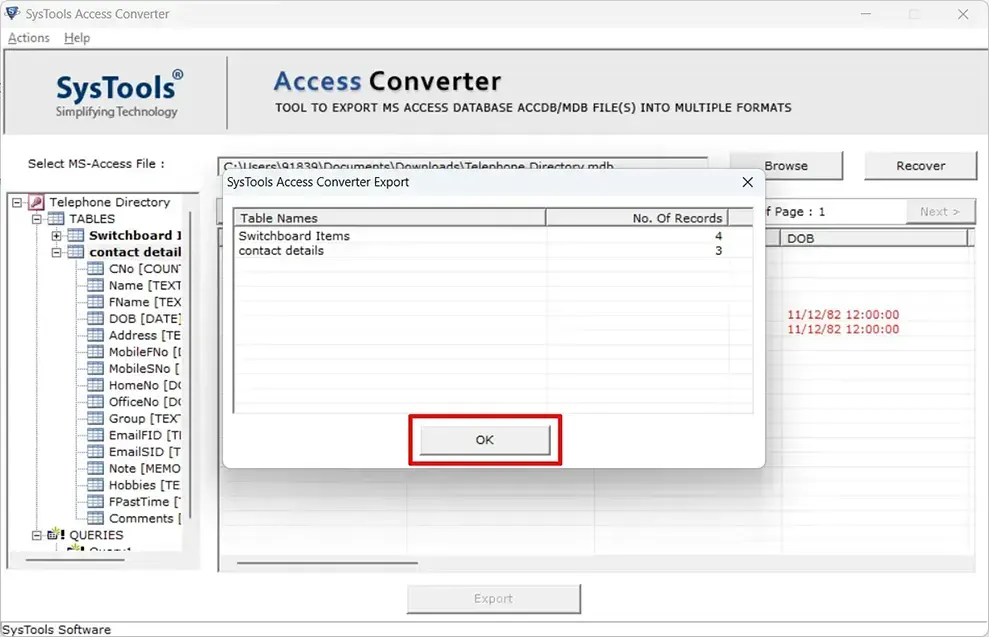 Step 7. It will make a separate folder for conversion and then save it on the desktop separately.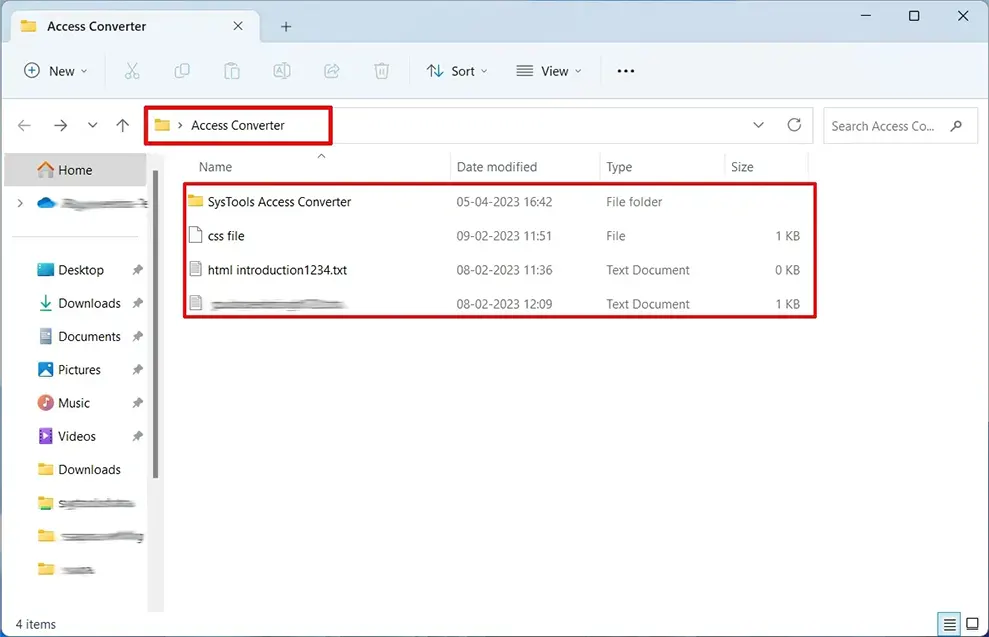 Note:- This method is best to convert MDB to Excel (XSL) because you can put the number of files to convert at one time. It will do that job without any interruption. Its recovery feature makes it a more powerful tool to use. It also provides the demo version absolutely free.
Conclusion
This article contains the solution to your problem "How to Convert MDB to Excel". All the appropriate methods are present in this blog. You can follow any of them according to your need or requirement. All methods are good at their place of requirement.
The professional method is the best option to export mdb to Excel because it can recover a little bit of corrupted files. This facility makes this tool best to export mdb to Excel (XSL). The manual method is good for two to five files. If you have files in bulk to convert mdb file to excel. But the online method is not good to convert access mdb to excel for every time. If you have urgent work then you can use it.