Best Software to Extract Images From PDF Documents
Are you searching for a reliable PDF Image Extractor software to extract images from PDF files? If yes, then you are landed on the right page. In this article, we are going to explain a professional tool that allows you to extract embedded images from PDF documents.
As we are aware that PDF is the most widely accepted file format for sharing documents across the web. The reason we rely so much on the Portable Document Format is that it allows you to integrate different kinds of content .i.e images, videos, graphics, animations, 3D models, etc. However, you can't extract all these embedded items from the PDF files, it is one of the limitations of PDF. Sometimes users want to extract photos from PDF files for uploading in their websites, project reports, presentations, catalogs, and so on. For that purpose, they have to use a tool that helps them to extract images from PDF documents.
However, you can take the screenshot of that particular image, but it will be very time consuming if you have thousands of pictures. So, here we come up with the effortless solution that helps you to export all images from PDF files in a few clicks.
Advanced Software to Extract Images From PDF Document
PDF Image Extractor is one of the best tool to extract multiple images from PDF files. It offers a wide range of options to extract multiple images from PDF documents. The utility supports all the file extensions of the images like JPG, JPEG, PNG, etc. Not only images the software can also extract embedded attachments from PDF files. Moreover, the software efficiently works on both the Windows and Mac Operating System.
Software Availability
Demo Version: Free download the trial version of this professional tool and process the first 5 PDF files. It will extract 1 item from each PDF file along with the watermark in the resultant PDF file.
Full Version: To extract the images from the unlimited PDF documents, purchase its licensed version, and get access to all its functionalities.
Get free software to extract images from PDF!
For Windows
Prominent Features of The PDF Image Extractor Software
Additionally, there are lots of benefits of using the advanced software, let's have a look at them.
1. Export Images from Multiple PDF Files: By using the Add Files or Add Folder option of the software you can insert multiple PDF files to extract images.
(NEW) 2. Save Inline Images as PDF and Other Formats: You just have to check the "Save Inline Images into PDF" option to export all inline images into PDF file format. You can also save extracted images in these formats: TIFF, GIF, BMP, PNG, TGA, PCX, ICO, and RAW.
3. Create Individual PDF: By using this option the tool allows users to create individual PDF files for each inline image present in the PDF documents. At the destination location, multiple PDF files will be created containing a single Inline image.
4. Option to Create Single PDF: The software allows users to extract all images from PDF files and provide an option to save all of them in a single PDF document.
5. Support Password-Protected And Restricted PDF Files: The utility is capable enough to extract inline images from secured PDF documents. But, the password must be known by the user for further processing. In the case of restricted PDF or Owner-protected PDF, you don't require any permission password.
Now, let's see how the tool works!
Working of the Software to Extract Images From PDF Files
The reliable solution to get all images from PDF document is to download this software and follow the instructions mentioned below:
1. Launch the Software on your Windows OS & click on "Add Files" / "Add Folder".
2. Select the "Item type" and choose the "Inline Images" option available in the software.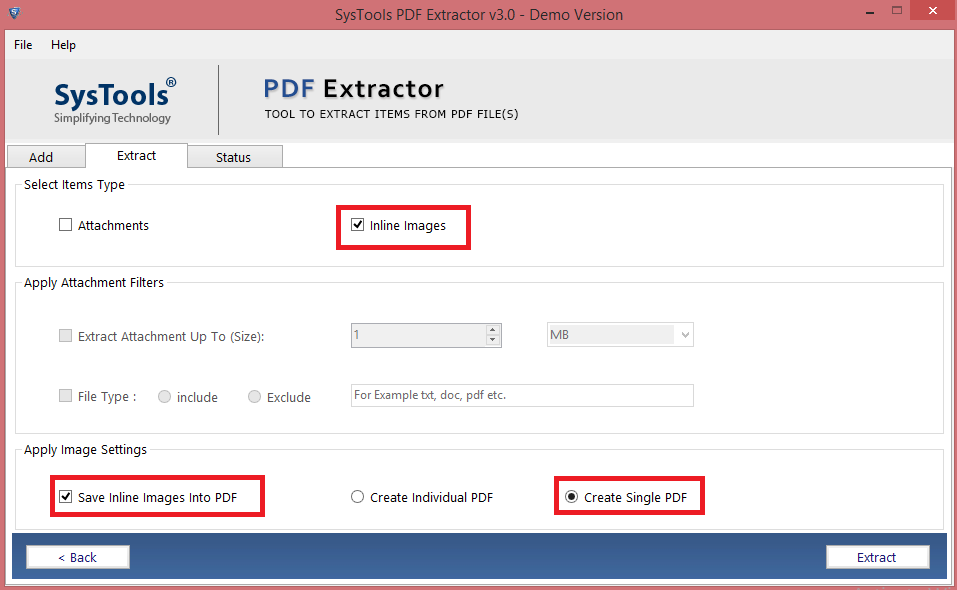 3. Click on the "Extract" button to extract the embedded images.
4. Finally, the software will export images from PDF files.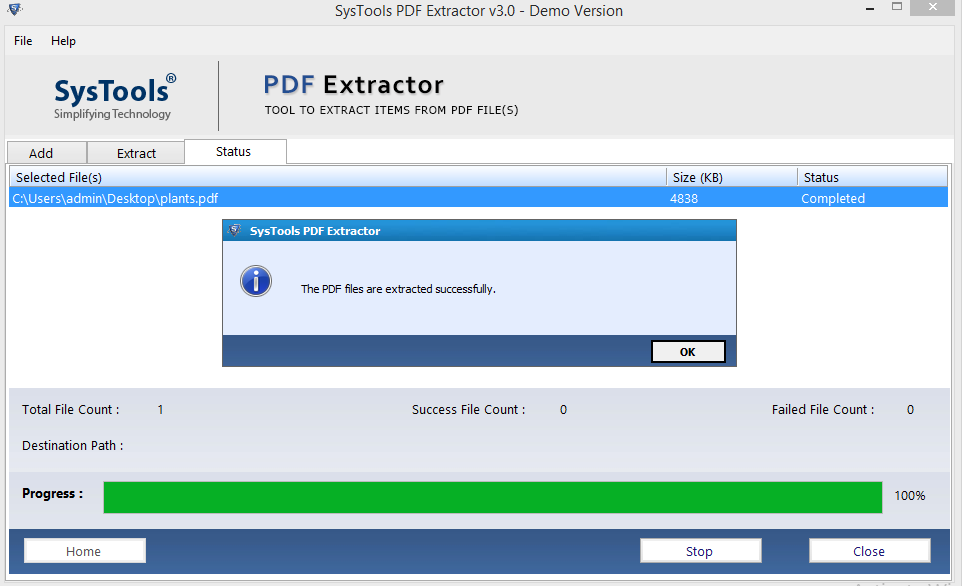 However, there are many online tools that are available in the market but they are not safe at all. After researching a lot we found that the above-mentioned tool is a safe and secure way to extract elements from PDF documents.
Also Read: How to Extract Logo From PDF on Mac
Final Verdict

This article is the complete tutorial on one of the best software to extract images from PDF documents. We have mentioned the workflow of the tool along with its key advantages. This third party tool helps the users to save pictures from PDF documents without affecting its resolution quality. Moreover, the utility is capable enough to extract the embedded attachments from the PDF documents.
FREQUENTLY ASKED QUESTIONS
Will the quality of extracted images be maintained?
Yes, you don't have worry about the quality issues. The tool will maintain the originality of the extracted images.
Can I extract content from the PDF using this extractor?
Yes, our tool is designed to extract images as well as text & attachments from the PDF.
My PDF is having the editing restriction on it and I don't know it's permission password. Can I still use this extractor to take out images from my PDF?
Absolutely yes! The unique thing about this PDF extractor is that it has an inbuilt unlock functionality and incase of restricted PDF you DON'T require to put permission password.
Can I get a free demo of this PDF Image Extractor?
Yes, demo version is free and it will process 5 files and extract one image from each.
Can I save extrected images as PNG format?
Yes, you can extract and export images from PDF in these formats: PDF, TIFF, GIF, BMP, PNG, TGA, PCX, ICO, and RAW.