Save Lotus Notes Emails to PDF- An A to Z Guide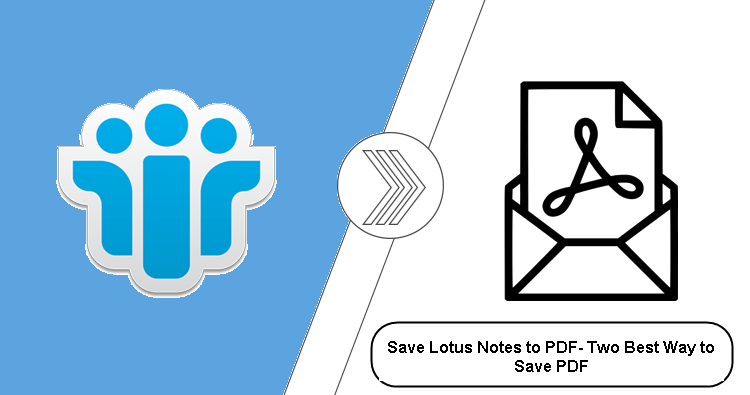 If you're looking for a way to save Lotus Notes emails to PDF, this is the post for you. You will learn how to save numerous Lotus Notes emails to PDF in this article. So keep reading the write-up to find out what the answer is?
Lotus Notes, as we all know, is a highly popular enterprise-level email client. It provides a variety of security and enterprise-level capabilities in NSF file format, including user directories, team rooms, file sharing, instant messaging, discussion forums, contacts management, to-do lists, emails, micro-blogging, blogs, calendars, and many others.
Basically, there are a variety of reasons why one would want to convert NSF to PDF, such as security, archiving, conversion, sharing, and so on. However, because of the abundance of ways available, users may accomplish it with pinpoint accuracy. In addition, PDF is one of the most often utilized file formats for hard copy documentation. Furthermore, it is platform-independent, allowing users to utilize it to create presentations, backup documents, and collect records for government or legal purposes.
Why Do Users Want to Save Lotus Notes Emails in PDF Format?
Device Compatibility – The first reason is that PDF is a device-independent file format, which implies that users may open this document on any device, regardless of the operating system.
Protection and Sharing Options – PDF is a fantastic choice for document sharing because it takes up less space. Additionally, it provides numerous security measures and prohibits authorized users from doing actions like copying, printing, reading, and so on PDF files.
Evidentiary for Legal Purposes – All data forensic investigators and attorneys would like to convert any emails to PDF format for evidence purposes. As a result, it is the first option of data investigators and attorneys.
Ease of Printing – Many users desire a physical copy of their emails, and we are aware that NSF files cannot be printed. As a result, converting NSF to PDF is advantageous for such users and provides a straightforward printing alternative.
How to Save Lotus Notes Emails as PDF in an Efficient Way
If we are looking for a straightforward technique to export NSF files to PDF, we will find that there is none. In that case, we recommend using the NSF Converter Tool to complete the conversion process.
It is the most trustworthy application for converting Lotus Notes emails to PDF. Along with PDF, this utility supports three more file formats: MBOX, EML, and MSG. It is capable of converting NSF emails, contacts, and calendar entries. Because the program has no file size constraints, a user can export NSF files of any size or any number of NSF emails.
How to Use a Tool to Convert Lotus Notes to PDF
1. First, download and install the tool
Note: Make certain that Lotus Notes 9.0.1 is installed and set up.
2. Select the Select NSF File(s) radio button and then click the Add File(s) or Add Folder button.
Note: Please supply the password if the NSF file had one.
3. To add files straight from Domino Mailbox, provide the Domino Server IP Address and Password.
4. Choose PDF as the export format from the Export Format drop-down menu.
5. Select the Mails option from the Categories menu.
6. Select Advanced Conversion Options such as HTML Formatting, Internet Header, Maintain Folder Hierarchy, and so forth.
7. Choose a location to save the resulting file as the Destination.
8. When you are finished, click the Export option to begin the operation.
Manual Method for Exporting Lotus Notes Emails to PDF
If you're looking for a free option, we'll go through how to save NSF emails to PDF manually in this part.
1. First, launch the Lotus Notes email software on your computer.
2. Now, drag and drop the email on the desktop to store it.
3. The emails that were dragged will be stored as an EML file.
4. Now launch MS Outlook and open these files. After that, select File Save As.
6. Next, pick HTML as the email storing format.
7. Open the HTML in MS Word and save it as a PDF.
More Lotus Notes Queries
Conclusion
Many Lotus Notes users want to know how to save Lotus Notes emails as PDF, however owing to the lack of a direct manual way, they are unable to execute this operation. As a result, in order to make the jobs easier, we have created this write-up in which we have covered the finest and most cost-effective solution that will allow users to effortlessly export Lotus Notes emails to PDF without losing any data.