How to Retrieve Microsoft Access Database Password – Stepwise Guide to Learn
MS Access provides a security feature for keeping the database secure. Using this feature, users can generate a complex and multilingual password to secure their Access database. But sometimes,  users may lose or forget their Access database password due to its complexity. Once they have lost MS Access password so, unlocking of the password protected Access database becomes a difficult task. In such cases, they start looking for an efficient solution to remove security from MS Access database. We have considered this issue and come up with a flawless approach that helps in finding how to retrieve Microsoft Access database password. Hence, just go through the entire post to have more extensive knowledge about this issue. But before going ahead, first, read the queries which are posted by many users on different forums. The following scenario is taken from the best forum site:
User's Query on Access Database Password Retrieval
A few months ago, I had set a complex and lengthy password on my Access database 2007 to make that password protected. But unfortunately, I have lost that. So, now I want an efficient solution to know how to retrieve Microsoft Access database password. And, as I need that password protected database urgently so, I hope the solution will be provided soon. Please recommend me an appropriate technique for the same. Thanks in advance for further assistance.

Some Queries Related to Retrieve Password From Access Database
Can I retrieve Access database password free?
How can I get MDB database file password?
Is there any manual way to recover Access db password?
How do I retrieve Access database password?
Proficient Solution to Retrieve Microsoft Access Database Password
As we all know, there is no manual solution to recover Access database password. So, here we are providing you information about the best Access Database Password Recovery tool, which helps to extract lost or forgotten password quickly. With the help of this software, you can easily retrieve Microsoft Access database password without any hassle. This software has potential to reset ms access database password. It comes with a user-friendly interface so, novice users can also utilize it to crack access password without taking any external assistance.
Despite this, it also consists some amazing features, which helps to retrieve Access database password without any issue. Any Windows OS and MS Access users can use this application due to its extensive support system. It supports all versions of Microsoft Access and Windows Operating System.
Complete Steps to Get Access Database Password
Here, we are going to mention some simple steps to implement Access database password recovery procedure. You just have to follow all of them adequately to get the expected outcome. Let's get started:
Step 1: First of all, install and run the Access database password recovery tool on your local machine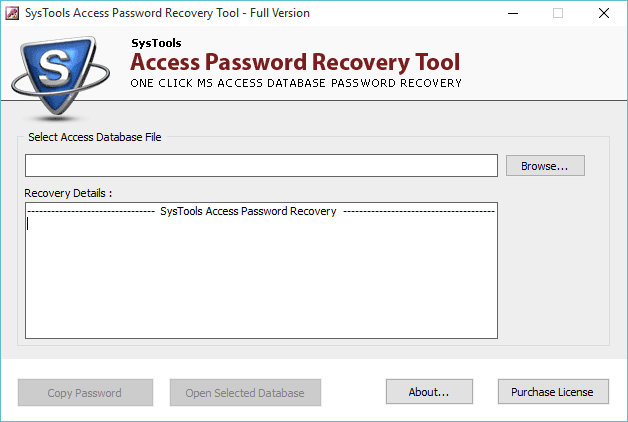 Step 2: Now, click on the Browse button to add preferred Access database file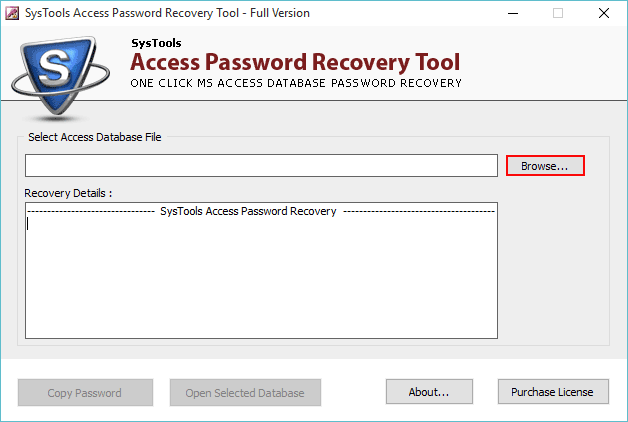 Step 3: After selecting a protected MDB file, a dialogue box will display on your screen. Here, hit on Copy Password option to copy the recovered password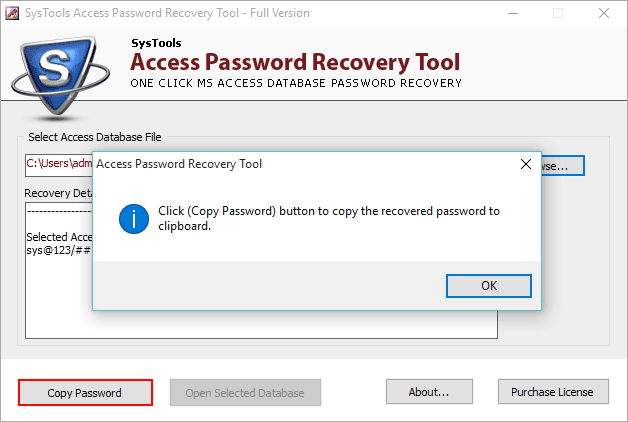 Step 4: Once you have copied the password after that, click on the Open Selected Database option for opening password protected access database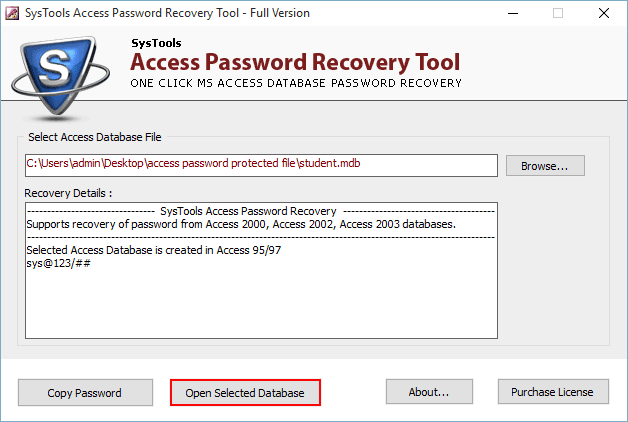 Step 5: Here, paste the retrieved password in Enter Database Password dialog box unlock protected Access database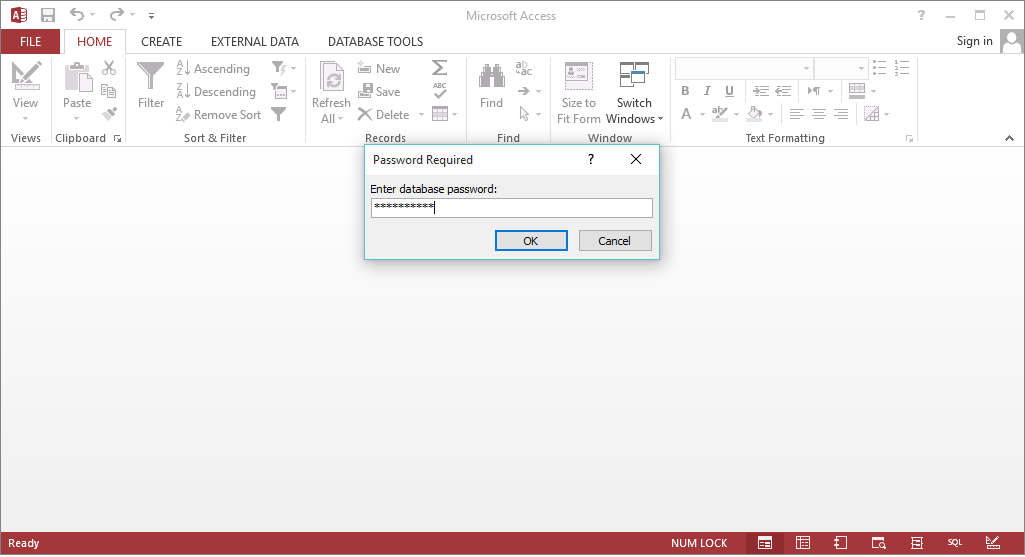 Step 6: Finally, you can view your complete database after Access password retrieval successfully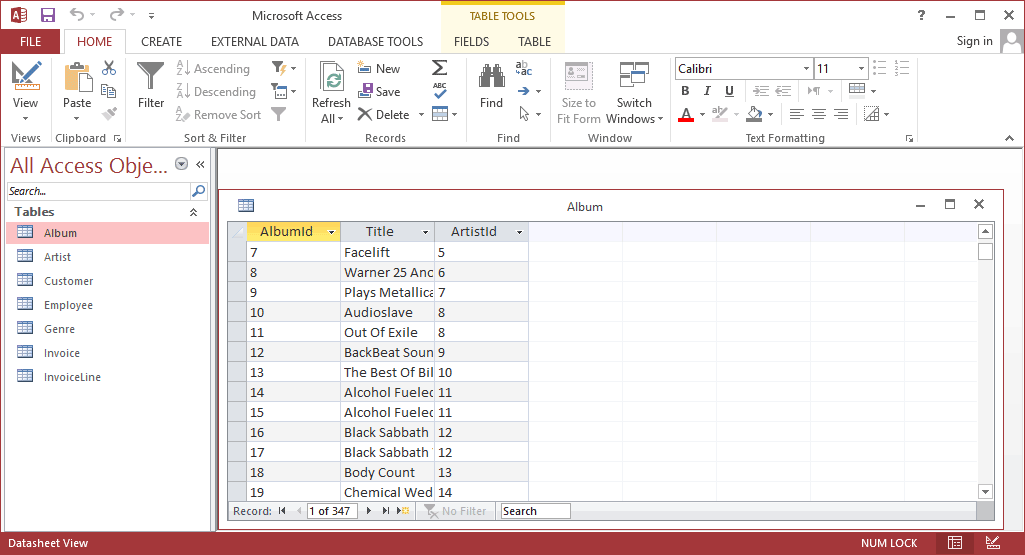 Concluding Thoughts
Nowadays, forgetting a password of Access database is the most common problem. Sometimes, people try to open password-protected access database but, they end up with failed try as they couldn't recall their password. So, for the users who are facing such issue, we have suggested a reliable solution to let them understand how to retrieve Microsoft Access database password. Using this software one can recover lost or forgotten password of MS-Access database. A step-by-step procedure to implement is being provided here in this blog