How to Retrieve MS Access Database Password?
Do you want to retrieve MS Access database password? Don't worry this blog post describes the 2 best methods to recover lost MS Access database passwords. We all know that Microsoft Access provides a security feature for keeping the database safe and secure. Users can use this feature to generate a complex and multilingual password to secure their Access database.
But sometimes, users may lose or forget their Access database password due to its complexity. Once they have lost the MS Access password, unlocking the password protected Access database becomes a difficult task. When users try to open MS Access database using the last known password it shows a "Not a Valid Password" error. In such cases, they start looking for an efficient solution to remove security from the MS Access database.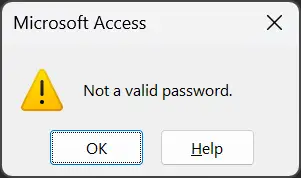 We have considered this issue and come up with a flawless approach that helps in finding how to retrieve Access database password. Hence, just go through the entire post to have more extensive knowledge about this issue.
Techniques to Recover Access Database Password
Several methods are available to retrieve MS Access database passwords. You can use manual and professional techniques to resolve your problems. Upcoming sections of this blog describe the complete steps by which anyone can recover Access DB password without knowing the current password.
However, the manual method has some limitations, but it still works. The professional method is an easy-to-use and recommended technique that is specifically developed to retrieve Access MDB database password instantly.
Method 1: Use VBA Code to Retrieve Access Database Password
First, run the MS Access application on your PC.
Create a new MS Access database and open it.
Then, open Visual Basic Editor by using the ALT+F11 keys.
After that, choose Insert and press the Module button.
Transcribe below mentioned VBA code in the Module to continue.

Press F5 to run Macro to decrypt Access database.
Know Limitations

This method requires technical knowledge of automated VBA scripts so non-technical users may face problems while performing this. Sometimes this method may fail to retrieve MS Access database password due to its complexity.

Before recovering a forgotten MS Access DB password this is advisable to create a duplicate copy of the database. Sometimes you may lose your crucial data, even there is no guarantee for data loss.
Method 2: Proficient Tool to Retrieve Microsoft Access Database Password
Download Access Database Password Recovery tool which helps to retrieve forgotten Access MDB database passwords quickly. With the help of this software, you can easily recover Access database password without any hassle. It comes with a user-friendly interface so; novice users can also utilize it to retrieve Access MDB file password without taking any external assistance.
Despite this, it also consists of some amazing features, which help to retrieve Access database password without any issue. Any Windows OS and MS Access users can use this application due to its extensive support system. It supports all versions of Microsoft Access and Windows Operating System.
Steps to Recover Access DB Password
Launch the software on your computer.

Select the Add File or Add Folder button to add Access MDB database.

Browse the MDB database from your PC and click the Open button.

See the MS Access database and source path in the software panel.

Click the Recover button to start recovering Access database password.

MS Access database password retrieved successfully, click OK.

Click on the Copy Password button and paste it to open your Access MDB file.

Concluding Thoughts
Nowadays, forgetting a password of Access database is the most common problem. Sometimes, people try to open password-protected access database but, they end up with a failed try as they couldn't recall their password. So, for the users who are facing such issues, we have suggested 2 reliable solutions to let them understand how to retrieve Access database password. Using the suggested methods anyone can recover lost or forgotten password of MS Access database.
Questions & Answers

Q 1: How to retrieve MS Access database password?

Use an automated VBA script or suggested software to retrieve Access password.

Q 2: Can I recover Access ACCDB database password?

No, this software is only capable of retrieving password from Access MDB database.

Q 3: Can I install this software on Windows 11 OS?

Yes, this utility is compatible with all Windows Operating Systems including Windows 11, 10, 8, 7, Vista, XP, etc.