Remove Duplicates From PST File – Guide to Eliminate Duplicates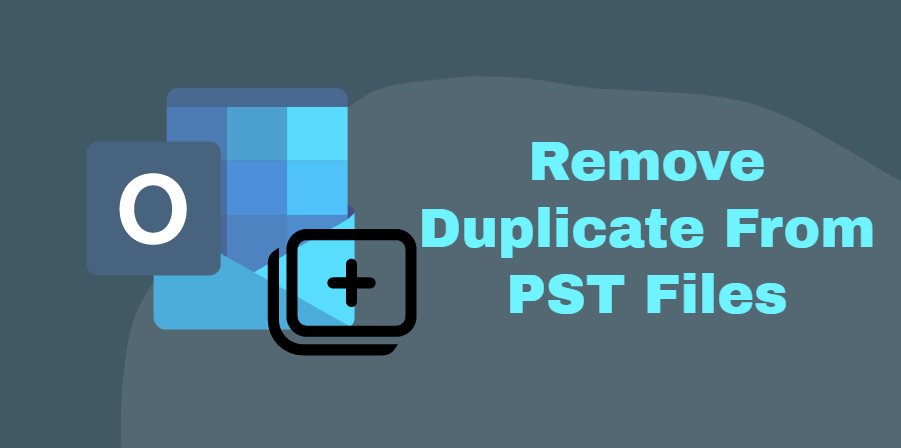 In MS Outlook 2019, 2016, 2013, 2010, 2007, 2003, 2002, and 2000, facing issue of many duplicate files such as emails, contacts, and calendars are prevalent. It is, nevertheless, rather irritating because the number of duplicate files in PST impacts works productivity.
Essentially, this happens as a result of corrupted mail profiles or mail server issues. The majority of duplicate file issues arise when Microsoft Outlook is updated, and the PST files are overwritten or altered.
As a result, in order to improve system and account performance, users must remove Outlook duplicate files like emails as well as other items like as contacts, calendars, tasks, notes, journals, and so on) to free up the extra space occupied by Outlook duplicate files or folders.
As a result, in this piece, we will go through the simplest and most effective method for removing duplicates from PST files.
So let's get this party started!
Blog Content
Let's start with the reasons for redundant entries in the PST file, according to the list.
Causes of PST Duplicate Files
Duplicate files in Outlook 2019, 2016, 2013, 2010, and prior versions can be caused by a variety of factors.
Improper Rules Configuration: Duplicate files in PST files occur as a result of Outlook rules that are incorrectly configured.
Short Periods Between Sending and Receiving Emails: Outlook duplicate files develop as a result of short intervals between sending and receiving messages. Because short periods cause issues with the synchronization of messages and other mailbox data.
Irregular Mailbox Settings: If users do not properly define the mailbox parameters while creating the account, it is possible to receive the same emails several times.
Method To Remove Duplicate
Here in this section, we will discuss some best techniques to resolve the duplicates from PST file. So keep reading the blog.
#Fix 1: Modify the Inbox Frequency in Outlook
Here are several techniques for increasing Outlook's shot frequency.
1. Open Outlook and navigate to the Send and Receive tab.
2. Then, select Define Send and Receive Groups from the drop-down menu.
3. Now, navigate to the Schedule an automated send/receive every section, and set the time to between 10 and 15 minutes.
#Fix 2: Examine the Account Preferences
If you have done it more than once, there is a chance that you have duplicated files in Outlook while customizing the PST file in Outlook by accident. In such an instance, additional accounts with identical PST files would be added to your Outlook. To confirm this, perform the actions outlined below:
1. To begin, open Outlook and go to the File menu, then to Info >>Account Settings.
2. After that, the Account Settings window will display.
3. Now, navigate to the E-mail tab and look for the account you created in Outlook. If it appears more than once, simply delete it.
4. Drag the cursor to the E-mail account and click the Remove button to erase it.
#Fix3: To Eliminate Duplicates From Outlook Using Clean Up Tool.
Microsoft provides a Clean Up Tool that allows you to remove duplicate files from Outlook PST files. So, in order to use it effectively, follow the steps mentioned below:
1. Begin the step by opening Outlook.
2. Then, from the ribbon bar, click to expand the Clean Up tool.
3. You'll notice three options when you expand it: Clean Up Conversation, Clean Up Folders, Clean Up Folders, and Subfolders.
4. Clean Up Folder & Subfolders should be selected.
5. A dialogue box will now open, asking whether you wish to proceed with the cleaning or cancel it. Simply choose Clean Up Folder from the drop-down option.
6. By selecting the setting option, navigate to the Deleted Items folder.
7. Click on settings, the Outlook Options box appears. Choose the Browse option.
8. A Select Folder dialogue box will now display. Then, choose Deleted Items and hit the OK button.
9. Once everything is in place, select Clean Folder to move duplicate files from Outlook's inbox to delete items folder
The Disadvantages of Manually Removing Duplicates from PST
All of the manual methods discussed above are only useful when the mailbox data is little. However, if you have a large amount of mailbox data in Outlook, you may have problems, such as being unable to determine the exact quantity of a duplicate file in Outlook's mailbox.
Error messages such as "No messages were cleaned up" begin to show while using the Clean Up tool. Only emails that fit your clean upsetting criteria will be sent to the trash." As a result, deleting duplicate items from Outlook is no longer an option.
How to Remove Duplicates from a PST File Professionally
As previously indicated, there are a number of difficulties that emerge while using the manual approach. So, if you're looking for quick and dependable ways to delete duplicate files from Outlook, think about hiring a professional service. One such excellent program is Outlook Duplicate Remover, which simply removes duplicate files from Outlook PST, OST, and BAK files.
The nice aspect about this tool is that after removing duplicate items from Outlook, it simply provides a report with all of the duplicate item's information.
Conclusion
Duplicates are damaging to your Outlook PST file since they create several issues while using Microsoft Outlook. As a consequence, we highlighted many methods in this post that users may utilize to easily remove duplicates from PST files without putting in the extra effort.