PDF Password Unlocker For MAC OS X – FREE Edition Available
Are you looking for the best PDF Password Unlocker for MAC? Then, look no more!
In this blog, I am going to highlight an automated tool that can remover User-level and Owner-level security from the PDF file.
As we know, PDF is a portable document that can be open in any system. So, some people opt to secure their PDF documents either by putting a password or some kind of restrictions.
User-level Security: In this type of security, you just put a password for the PDF file. Only those who know the password can open the document.
Owner-level Security: In this type of security, the owner put restrictions on it. That means other people can open their PDF documents but cannot edit it. And if they have a permission password they can do only those things, which owner has given permission to. for example, the Owner can allow you to comment in the PDF but not edit it.
PDF Password Unlocker For MAC can remove following restrictions:-
Printing
Editing
Copying
Extracting pages
Commenting
Signing
Document Assembly
Remove Password and Restrictions from Multiple PDF files swiftly:-
Add Files / Folders option to remove restrictions from numerous PDF files at once.
A time-saving tool which can save you precious time and get the work done.
You can also view the status of your PDFs going through the Unlocking Process.
Remove security from (Advanced Encryption Standard) AES & RC4 128 & 192 bit encrypted PDF document:-
Unlock the most stubborn PDF with ease.
This is a robust tool engineered with sophisticated programming.
Desired results are for sure to happen.
You don't need to install require Adobe Acrobat to remove password PDF file on Mac
How to Use PDF Password Unlocker For Mac OS X?
It's self-explanatory and an easy to use interface won't give you any hard time in running the tool. Just follow these steps:-
1. Choose Add PDF Files / Folders option to add multiple PDF files at once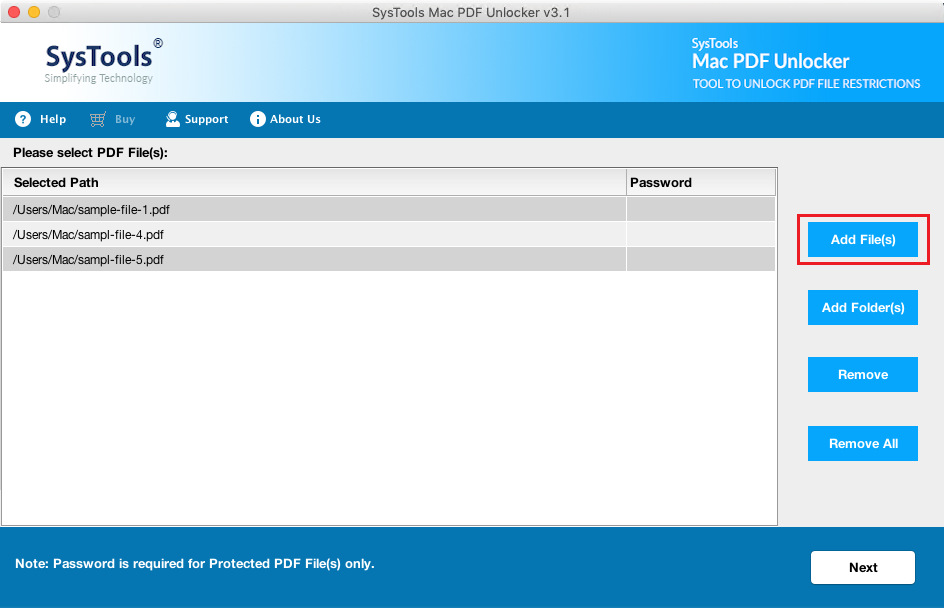 2. Remove password or restrictions from PDF Files by choosing 'Unlock'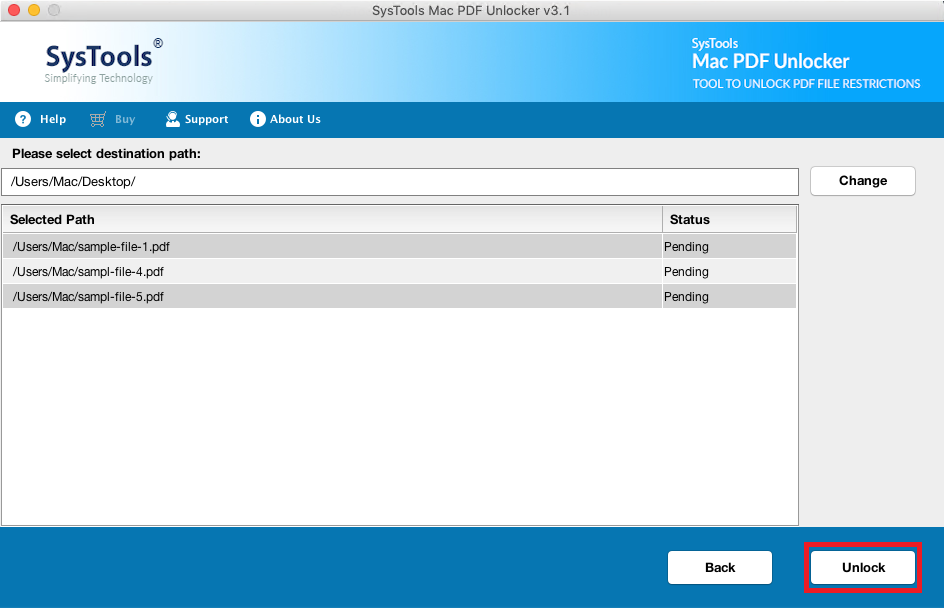 3. After the unlocking process is successfully done, click OK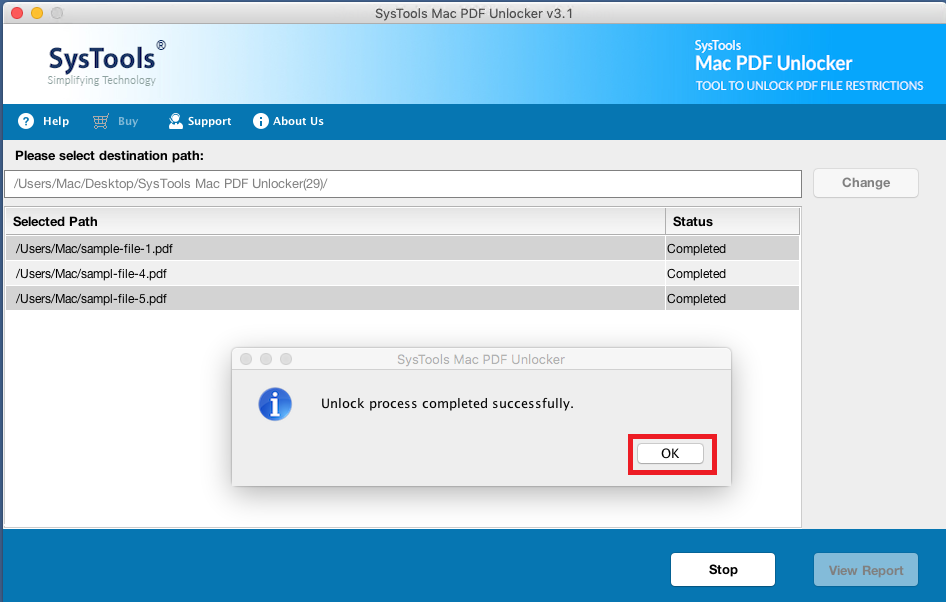 Our tool can remove User-level security only if you know the password. As no automated tool in the world can crack PDF user-level password security.
Specifications and Pre-requisites for the Tool
System Specifications
Hard Disk Space
100 MB of free hard disk space required
RAM
2 GB of RAM
Processor
1GHz processor (2.4 GHz is recommended)
MAC OS X 10.15 and below
Prerequisite
Make sure Java JDK & JRE 8 should be installed in your Mac system.
The System Region should be the United States and the Language should be English.
Conclusion
PDF Password Unlocker For MAC is a great tool to remove password and restrictions from the PDF documents. You can download the Free Edition of the tool and try it yourself and see.
If you face any trouble in running the tool, you can contact us anytime. Our support team is at your service 24×7.

You Might Also Read: How to Remove Password Protection from PDF After Opening
I have 40 bank statements in password-protected PDF form with me, which I want to send to my accountant. I would like to know can this tool remove the password from all the 40 PDFs in one go?
Yes, this tool handles multiple PDF files and can remove the password from N numbers of PDFs in one go.
I am getting the "Unable to load Java Runtime Environment" error while installing the tool?
It is because you need to install JDK & JRE 8 in your MAC system. Kindly read all the pre-requisites and specifications for the tool.
I have a PDF document with me which I can edit but cannot copy it. can this tool help me to remove copy restriction from it? And I don't have the permission password.
Yes, this tool can remove copy restriction, and don't worry, you don't permission password for it.