Outlook To-Do List Shows Duplicates | Know How to De-Duplicate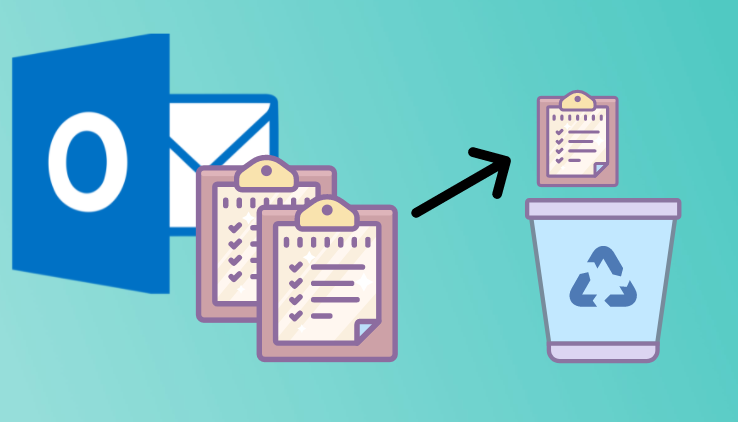 If your Outlook to-do list shows duplicates and you are seeking for a solution to draw out all the duplicates task, then end your searching process here. Because here in this blog we are going to discuss the best method to delete duplicates from Outlook tasks or to-do lists.
Basically, Microsoft added a new To-Do List feature to Task in Outlook 2007. It will assist users in keeping track of their duties or tasks till they are completed. Furthermore, Outlook enables users to construct a single To-Do List, which may be improved with reminders and monitoring.
However, when a user attempts to make a To-Do List, occasionally they see some duplicates in a task panel, and when they try to delete the duplicate, it also deletes the original. Now, to resolve this isseu keep reading the blog to find the best solution.
But before going towards the solution part let's understand the reasons behind this issue.
Outlook To-Do List Shows Duplicates: Why Do They Exist?
When you discover duplicate tasks in your Outlook account, eliminating such items without destroying the original content becomes a major pain. Multiple reasons are responsible for this problem, and some of the more important ones are listed here.
Duplicate tasks in your Outlook account are caused by corruption in the to-do list.
It's possible that a problem with your View Settings is causing duplicate tasks in your Outlook account.
This sort of issue occurs when users open PST files from Outlook 2003 and Outlook 2007 in Outlook 2010. This is due to compatibility difficulties.
Now, after knowing the reasons lets, fix these causes one by one so that in the future you will not get duplicates in Outlook To-Do List.
Methods To Fix Outlook To-Do List Shows Duplicates
Here in this section, we are going to discuss two methods to resolve the duplicate issue from Outlook To-Do List. So go through the write-up and choose the method.
Let's start with the free method!
Manually Fix Outlook To-Do List Duplicate Issue
As previously stated, a problem with view settings is one of the most common causes of duplicate To-Do List in Outlook Task. So, in order to remove the problem from the view setting, follow the steps outlined below.
1: Open Outlook first, then the Tasks folder.
2: Delete the redundant job from the task list. This phase displays all of the tasks in a list format.
3: Go to the View tab and select Change View>> from the drop-down menu.
4: Next, go to the View tab>>View Settings.
5: Select the shoot button after the advanced view setting simple list dialogues have opened.
6: Here you'll see a small dialogue window appear. Select a subject from the dropdown menu of brief items, then click the OK button.
7: A dialogue box with a caution message will display. To confirm the view update, simply click the yes button.
8: Now, compare the related tasks to find the duplicate one and, then hit shift + delete.
Remove a Duplicate To-Do List from Outlook Using an Export Solution
After attempting to delete duplicate tasks from Outlook manually. If you're still seeing duplicate tasks in your Outlook account, you might want to try a different technique. One of the best and most successful tools for removing duplicate tasks from Outlook is Outlook Duplicate Remover.
This software also eliminates duplicate emails, contacts, calendars, journals, and notes in bulk from Outlook OST/PST/BAK files without causing data loss.
Let's See the Working of the Tool
1. First Download and install the utility on your system.
2. Once the application is installed open the tool and choose Add Files or Add Folder.
3. Now, choose the Duplicate Option such as Within Folder or Across Folder.
4. Choose the Destination location to save the duplicate free Outlook data file.
5. From the Select Item Types option choose the Tasks option.
6. Now, choose the Action setting that you want to apply to duplicates.
7. At last click on the Next button to start the process of de-duplication.
Why Automated Solution is Best
Well, the automated solution comes with the best features that overlap the free solution. Some of the features are mentioned here.
Keep Data Properties- During the entire procedure, this Outlook duplicate removal application will be able to maintain your folder hierarchy as well as the metadata.
Categories Option – The tool comes with the categories option so using this option users can easily delete dupicate contacts, emails, task, notes, and from journals.
Various Fields Option- PST Duplicate Remover Tool allows you to delete duplicate data items from your Outlook account using choices such as BCC, Subject, Cc, Start Date, Body, and many more.
Actions Options- Delete Permanently, Move to Deleted Item Folder, Move to Folder, Put Flag, and Mark as Expire are the options provided by this duplicate remover application to delete duplicate items from Outlook.
Conclusion
Outlook Task plays a very important role if you are in ongoing work because it will remind you what is done and whatnot. But duplicates in To-Do List create issues, so here in this, we have discussed two methods that will easily help you to resolve the issue of Outlook To-Do List shows duplicates.