Here, in this post, we have provided two different solutions to migrate offline Exchange 2016 / 2013 public folders to Office 365 using which offline folders are moved to O365 without any hassle.
As we know public folders helps to organize and share information with other people in workstations or organizations. Basically, these folders organize the content in a deep hierarchy which is easy to access.
But, nowadays "How to migrate public folders of Exchange 2013 to Office 365?" is the most common query asked among various organizations. Because maintaining public folders having a large amount of data becomes problematic for the organizations.
User Query:
"Our organization was planning to migrate public folders of Exchange 2016 to Office 365. These folders contain some important information about the project, so we decided to move them into O365. But, we don't know the exact procedure to perform this task. Can anyone suggest the simple and fast solution which could help us in accessing offline public folders in Office 365? All suggestions are welcome!!.
Solutions for the Migration of Public Folders of Exchange 2013 to Office 365
There are two methods to migrate offline Exchange 2016 / 2013 public folders to Office 365
1- Manual Solution
2- Automated Solution
Things to be known before using the manual method
1- In Exchange Server, you should be the member of the Organization Management or Server Management RBAC role groups.
2- In the Exchange Online, you should be the member of the Organization Management role group.
3- If the public folder is larger than 25 GB, then divide that public folder into multiple small public folders or you can delete content from that folder.
Note: 25 GB limit only applies to the public folder, not to any child or sub-folders.
Accessing Offline Public Folders in Office 365 – Manually
1- Firstly, download Exchange 2013/2016 Public Folders migration scripts and save these scripts on the local system and run the Powershell commands.
2- Now, prepare for the public folder migration, but before that make sure that there will be no duplicate public folder objects, no orphaned Public Folder mail objects and confirm that SMTP email address configured for public folders in the AD should be matched to the SMTP email address on the Exchange objects.
3- Now, generate the CSV files
4- Create the public folder mailboxes on the Exchange folder Online
5- Begin the migration request
6- Generating the request for the downtime
7- For the final migration lock down the public folders in the Exchange 2013 environment
8- Finalize the Exchange public folder migration
9- Unlock public folder in Exchange Online
10- Finalize the migration on-premises
11- Lastly, remove Exchange public folder from the Exchange on-premises environment
To know complete step by step process visit the link:
https://docs.microsoft.com/en-us/Exchange/collaboration-exo/public-folders/batch-migration-of-Exchange-2013-public-folders
Automated Solution to Migrate Offline Exchange 2016 / 2013 Public Folders to Office 365
With Exchange EDB Recovery Tool users can easily perform the batch migration of public folders of Exchange 2013 to Office 365. The software provides the functionality to repair private as well as public folders of Exchange. Once the public folder gets repaired, users can easily them into Office 365, Live Exchange Server and different file formats. The tool also supports the recovery from dismounted and Offline EDB files of Exchange.
This utility provides two scanning mode option i.e. Quick and Advance scan which recovers dismounted as well as offline Exchange database file from corruption. Depending on the level of corrupted EDB file, you can select the dual scan option.
If you don't know how to recover deleted Exchange mailbox, then you can use this automated wizard to retrieve the EDB mailboxes back because the advance scanning option of this tool also recover purged mailboxes and data items from loaded .edb file.
The software support various Exchange database mailboxes such as: disconnected, user, archive, shared, legacy and items like – mails, notes, tasks, journals, calendars, contacts. User can export these Exchange data selectively as well as in batch to the Live Exchange Server, O365, and EML, HTML PST, MSG, PDF, MBOX file format.
You don't have to use PowerShell command to export mailbox to PST Exchange 2016, 2013, and below versions. Any technical and non-technical users can use this professional software without having any prior technical skill & knowledge to export all user mailbox to PST Exchange 2010 and many other versions.
It automatically creates the export report which allows users to check success and fail count of export Exchange data to the selected export option.
Step by Step Process to Move Offline Public Folders in Office 365
1- Download the software and click on Add File option, then browse (Pub1.edb)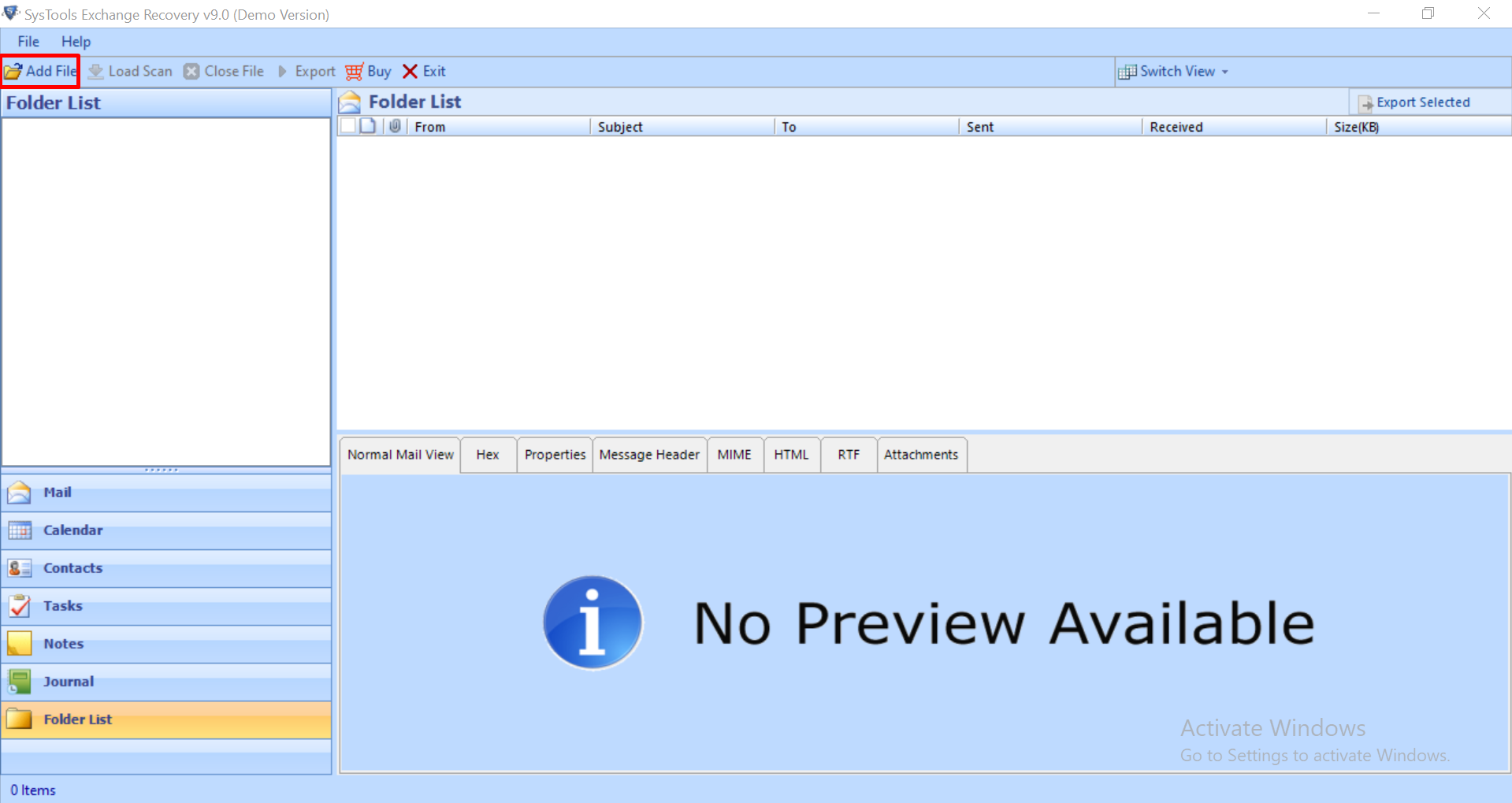 2- Select scan mode & click on + icon to expand the mailbox items and click on the specific public folder to view its emails.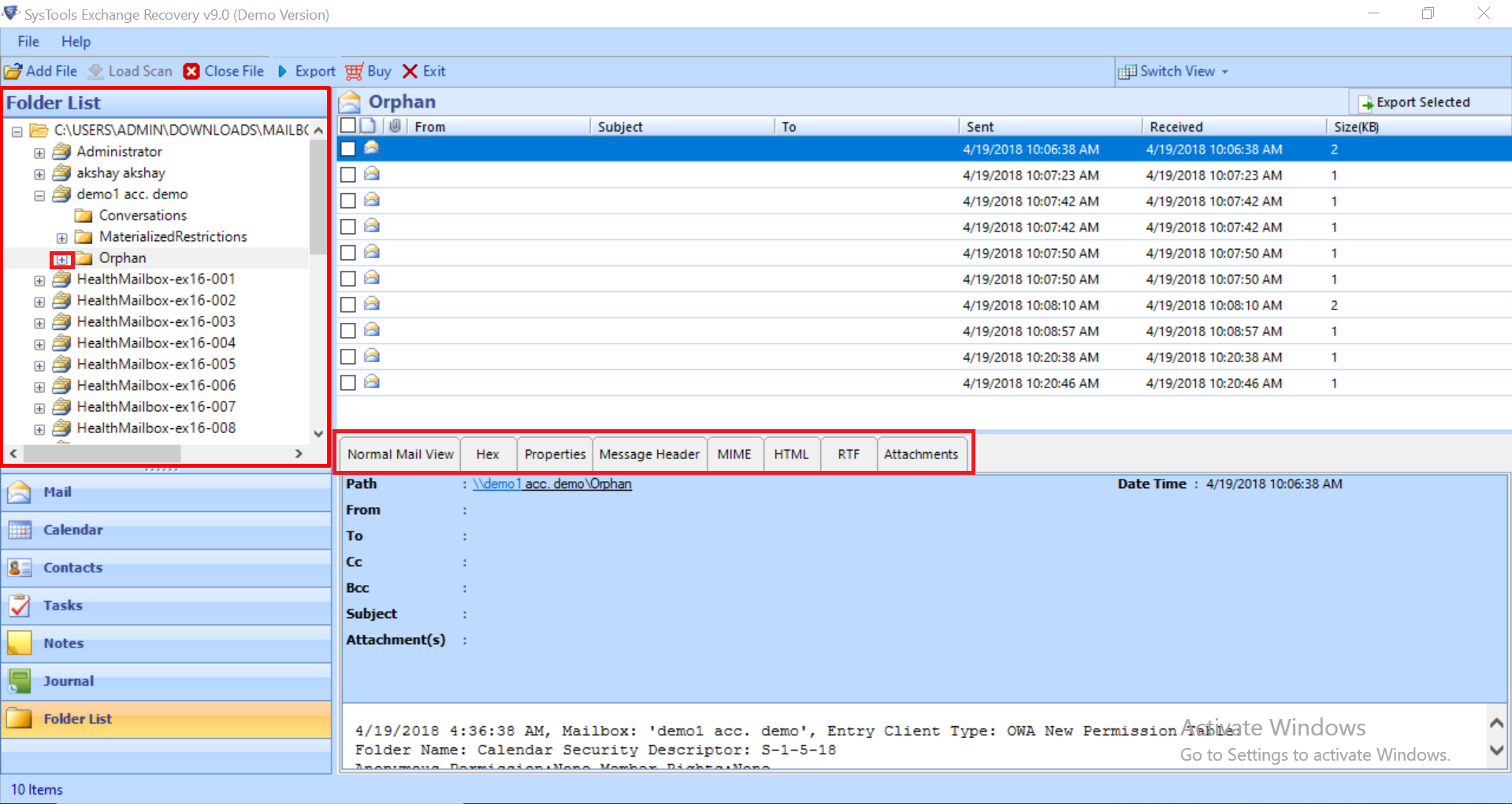 Note: here, we have expanded Inbox folder, but to expand Public folder, you can click Public
Now, To migrate offline Exchange 2016 / 2013 public folders to Office 365 follow these steps:
With Impersonation:
3- Click on the Export button to move public folders from Exchange 2013 to office 365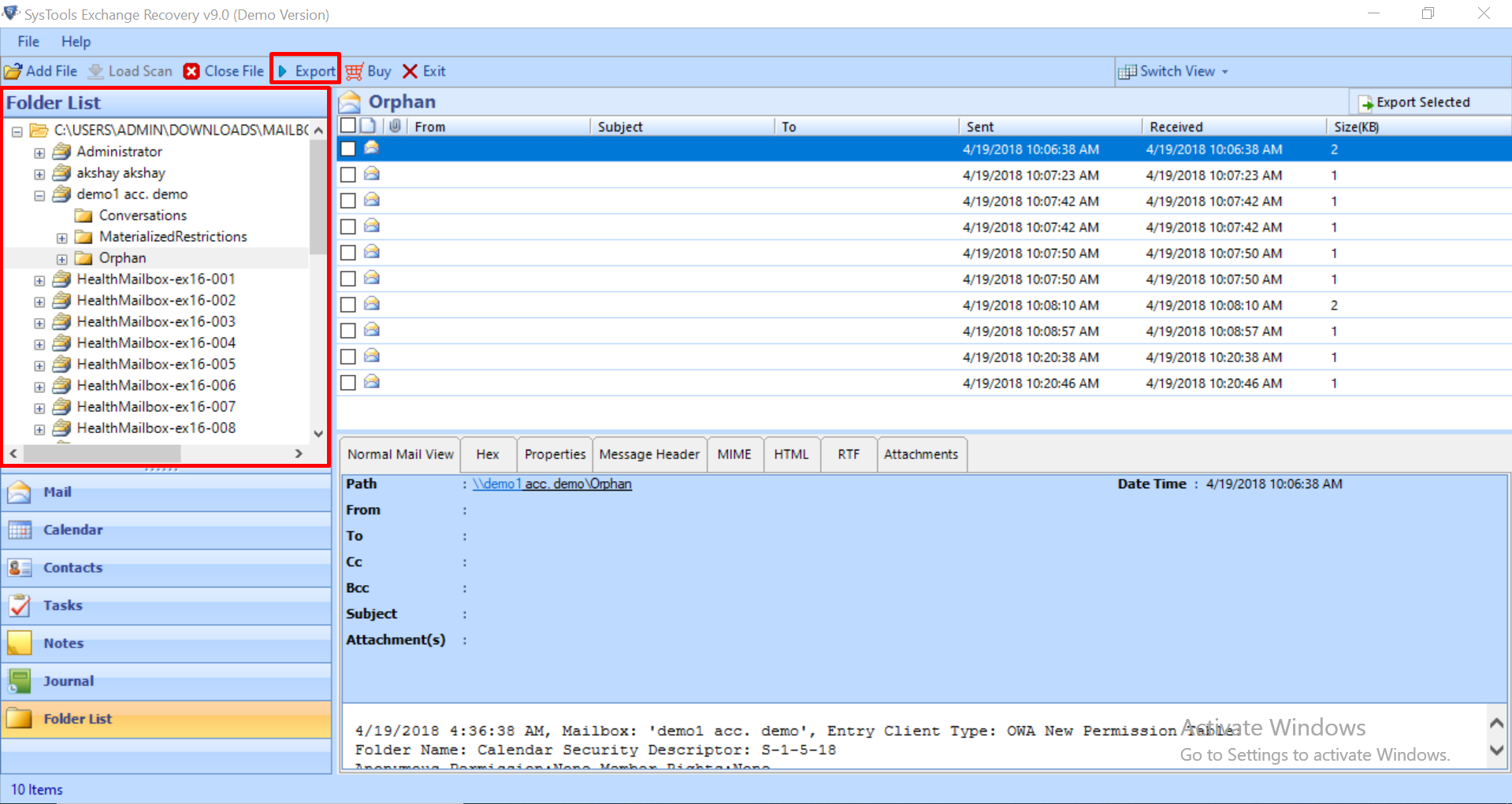 4- Then, click on Office 365 & configure "Office 365" settings. Click on Advanced Settings.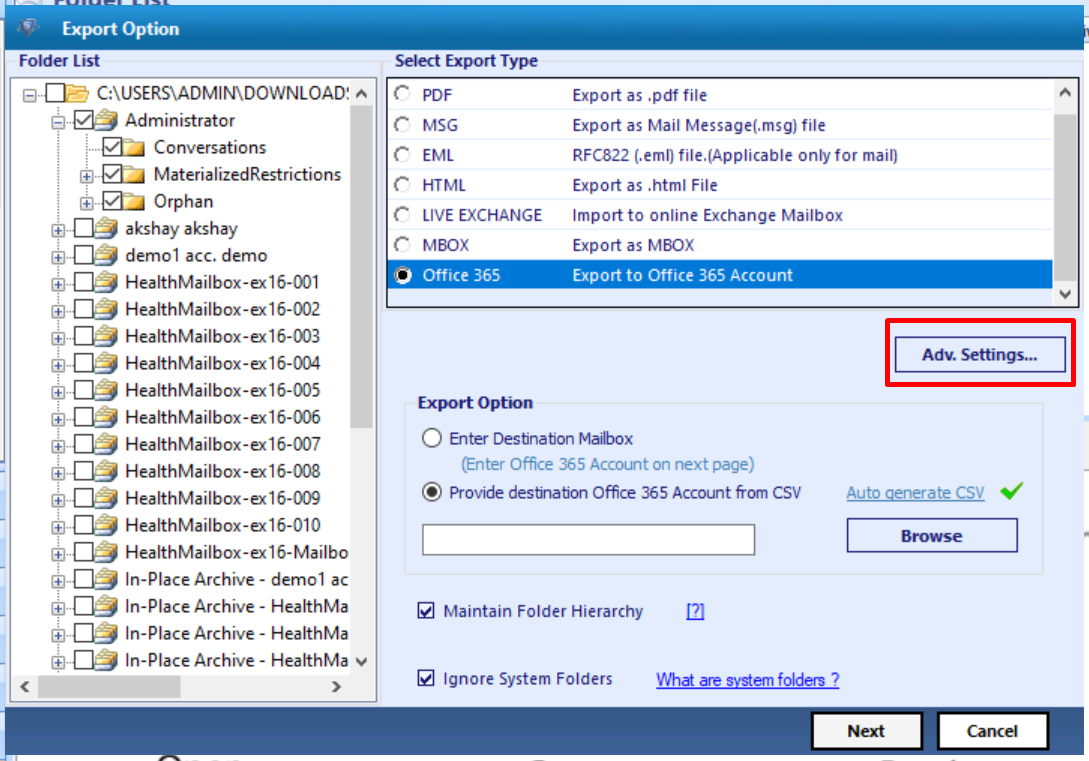 5- After that, user Impersonation:
Admin SMTP: Enter the Admin username for the admin account
Password: Enter the password for the admin account.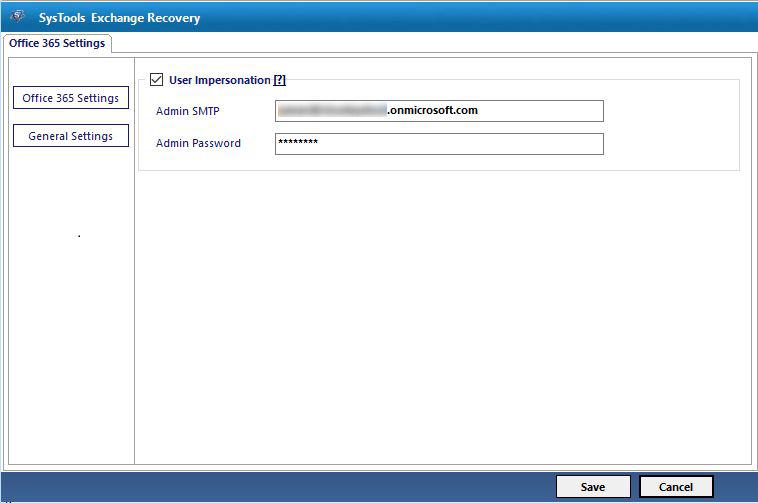 6- Now, to import EDB public folders to Office 365 there are 2 ways i.e.
1- Enter Destination Mailbox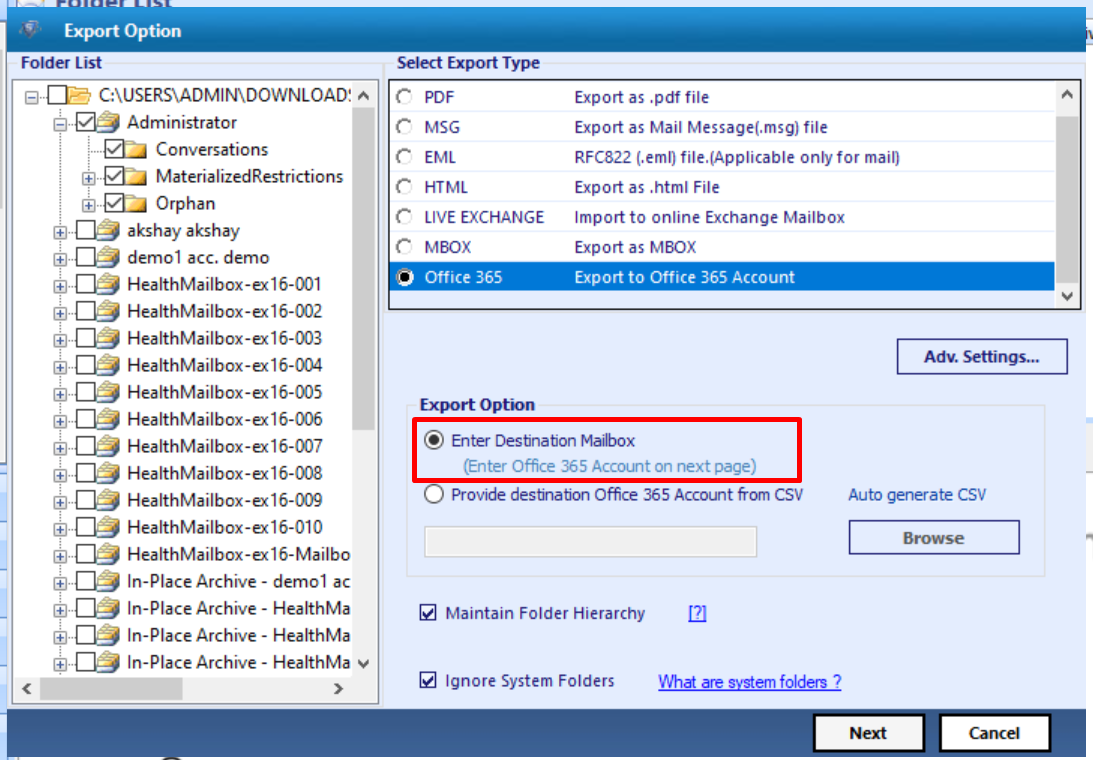 2- Provide Destination Mailbox(SMTP address) from CSV & then click Next button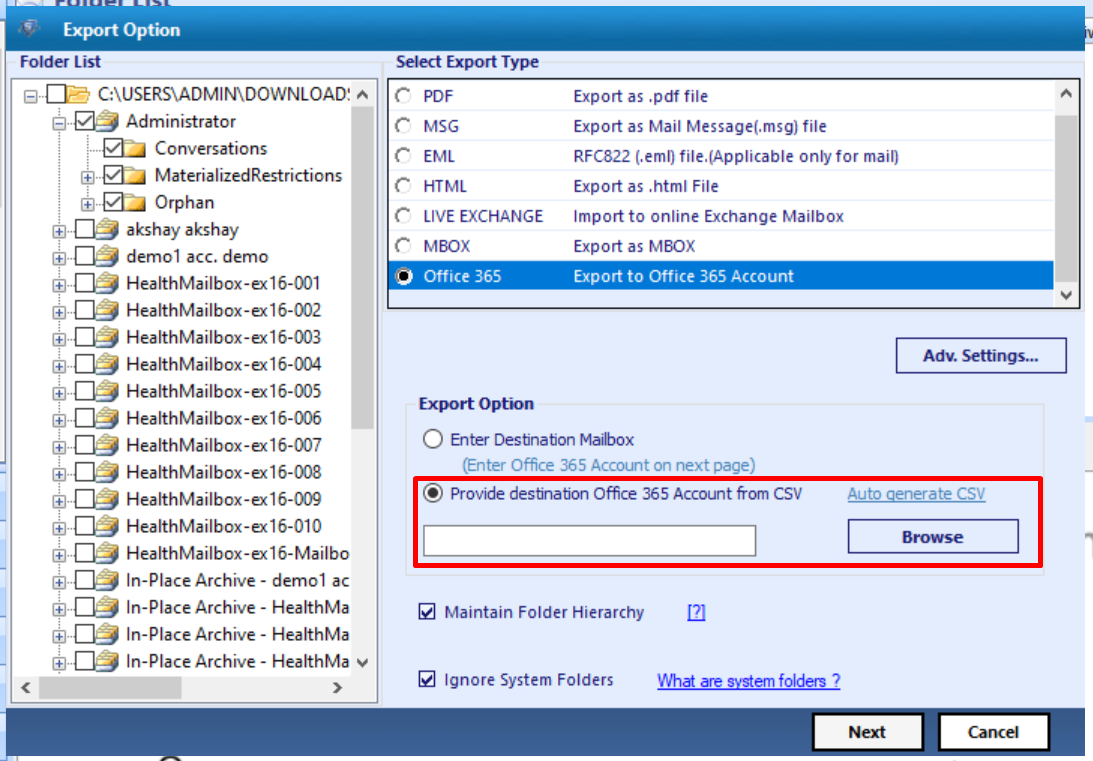 7- Enter the valid Exchange mailbox name & the software will validating it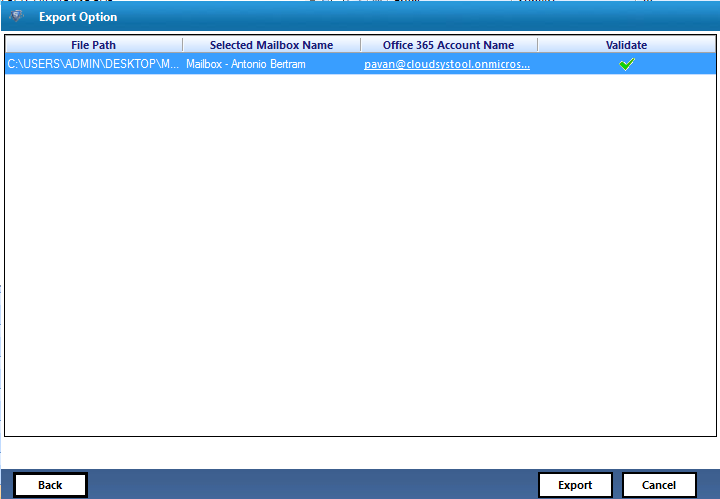 8- Now, the process of batch migration of public folders of Exchange 2016 to Office 365 is completed

Conclusion
Here, in this write-up, we have seen two different solutions i.e. manual & professional to migrate offline Exchange 2016 / 2013 public folders to Office 365. The manual approach for the migration of public folders to office 365 is quite complex & time-consuming. Therefore, to overcome the limitation of manual method use Exchange EDB Recovery software. This tool helps in accessing offline public folders in Office 365 account without any difficulty. Apart from this, it also provides other advantageous features also that we have covered in this post.