Fix "Microsoft Outlook Inbox Repair Tool Does Not Recognize the File" Issue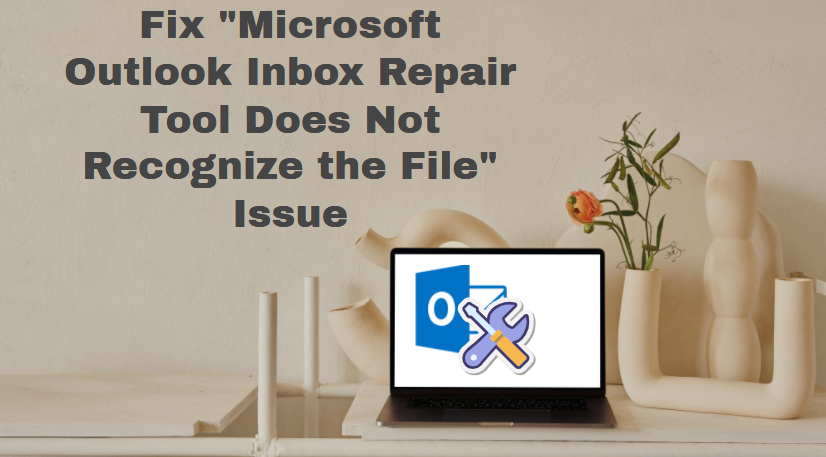 "I have installed MS Office Outlook 2013 in my system for last few months. Everything was working fine till recently it stopped running for no apparent reason. When I tried to open PST file then, I got an error message: The Microsoft Outlook Inbox Repair Tool does not recognize the file outlook.pst. Kindly suggest me a suitable approach to fix this error quickly."

Are you also facing this type of issue? Not able to fix PST file corruption and the issue scanpst.exe does not recognize .pst file? Want to resolve the issue without any risk or data loss? Do not worry, fortunately, you are landed on the right page. Well, in this blog, we will discuss all the possible reasons along with a trustworthy solution to resolve this issue.
What Actually, Microsoft Outlook Inbox Repair Tool Does?
It examines the B-Tree structure of Outlook data and the reference count, recover Outlook PST file if needed.
If it finds a corrupt or damaged block structure, it removes that specific block to make a file readable and work efficiently. Though this kind of behavior from repair application may not be accepted, according to certain circumstances, it is considered suitable to work around. If this will happen (block removal from Outlook PST file); it will be shown in Scanpst log file under the deleted items folder.
Then, this Inbox Repair tool can be used to repair only low-level objects and does not help if the upper-level structure of the PST files like emails, calendars, contacts, etc goes inaccessible. In various cases, you will receive an error scanpst.exe does not recognize .pst file on the screen.
Reasons Behind the Occurrence of PST File Corruption
Outlook upgrade to the latest version is the major reason due to which PST file gets corrupted. But, upgrading the applications are supposed to make users experience even better still, the error message The Microsoft Outlook Inbox repair tool does not recognize the file .pst occurs. This issue tends to tag along to the newer version from an old version.
Oversized Outlook PST File
Using MS Outlook on a daily basis would eventually increase the size of Outlook PST file. When it exceeds the defined file size limit, it may become corrupted easily.
The file involved in Different Networks
When users select any network drive to share a Personal Storage Table, they cannot observe that sharing a PST file might cause data corruption. Some technical errors when file sharing over a network may lead to its corruption.
Use Undependable/ Unreliable Tools
It is the fact that using a large PST file is most vulnerable to corruption. Thus, to keep these files error-free, it is necessary to reduce the file size. When users try to compress the PST file size using some unreliable programs, there are many chances of getting corrupt PST files as a further result in the error message i.e. Microsoft Outlook Inbox Repair Tool does not recognize the file.
Bad Sectors in Hard Disk Drive
Another reason that may lead to PST file corruption is the development of bad sectors on the hard drive. There could be a possibility that some of these factors causing an inaccessible PST file.
If the PST files get corrupted from all the above reasons, then users will not be able to access the Outlook data file. Thus, to remove all issues, the users need some manual methods and get their PST files inaccessible. However, if an inbuilt utility also fails to fix this issue, then users can opt for a reliable third-party tool.
Advance Solution to Fix " The Microsoft Outlook Inbox Repair Tool does not Recognize the File"
In order to fix all types of PST corruption issues when Scanpst.exe does not recognize .pst file, one can go for a trusted third-party tool, i.e., Outlook PST Recovery Tool. It is designed in such a way to restore permanently deleted or lost PST files without any data loss. Users can avail of this tool to remove both minor as well as the major level of corruption from MS Outlook. Also, it helps to recover all items such as emails, contacts, calendars, etc., from the Outlook PST file.
How Does Tool work When Scanpst.exe does not Recognize .pst File?
Launch the software on your desktop and select Add File button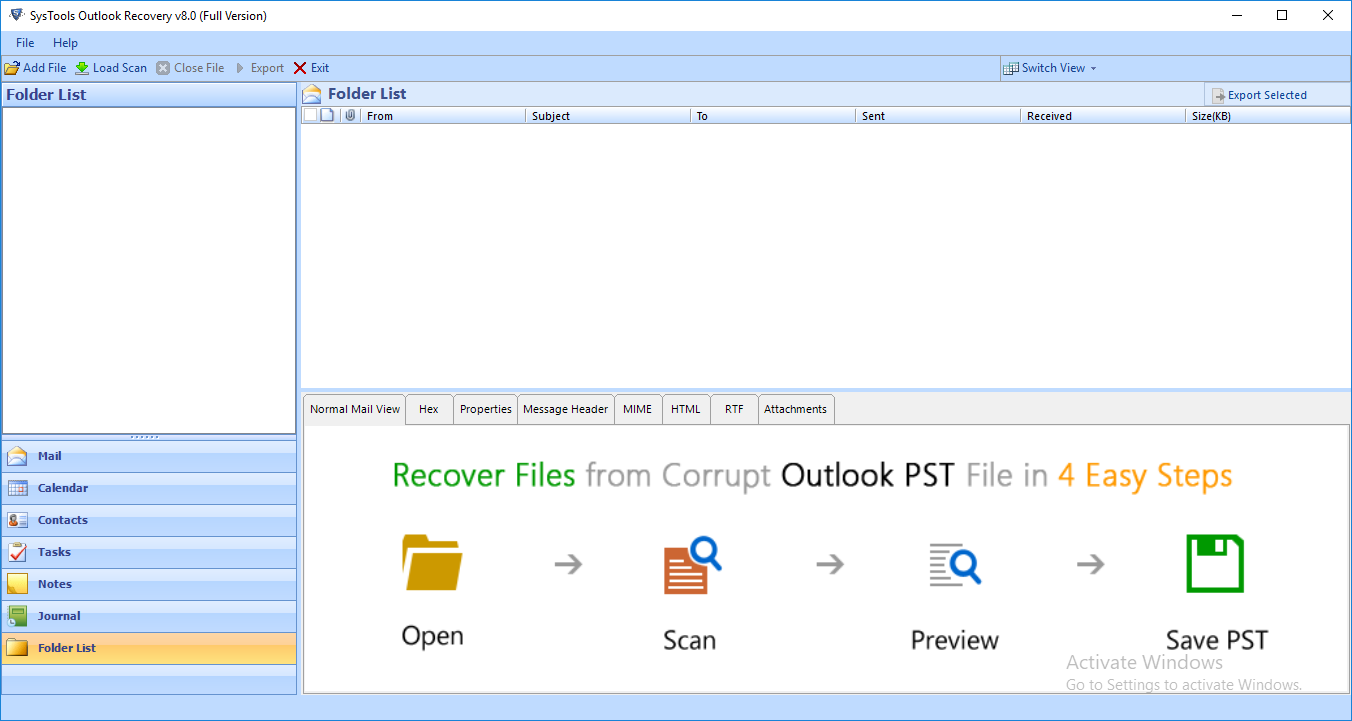 Now, you can either choose Select File to add PST file or choose Search File to look for Outlook PST files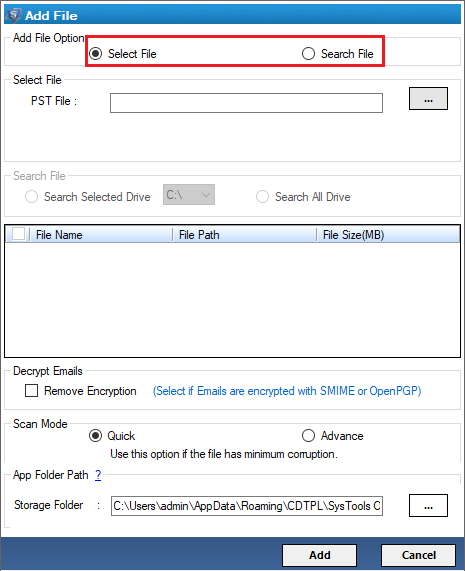 Select an option Remove Encryption to decrypt PST file emails
You can select any of the scanning mode: Quick and Advanced. It depends on the type of PST file corruption (Quick for less corruption and Advanced for severe corruption). Then, click Add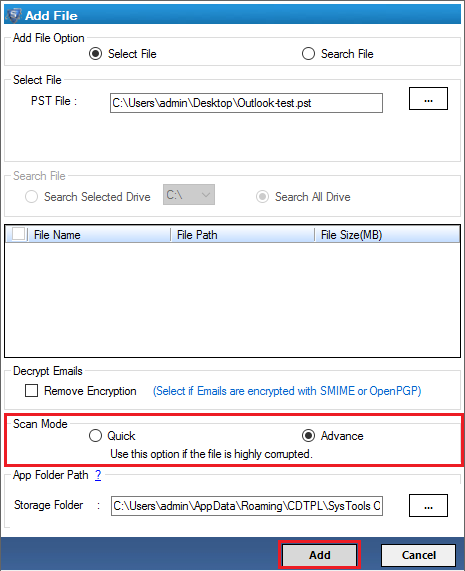 The software will scan and preview all PST items including the deleted files in red color
Click on the Export button to transfer all the PST files together
Then, choose the PST file format in which you want the files to be recovered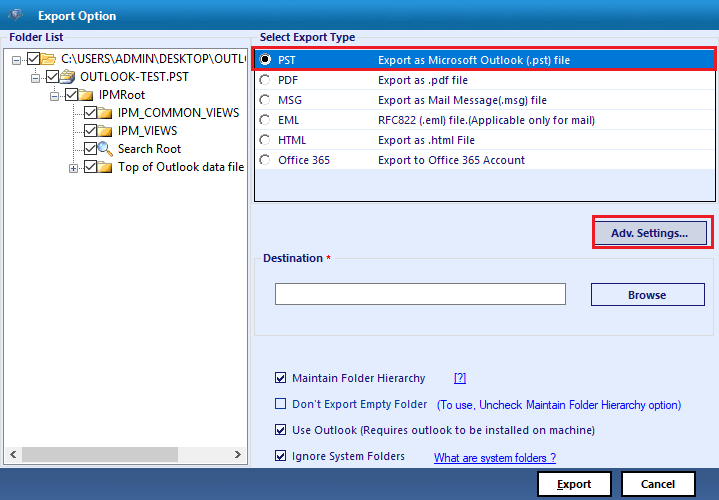 The software offers Advanced Settings option. Some of them are listed below:

Split PST: With this option, users can break all PST files into smaller parts.
Date filter: This permits the user to export specific data from each PST file.
Categories: This option allows to migrate the specific components of PST file like emails, contacts, calendar.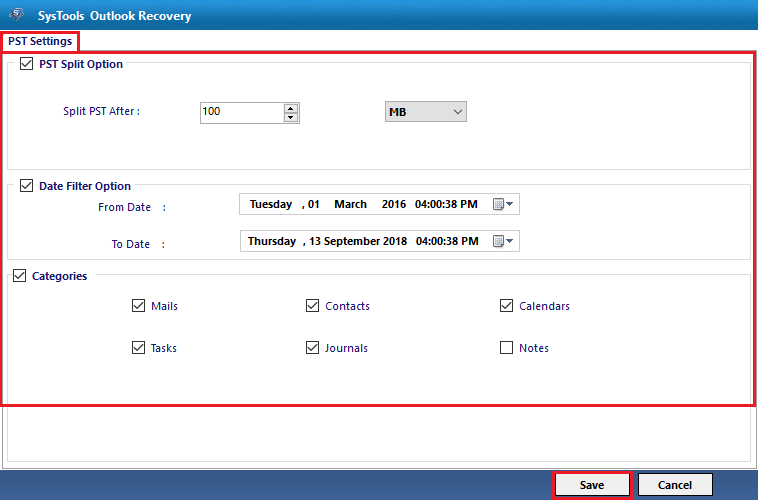 In the next steps, you can select the destination folder and click OK button
Finally, click on the Export button to recover all the PST data items.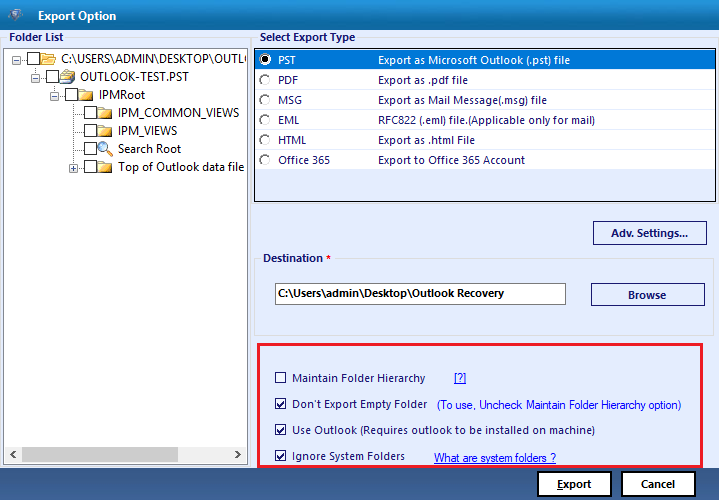 Also Read: Outlook PST File Not Found Error
Time to Conclude
Data corruption is the most common reason which is responsible for every PST file. Thus, it is always advisable to handle all these files carefully. In this blog, we have discussed a reliable and trustworthy solution to fix The Microsoft Outlook Inbox Repair Tool does not recognize the file .pst issue. Along with this, we have covered the complete working steps of the tool in a clear way.