Inbox Repair Tool Not Responding in Microsoft Outlook 2010 / 2007
To Fix Corruption in Outlook Mailboxes stored in a PST File format, Microsoft offers inbuilt utility tool know as Scanpst.exe utility or Inbox Repair Tool. But what about the situation when this Inbox repair tool not responding properly during the recovery process of mailbox items. In this article, we try to find a solution that helps naive Outlook user's faces these kinds of situation. You can Find this scanpst.exe within system file of Outlook in below location: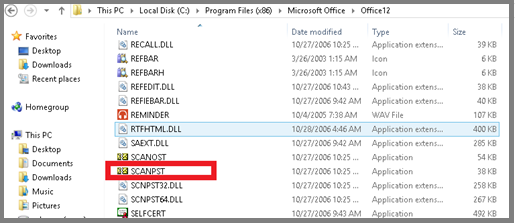 Location of Scanpst (Inbox Repair Tool) in Outlook 2010 / 2013 Environment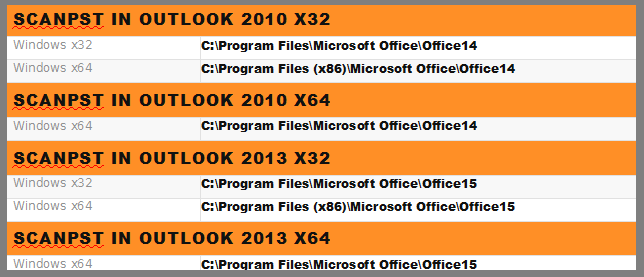 Why Inbox repair tool, not responding in Microsoft Outlook 2010 / 2007?
After finding the location of scanpst.exe from above table and Outlook user try to run the scanpst.exe to start the repair process. Sometimes Outlook user faces issues of freezing Inbox repair tool or "Inbox repair tool not responding" interface. For Example, you can see a few screenshots of Question asked in different Outlook forums by the users:
#Query 1:

#Query 2:

#Query 3:

As you can see this is one of the common issues faces by Outlook user while running the Inbox Repair Tool. To Fix and run again the repair tool, Outlook user needs to find the root cause of the problem first and the most common reason for this error is:
a) Due to Large PST File Size
b) High-Level Corruption in Outlook PST File
As Different Outlook format allows different file size for user mailboxes it can be 2 GB,20 GB, and 50 GB. The Inbox Repair Tool can easily repair file when the size of PST File not large in size, but when Outlook tries to repair big size PST file then Inbox Repair Tool not respond properly.
How to Repair Large Size PST File with Inbox Repair Tool?
To fix the first issue, Outlook user's need to break the PST File so that inbuilt utility can fix it properly, otherwise wait till this scanpst.exe complete the process of repairing the PST File.
Fix High-Level Corruption in Outlook PST File via Inbox Repair Tool
When Outlook user's tries to repair corrupted PST file, but due to a large number of corrupted mailbox items, Inbox repair tool freezes and not recover complete mailbox data stored in the PST File format. To fix this Outlook user needs to use Outlook Recovery Software.
Alternative Solution of Inbox Repair Tool not responding Issue
Since Inbuilt utility has some limitation regarding Size and Corruption in PST File. As an alternative, Quickdata offers Outlook Recovery software that can easily deal with the large size issues with PST File but also minor and major corruption issues in PST File.
Some Silent Feature of Outlook Repair Tool
Software not only fix corruption issues and PST file size issues, but also advance feature equipped such as:
User-Friendly Graphical Interface
No File Size Limitation on PST File
Recover Mailbox Information from Corrupted PST File
Recover Soft & Hard Deleted Items due to Corruption
Support both formats of PST File such as UNICODE & ANSI
Support Password Protected & BAK & Archive PST File
Use Reliable & Trustworthy Outlook Recovery solution to repair PST file. To know how the software works on corrupted Outlook File, a briefly explained guide is mentioned
Provide Corrupted PST File: Similar to Inbox Repair tool, the tool provides a graphical interface with different that can be used during the recovery process. First, provide the large corrupted PST File, you want to repair it using the "ADD File" Option.
Locate & Analyze: Now Browse the file with the help of search featured and select the file you want to repair. After adding files software analysis the PST File and provide a complete preview of items stored in the file as well as the recovered items.
Preview Recovered Mailboxes Details: Since Scanpst.exe doesn't allow Outlook users to preview the mailbox items such as user's mailboxes, Contacts, and Calendar stored in the file. Whereas SysTools Outlook Recovery displays the recovered data such as emails files in the red section which Inbox repair tool failed to display and freezes.
Split & Save PST File: Since the most command issues of Inbox repair tool not responding in Microsoft Outlook 2010 / 2007 and other environment is that inbuilt utility tool not supports large PST File, whereas on other hand software allows large size PST File. Also, an option to split the large size mailboxes into small PST according to the desired size is also available within the tool.
Also Read: How to Fix Inbox Repair Tool Not Recognize the File?
Conclusion
To deal with Corruption in Outlook email client, Microsoft offers a Scanpst.exe inbuilt utility, but this Inbox repair tool starts not responding in Microsoft Outlook 2010 / 2007 when a user tries to repair large size PST File and highly corrupted file. To resolve this, either the user needs to split the file first and after that repair again or use an automated solution offered by SysTools known as Outlook Recovery Tool as alternative of scanpst.exe that only fixes hard and soft recovery issues but also easily deals with large size PST File perfectly.