How to Export Lotus Notes Calendar Into Excel | Find Here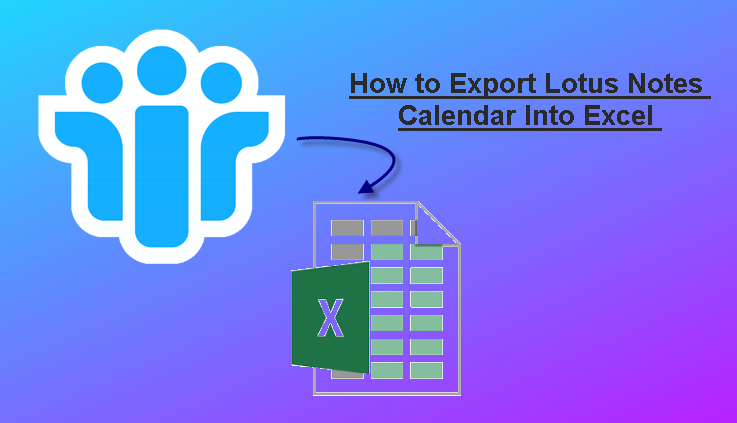 Summary- If you're looking for a way to export the Lotus Notes calendar to Excel, you've come to the correct spot. In this section, we'll look at the simplest way to convert Lotus Notes calendar data to CSV so that you can quickly export the calendar data into Excel.
Microsoft Excel, on the other hand, is a helpful and effective tool for data analysis. It's a spreadsheet program with several columns and rows, with each intersection of a column and a row referred to as a "cell."
And each cell contains a single bit of information or piece of data. When it comes to filing formats, Excel keeps all of its data in CSV, which stands for Comma Separated Value.
Now, before we get to the answer, let's look at why customers want to export Lotus Notes calendar data to Excel.
Why do people export Lotus Notes calendars to Excel?
As previously said, Excel is the most widely used data analysis and storage program. However, it also has a number of other features, such as:
Hundreds of calendar entries can be saved in a single CSV file by users.
CSV is a file format that can be read and written by any device, independent of the operating system.
It is significantly easier to share a CSV file with others.
How to Convert a Lotus Notes Calendar to an Excel Spreadsheet
If we talk about the procedure, there is currently no single way accessible for exporting Lotus Notes calendar data to CSV. As a result, you may export the transformed data to Excel.
But that's not all; in order to meet the criteria, we'll offer one of the most wonderful tools for exporting the Lotus Notes calendar to Excel in this part. NSF File Converter allows you to convert Lotus Notes data to a variety of file formats, including CSV, EML, MBOX, MSG, vCard, ICS, and HTML.
How to Export a Lotus Notes Calendar Excel
1. Begin by downloading and installing the app on your device.
2. After launching the tool and choosing the Select NSF Files(s) radio option, click the Add File(s) or Add Folder to NSF Files button.
3. Select CSV from the Export Format drop-down box.
4. Under Select Categories, choose Calendar from the drop-down option. Select the data filter as well if you wish to export specific calendar data.
5. Select Maintain Folder Hierarchy and other advanced settings from the Advance Conversion Settings menu.
6. Select the Destination location to save the generated file.
7. Finally, select the Export option to export Lotus Notes Contacts to CSV.
Steps for Importing a Converted File into Excel
1. After the conversion is complete, launch Excel.
2. From the Menu Bar, select the File option.
3. Select the Open option, go to the converted file, and then click the OK button.
Why Is This Tool Better Than Others?
This application, on the other hand, offers some truly wonderful capabilities that completely finish the Lotus Notes conversion.
Multiple Export Choices – This program provides a total of eight file conversion options. NSF may be converted to EML, PDF, MSG, HTML, vCard, or ICS, as well as exported CSV.
Batch Conversion – This application allows you to convert several NSF files into a single folder. There will be no limit to the number of files that can be converted. Directly from the program, you may select a folder holding NSF files.
vCard Option – The tool offers the option to convert Lotus Notes contacts into vCard. By using this tool one can convert the name.nsf file into vCard version 2.1, version 3.0, and version 4.0 so can users import the contacts on any device.
Date Filter Option – The software includes a Date Filter Option that may be utilized throughout the NSF file conversion process. Users can use this feature to export NSF file components selectively within a specific date period.
Advanced Options – The tool offers some amazing advanced features to maintain data integrity such as HTML Formatting, Internet Header, Remove Encryption, All Documents, Doclinks, and Folder Hierarchy.
Also Read: Cannot Open Lotus Notes NSF File
Conclusion
So this is the end of the write-up, there are many users who want to export the Lotus Notes calendar to Excel due to various reasons. But due to a lack of methods users are not able to complete the task. So, after considering the users' requirements here in this blog we have discussed one of the best methods to import Lotus Notes calendar to Outlook. So go and try the demo versions of the tool for the conversion and if the tool works perfectly then go for the licensed version.