Again eDiscovery PST Export Tool Error 'Failed to Load Status' Occur, How to Fix it?
Microsoft Office 365 online suite is used in various domains such as education, medical, information technology and many more. However, many times some situations occur due to which users need to export their data from Office 365 platform. After understanding the users need, Microsoft provides eDiscovery PST Export tool. Its major function is to find, analyze, and move Office 365 data on the system in Outlook supported .pst format. In this post we will discuss method to fix ediscovery pst export tool failed to load status.
Although, it is not an ideal tool to move O365 data on the machine. Because many users reported that eDiscovery .pst export tool displays error 'failed to load status' during the migration process. After a deep research, we found many companies posted their technical problem related to ediscovery pst export tool failed to load status. Some of them are mentioned here.
Case 1: My company needs some of the important mailboxes data from O365 to desktop Outlook. However, when we were trying to export multiple mailbox data with the help of eDiscovery tool, the process terminates automatically with error type 'failed to load status'. After that, we again started the procedure and succeeded to export data. But, the status shows the following result.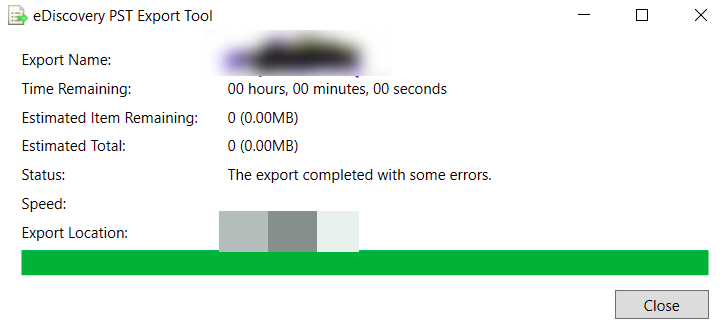 And, when we checked the data, we found that some of the mailboxes were failed to migrate. Then, I used various commands to find details about the errors but did not get any information about it. If anyone knows a method to fix ediscovery pst export tool failed to load status, then please suggest.
Case 2: We were receiving an error 'failed to load status' when we tried to migrate O365 mailbox data from eDiscovery tool. I used this tool previously to move one mailbox and it works fine. But, this time ediscovery pst export tool failed to load status. And, I was unable to analyze that my request is in Queued or Failed. Now, I do not want to use this mind scratching method. Please suggest some alternate workaround that can export a .pst from Office 365 without load status error. Any help would be appreciated
What is the eDiscovery PST Export Tool Error 'Failed to Load Status' Problem?
The eDiscovery method is used to transfer multiple mailboxes data of O365 in .pst format. However, under various different condition, tool failed with an error. Although, when it does not show the status, then following of the reasons can be true.
The search results comprise of corrupted emails that are not suitable for the export process.
When the size of mailbox is too large due to which the eDiscovery export tool failed to move the data and does not show process status.
Common Reasons Responsible for eDiscovery PST Export Tool Failed to Load Status
These are some general situations where the eDiscovery does not perform very well. Probably, these reasons can also be responsible for eDiscovery PST Export Tool error 'failed to load status'. So, let's have a look on this.
In the absence of .Net framework 4.5 or earlier, the eDiscovery tool failed to export Office 365 data.
The tool does not work in Internet Explorer 9.0 or below environment.
When Local Intranet Zone does not setup properly in Internet Explorer.
In such a situation when the browsers do not support ClickOnce add-on.
eDiscovery tool freezes or crashes when the exported data is more than 50 GB in size.
Is Any Alternative of eDiscovery Export Tool Available?
Office 365 Export is one of the leading data migration application. Its function is to export O365 mailboxes data in different file format, including PST format. Along with this, the user can move emails, contacts, and calendar and much more from Office 365 to equivalent PST file. Besides this, users are able to migrate In-place Archive Mail in PST, EML, MSG file type.
In a situation when users only need data of a specific range, then this tool works very well. It provides the feature of filter that only converts data of desired timeline in PST format. Moreover, it supports the following Office 365 plans.
Office 365 Business Essentials
MS Office 365 A1, A3, A5,
Office 365 F1
Exchange Online Plan 1
Exchange Online Plan 2
Office 365 Business Premium
Office 365 Enterprise E3 Backup is supported
Also Read: How to use drive shipping method to import PST files to Office 365?
Bringing It All Together
Due to some reasons, users require to export Office 365 mailboxes in the equivalent PST file. While using eDiscovery PST Export tool, error 'failed to load ' occurs. Multiple reasons responsible for this technical glitch and users need to choose solutions depending upon the cause. But, it is advised to choose a reliable and easy method that always export .pst from Office 365 without any error instead of manual method. For this, they can use Office 365 PST Export tool as mentioned earlier.