How do I Export PST from Office 365 Admin Center?
We all know about Microsoft Office 365 and its services, as it provides the best business suite across the globe. Most of the people prefer Office 365 compared to other business suites. However, due to some reasons people also ask how do I export PST from Office 365 admin center. There could be many reasons for such type of queries.
The problem is that Microsoft doesn't provide any direct solution to export Office 365 mailboxes. Due to this, the user of Office 365 faces difficulty while exporting their Office 365 mailboxes. We have tried to explain the top reasons and provide the solution for such type of user query. Read the blog carefully to get a better understanding of the Office 365 data migration process.
"Hello Everybody,
Can anybody tell me how do I export PST from Office 365 admin center? We are having 400+ user accounts in business Office 365 and we are looking for the method to export all Office 365 user account mailboxes as a backup. Please provide a quick and working solution to solve my problem.
Thanks with Regards
Rose Matthews"
What are the Reasons to Export PST files from Office 365 Online?
There could be multiple reasons for users to export PST from Office 365 admin center, following are a list of a few of those reasons:
User want's to archive Office 365 mailbox to a local computer
To user Office 365 emails in a desktop-based email client
To migrate to a different cloud platform
Export PST file from Office 365 online to reduce mailbox size.
To protect crucially and import data from theft and data loss
How to Export Emails from Office 365 Online to PST?
There are multiple techniques that let Office 365 users export their mailbox to PST. Some techniques are simple to perform and some are cumbersome. Following are the simple techniques using which you can export PST from Office 365 admin center:
Here, we are going to provide solutions that let you know how to export PST from Office 365 admin center without any fail. So, let's get started!
Method #1: Professional Solution to Export PST from Office 365 Admin Center
The best method using which Office 365 users can easily export their entire mailbox to Outlook PST format is by using a professional solution like Office 365 Export tool. This professional tool helps you in exporting multiple users mailboxes to PST file at the same time. It also provides unique and top notch filter options to help you to easily export O365 mailboxes.
Office 365 Exporter Purchase Now
Follow the step-wise guide to know the working of tool for the easy export process.
1. First, you need to download Office 365 export tool and launch it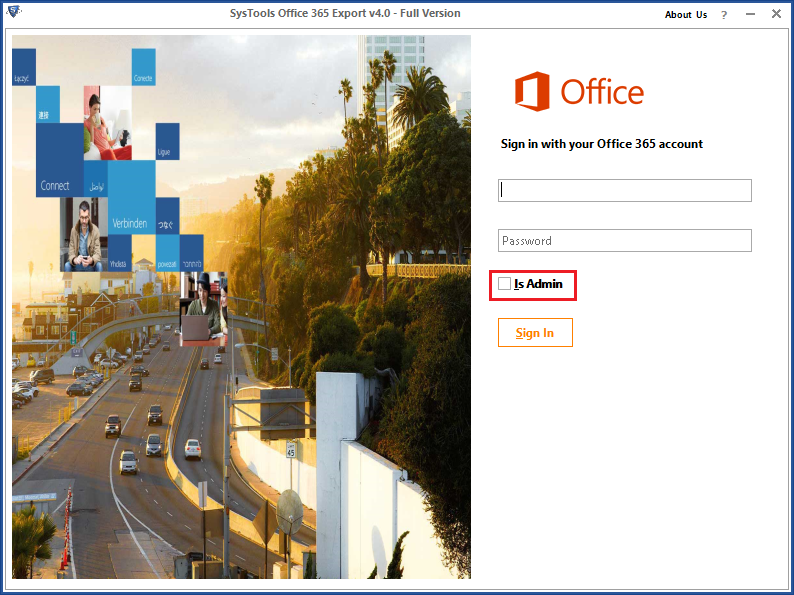 2. Enter the Office 365 User or Admin credentials for login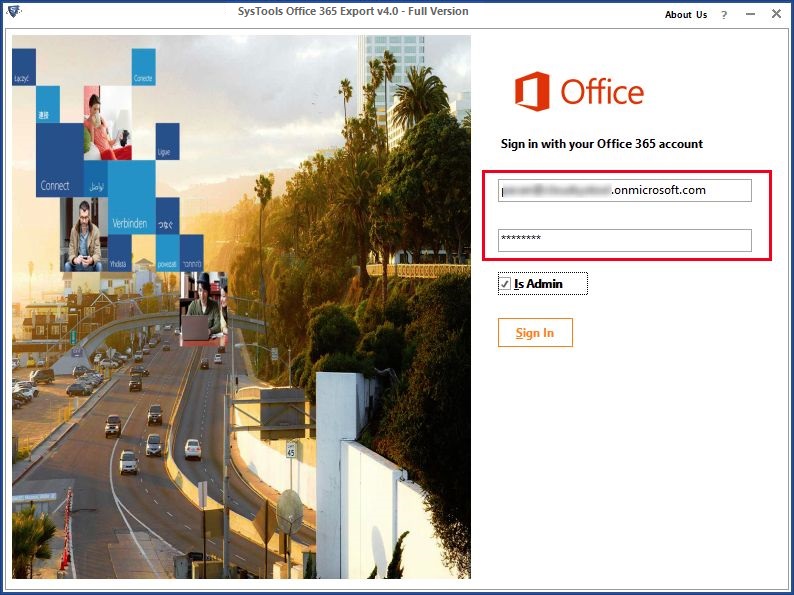 3. Choose user accounts whose data need to be exported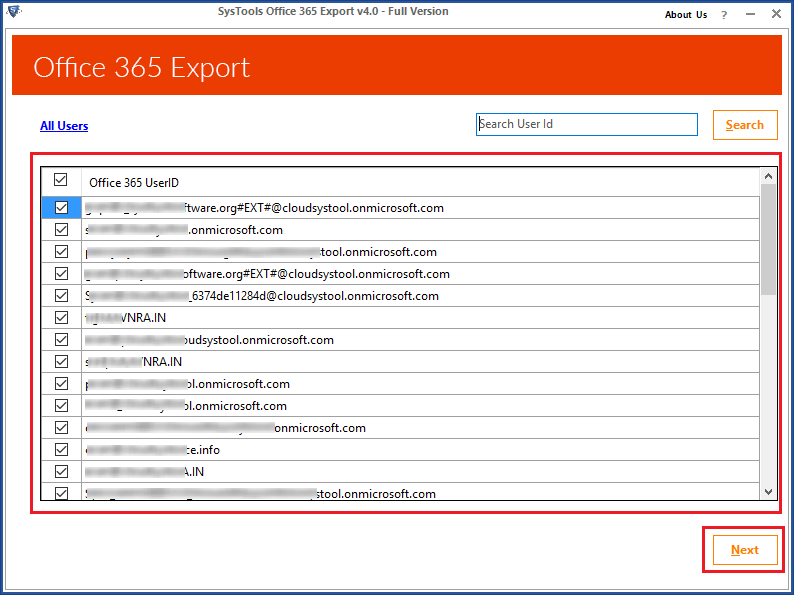 4. Select the Category of data to export and Apply Date filter (if required)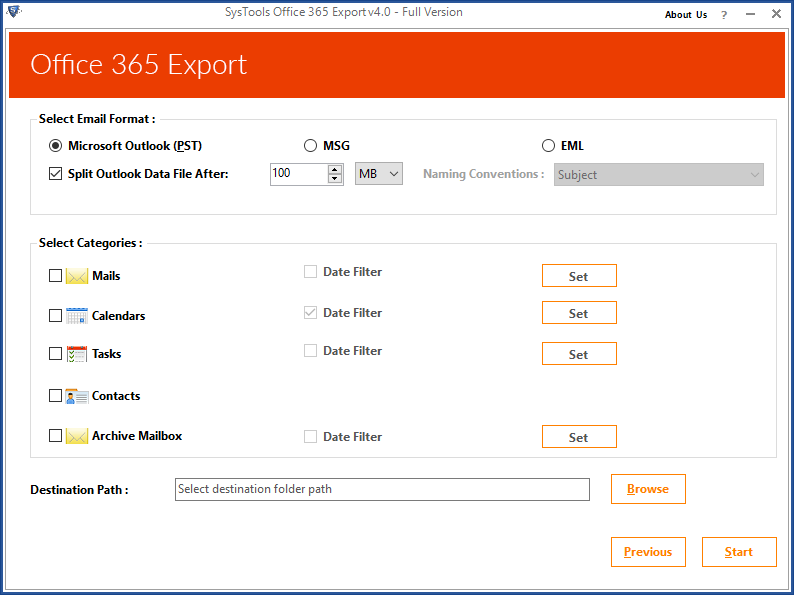 5. Browse the location to save the exported PST file from Office 365 accounts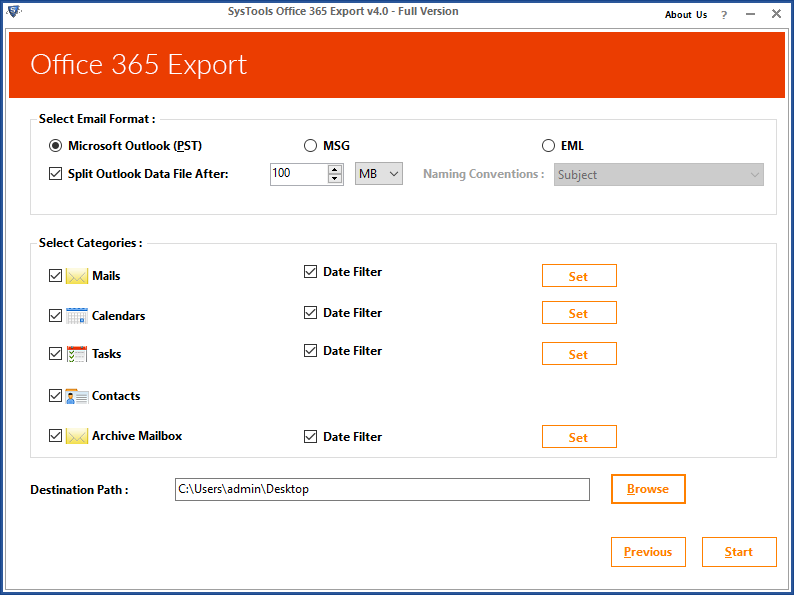 6. Finally, click on Export button to start the process.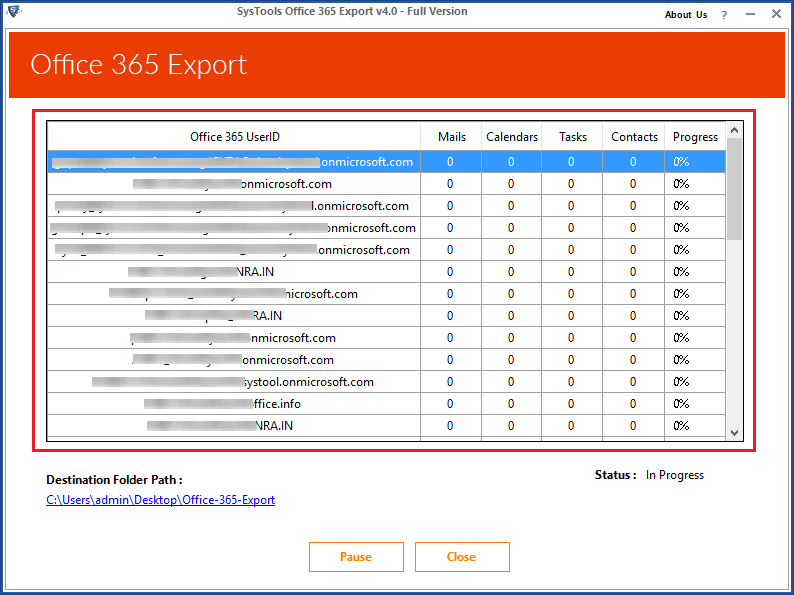 Note: The professional tool like Office 365 exporter will help you in extracting multiple user mailboxes of Office 365 to PST in a single go.
Advantages of Using Office 365 Exporter
Export emails, contacts, tasks, calendars from Office 365 mailboxes
Login using Admin or User Credentials
PST spilt option to Export large size Office mailbox into multiple PST files
Export Archive, Shared mailbox from Office 365 to PST
Allows to export of multiple user accounts simultaneously
Date filter options for selective data migration
Method #2: Export PST from Office 365 using IMAP Configuration
Another method for exporting Office 365 account data to PST file format is by configuring your Office 365 account in Outlook and then using export option to create a PST file. Although, it is a free method but not an optimal solution. The time taken in configuring Office 365 account is quite high as you cannot export data before the account is properly synchronized in Outlook. Also, using this method you can export only a single user account at a time. So, if there are multiple users account data that need to be exported then this method becomes a cumbersome job for users.
Still, if the user wants to export only single or few account data then only this manual solution is recommended. Following are the simple steps to export PST file from Office 365 online:
1. The open Outlook email client on your Desktop
2. Go to File option (in the top-right corner of the screen) >> Add Account Option
3. Enter the login details of Office 365 user account data and click on Next
4. Now, Go to File option again and then choose Import & Export option
5. Choose the Export to a file option >> Next >> Export as .pst file >> Next.
6. Select the destination location for the exported PST from Office 365
7. Click the Export button to complete the process
Conclusion
In this blog, we have tried to provide the solution to the query how do I export PST from Office 365 Admin Center. This guide contains two solutions, each solution has its own advantage. You can choose the method which suits your need the best to export Office 365 accounts data.