Attachment Not Downloading in Outlook | Top Four Solutions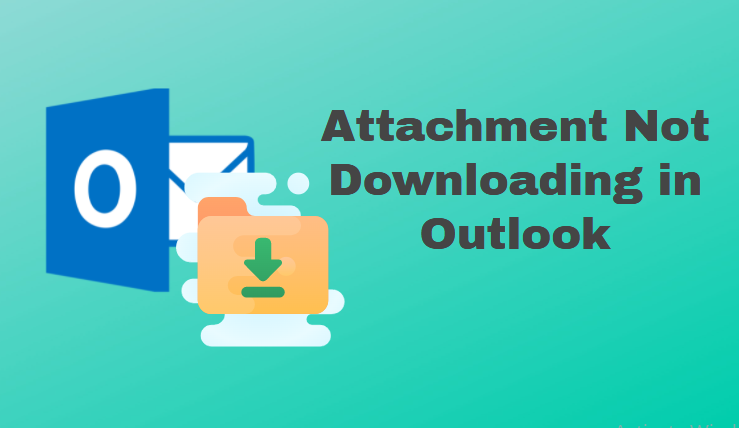 Outlook is not only for sending and receiving emails, many once use this email application to share documents, secret files, images, and otters stuff using the email attachment feature. So that they can send the document via electronic mail but what happens if the attachment not downloading in Outlook.
Now, this is not a hypothetical situation, there are many users of Outlook to prove this let's see some of the real-time user queries.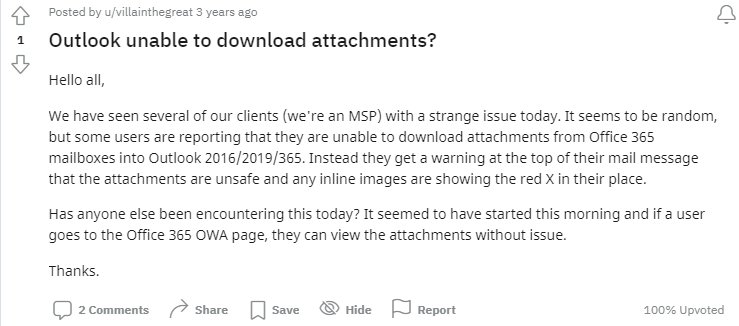 The above query screenshots are from Microsoft Community and Reddit. And this is not just the end during our research work we found so many Outlook users reported this isseu on others forums and community sites.
Now, after knowing the requirement, we have come up with the solutions that will help you to fix this error in Outlook. But before going to troubleshooting techniques let's first understand the reasons for this issue.
Reasons Responsible For Attachment Not Downloading in Outlook
When it comes to the causes, there are a number of factors that contribute to the attachment mistake.
The first cause is internet connectivity; if your internet connection is inconsistent, you will see this problem when downloading Outlook email attachments.
This Outlook attachment download problem might also be caused by the server timeout settings. It indicates that if the server timeout is less than in the event of a huge file download, the download will fail.
The attachment download problem can also be caused by using an outdated Outlook version.
After knowing the reasons now let's work on the cases one by one!
How to Fix Attachment Not Downloading in Outlook
Now that we all know the main reason behind it, we'll go over each of the probable causes one by one in this part. So give it a shot, and if it doesn't work, try another way.
#Fix 1: Check Internet Connection
As previously stated, poor internet access is the primary cause of the Outlook attachment download issue. So, the first step in resolving this problem is to check for internet access. To do so, simply open any browser and type in any phrase; if search results display, you are connected to the internet.
If nothing works, examine your router or just connect to your internet service provider to fix the problem.
#Fix 2: Install the Recent Version of Outlook
Outlook attachment download error may also be caused by an old Outlook version. As we all know, updates are released to repair issues and defects, and if you are using an outdated version, you may have this problem. So just update the software by following the instructions below:
1. Open the Outlook program on your computer.
2. After that, go to the File menu and choose Office Account.
3. Select the Update Option from the Product Information menu, and then click Update Now.
#Fix 3: Increase Server Timeout Duration
Due to a shorter server timeout period, an Outlook attachment download problem might also occur. To remedy this, just raise the server timeout time, which may be done by following the instructions below:
1. To begin, open Outlook and go to the File tab.
2. Then select Info from the drop-down menu.
3. Now choose Account Settings from the drop-down menu.
4. Following your click on Account Settings, a new Account Settings pop-up will appear.
5. Choose the E-mail and then the account from the Account Settings box.
6. Then select More Settings from the drop-down menu.
7. Go to the Advanced option under Internet E-mail Settings now.
8. Increase the timeout to 5 to 10 minutes in the Server Timeouts setting.
Restart Outlook after applying the settings to see if the problem has been fixed. If you're still having problems, we'll go through an alternative technique in the following section that will allow you to save all attachments from Outlook emails.
Best Wat to Download Multiple Attachments from Outlook
If you're still having trouble with attachment not downloading in Outlook after trying all of the above techniques, you can use the Outlook Attachment Extractor program. You may use this program to download all attachments from Outlook emails. You may extract attachments from Outlook MSG, PST and orphaned OLM files with this utility.
So, if you're having trouble downloading Outlook, you may use this utility as an alternative. Because the program isn't going to fix the problem, it'll only extract the attached file.
Procedures for Using the Tool
1. To begin, download and install the software on your computer.
2. To get the Outlook files, select the Auto Locate MS Outlook Default Storage Location option.
3. To save the attachment, select a destination location.
5. Finally, to save the attachments, click the Extract option.
Conclusion
Email attachments are now one of the best ways to send confidential files and documents. But when users are not able to download the email attachment, then it is a very frustrating situation. Now, to fix this issue in the above blog we have discussed some best ways to fix attachments not downloading in Outlook. And also discussed an alternative way to download attachments from Outlook emails.