Import multiple vCard files to Outlook Hassle free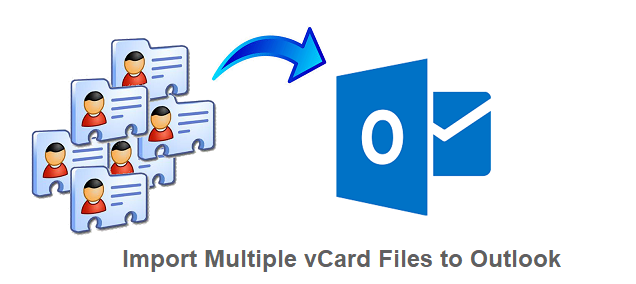 Learn how to import multiple vCard files to Outlook and transfer contacts in bulk in the Outlook or in PST file.
Overview on vCard File
vCard or VCF files is the file format which stores contact information and is supports by most of the email clients, one of them is Microsoft Outlook (all versions). It is used to exchange or transfer contact data from one email client or applications or device to another.
It is a digital business card, known as a "virtual contact file" that contains Name, Image, Address, Email Address, URLs, LOGOs, Audio clips. vCard file sizes are small and it can be sent and received as an attachment of an email file without any problem.
In the VCF file, multiple contacts can be stored or a user can make one VCF file or one contacts file separately.
Users can checkout VCF file properties, "how many contacts are stored in a particular vCard" through the Properties option. It starts with BEGIN:vCard and ends with END:vCard.
The vCard file is more popular due to its multiple data storing ability.
"Hello, I've got multiple VCF files in bulk from my boss to import in Outlook and vCard contains approx. 800's of contact. Suggest me something that can solve my problem. – Staffen Mark"
Ways to Import multiple vCard files to Outlook
If we talk about importing multiple vCard files then there are two options: users can use "vCard Importer Tool". But for the single VCF file one can use Outlook's "Import Export Wizard".
So, if we talk about the importer tool which is design by experts, then surely users have questions in their mind like" why use this software? Is it worth it? And more". Then the answer would be yes because of its features like it can create new PST, merge or add vCard file in existing PST file and import contacts directly into the Outlook profile (POP3 configuration required). Apart from that software can transfer VCF files in bulk without any limitation or size limit.
#Method 1: vCard Importer Tool to Import multiple vCard files to Outlook
Download / Purchase and finish the installation procedure of the utility,
Add File / Add Folder and add vCard file or folder (both can be add)
Preview the vCard file with attachments.
Now select all VCF & tap on Export and choose "Export to Outlook Profile"
After that set the location through Browser and press the Export option.
Contacts to Outlook successfully exported
#Benefits of the VCF import Tool
Software supports all Outlook versions.
No size limit in the VCF file while adding in the tool.
The tool is compatible with all versions of the vCard files.
The tool can directly import the vCard file(s) in the Outlook Profile.
To import directly in the Outlook Profile (only for POP3), an Outlook installation is require.
Software can also transfer VCF files to new PST or in the existing PST file.
Platforms compatible with the tool are. iCloud, Outlook, G-suite. Skype, Webmail.
Perform functionality through Shortcut keys (shift + Arrow Key to select multiple contacts).
READ MORE: Import Google contacts to Outlook 
#Method 2: Import Export Wizard of the Outlook Application
Open Outlook, and hit on the File tab
Now, press on the option "Open & Export", then Import & Export
A dialogue box open, select "Import a vCard file (.vcf)" and click "Next" option
Now open your VCF files into the Outlook application.
Note: This method can import a single vCard file in a single process, so for importing multiple VCF files repeat the steps or use method 2.
Verdict
The above write-up is all about how to import multiple vCard files to Outlook, with two methods. First is Outlook's inbuilt utility and another one is a smart tool that is design by professionals that is vCard importer tool. Method one can import only a single VCF file at a time, that is why expert refers to use method two.