How to Import Google Contacts to Outlook | Use Desire Way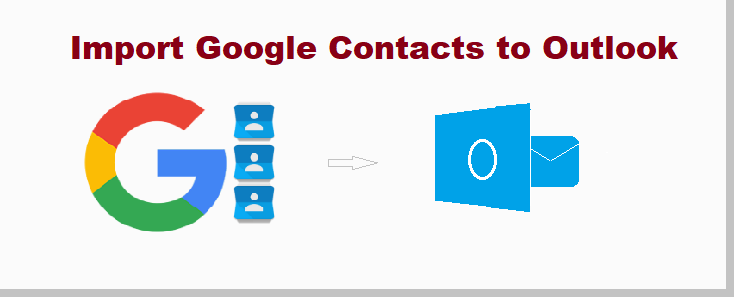 As Outlook is mostly used by users, so in this article, we will discuss ways to import Google
contacts to Outlook 365.
Google and Microsoft, both are famous because of their flexibility, security, etc in all tech-related products. Google's Gmail and Microsoft Outlook, mostly preferred email clients by users across the world. Email clients play an important role in the 21st century, as it gives ease in all work or business-related situations. Basically, we can say Gmail and Outlook are used for communication, either sending or receiving emails.
The main actor in the communication process is "Contacts". But not in email clients, contacts play an important role in daily life too. While using multiple technologies or devices or platforms everyone prefers that their contacts be in one place. Mainly most of the email program provides the option to export/import contacts but with limitations.
If users specifically want to import Google contacts to Outlook use any of the ways are given below. But some think that sync Google to Outlook is also a way to import contacts in Outlook but "NO", because by sync you are configuring an account with each other. By doing this all your data sync with each account.
READ MORE: How to import contacts to Outlook 2007 from VCF file
Now the Question Arises "What is the Best Way to Import Google Contacts to Outlook 365?"
It's never an easy task to import or export data from one platform or device to another. But due to users' needs, Gmail and Outlook have inbuilt features.
But due to its drawbacks and lengthy process, we have another option that is the Expert recommended vCard Importer Tool designed by tech experts.
But first of all, you need to export Google (Gmail) contacts from the Export option given by Gmail. Perform the given 2-step:
Open Gmail and go to Contacts
Press on the Export and export as vCard or Outlook CSV (for manual way)
#Way 1: Expert Recommended Method to Import Google Contacts to Outlook
Here we will use a smart vCard Importer Wizard to complete the importing procedure. Talking about this tool, it is designed in a way where users don't need to use Outlook inbuilt feature "Import/Export Wizard". They can directly transfer vCard files into Outlook profiles or can make PST files also. Other than this there are some other features which tool has:
This tool can transfer vCard files in bulk
It gives a Preview of added VCF files with all the information contacts contain.
Software supports vCard on Outlook as well as iCloud, Webmail, Skype platforms.
Important feature is, it can directly import VCF directly in Outlook Profile, can make new PST as well as export contacts in existing PST
Import exported vCard file from Gmail into the software to import Google contacts to Outlook.
Steps of Using vCard Importer Tool
To perform the steps you need to Download and Purchase the tool and finish the installation procedure.
Now, add your exported vCard files from Gmail into the software through the given option "ADD FILE(s) / ADD FOLDER(s).
After that tap on the Export option and select "Export in Outlook Profile".
Now, at the end click on the EXPORT button to start the Import Google contacts to Outlook.
#Way 2: Outlook Inbuilt Feature to "Import / Export Wizard"
Run your Microsoft Outlook
Go to FILE tab and select Open and Export then Import / Export
Inbuilt utility dialogue screen opens up, choose "Import from another program or file" and press NEXT
Then comma separated value, then tap on NEXT
Fill location and tick on "Do not import duplicate", then NEXT.
In this method, you need to know that, if a user has more than one Gmail or G Suite account then he/she has to import the CSV file into Outlook again and perform the above step in a repetitive manner.
In the case of a vCard file, choose the "import a vCard file" option. But with this option you can import only 1 vCard file at a time, users can not transfer multiple files at one time.
Edge
The above article has the solution "Import Google contacts to Outlook" in 2 ways. Users can use any of the given methods but remember the limitations of the second method. Hope you can open the knots and import contacts to Outlook 365.