Understand How to Save AOL Email Attachments in Bulk on Windows
In this write-up, we have discussed about AOL Mail attachment problems. Is there any trouble while downloading emails and attachments from AOL Mail? If you are facing such kind of issues, then stick with this article. Here you will find the perfect solution on how to save AOL email attachments without any hassle.
AOL stands for America Online. AOL Mail is a web service that was designed and developed in America. But now, AOL has been expanded throughout the world. It offers free storage space of 225 GB and various advanced features.
AOL Mail email client that provides the facility of Mailing. Due to its excellent service and instant increase of user's traffic on AOL server, it holds the service outage issue. It leads to different problems like difficulty in opening the email application, cannot open AOL email attachments, and other issues as well. Therefore, in this article we will guide our reader to a feasible solution on how to save AOL email attachments in bulk.
Read More- Convert AOL Email to PDF
Advantages to Download Email Data to Local System
AOL Mail generally requires good internet speed for the mail transportation and other functions. As we know, data saved on the server is prone to corruption and data loss issues. Thus, in order to access the data quickly in offline mode, users prefers to export and save attachments in AOL Mail. After exporting data from the server, user can easily edit, share, create multiple copies and can take the backup at different places.
AOL Mail has its inbuilt exporting function. Using this, user can export email files from the AOL server to local system. But this option can help users to save one email at once. In order to save multiple emails, either user can save email one by one or can use third party smart software. Therefore in the next section, we have discussed the best optimal technique to solve all AOL mail attachment problems instantly.
Best Technique on How to Save AOL Email Attachments in Bulk
AOL Backup Software is founded as the best and optimal solution on how to download multiple email attachments in AOL to computer instantly. With this utility, user can extract and save the backup of AOL email files along with its attachment. It provides a user friendly interface and multiple advanced features that make it easy to use and execute.
Steps to Save Attachments from AOL on Windows are as follows;
Step 1. Install and run the software into system. Enter credential of AOL Mail to login.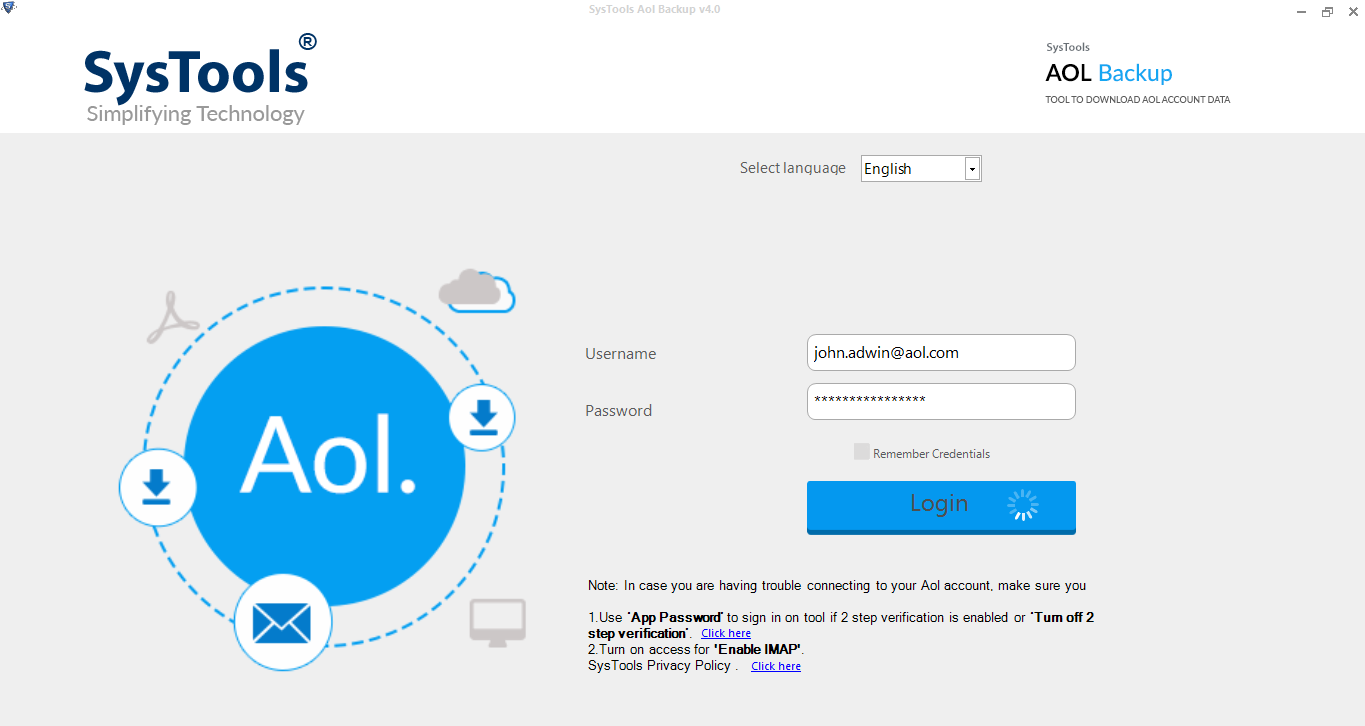 Step 2. Select destination location to save attachment files.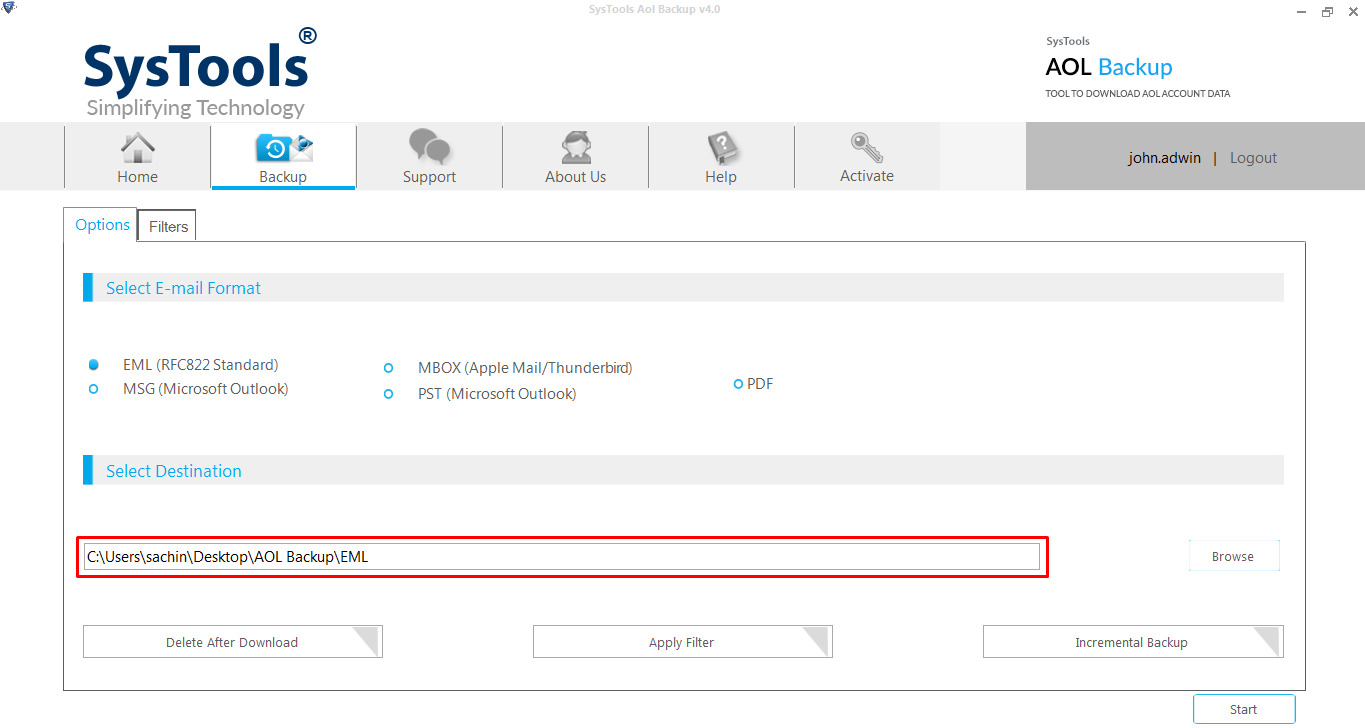 Step 3. Apply Date Range filters to backup selective emails along with its attachments.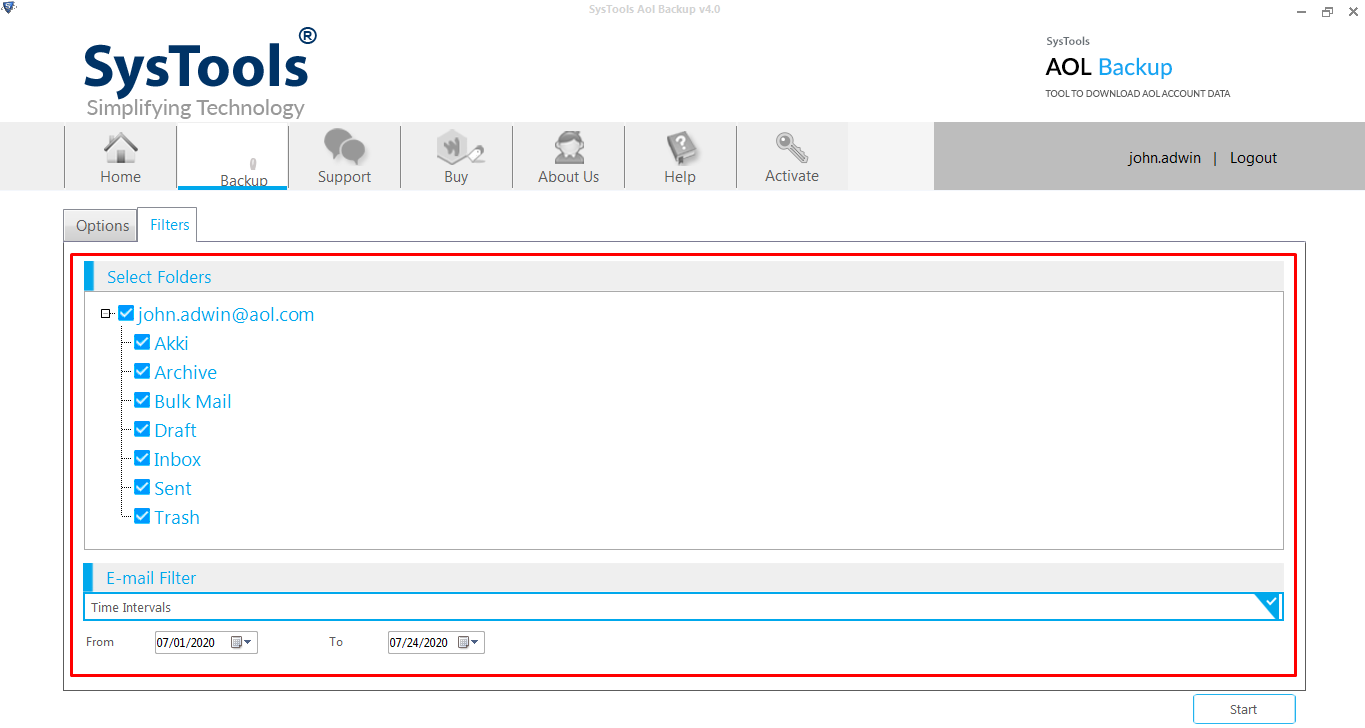 Step 4. Click on 'Start' button to begin AOL email backup process.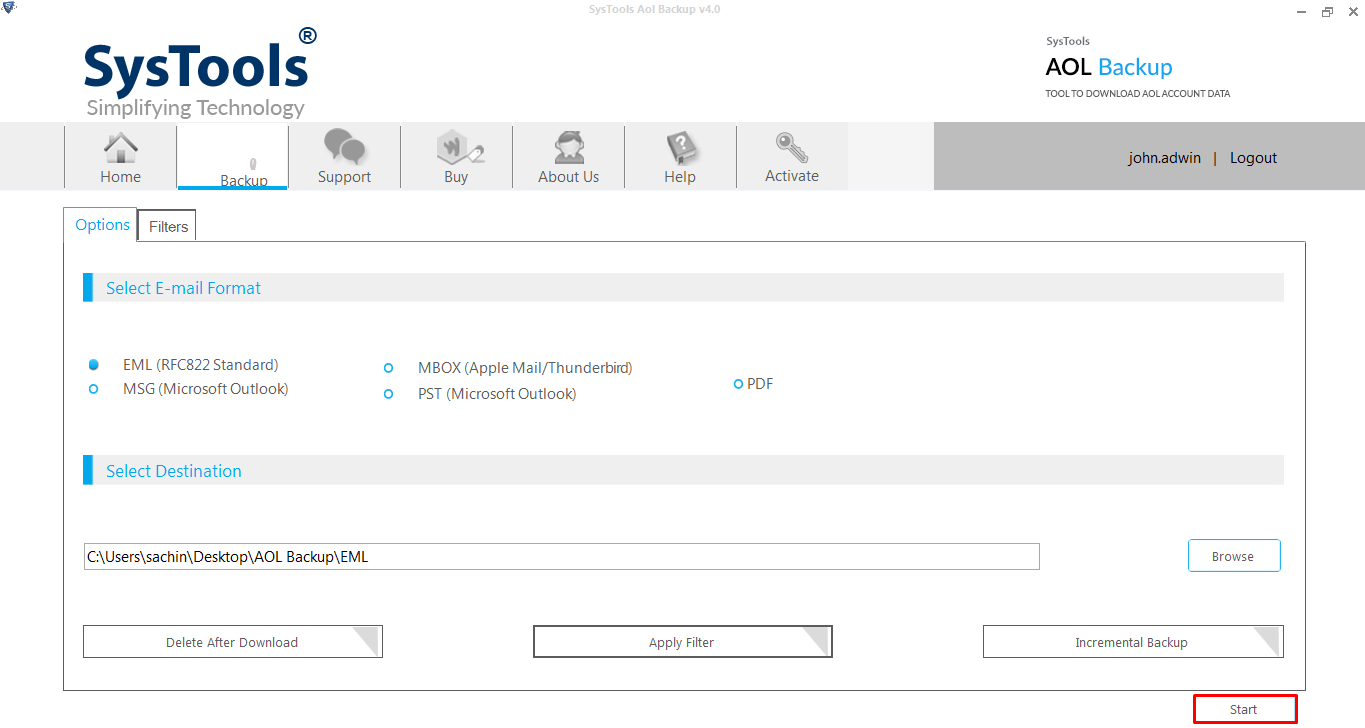 Steps to Download Attachments from AOL on Mac are;
Step 1. Download and Launch the Mac based tool on your system.
Step 2. Enter login credentials of AOL mail account.
Step 3. Choose file format to download AOL email attachments.
Step 4. Hit on the Start button to begin the process.
After following these above mentioned simple steps, user will save attachments in AOL mail and get the resultant emails and attachment files at the provided destination location. The tool also provide the demo version for free. Users can download and test the performance of the tool with its free version. After getting the satisfaction, user can go to company's official website to purchase its licensed version.
Highlighted Features of Software
Save AOL email attachments without losing data.
Support to take the backup from Multiple account
Provided Date Range based filter with 'TO' and 'From' fields
Pause and resume option available to manage exporting process
Supports backup of @aol.com and @verizon.net accounts
Compatible to all versions of Windows OS
Now, we are going to move towards the process on how to download email attachments from AOL in bulk on Windows OS system.
Time to Conclude
In this blog, we have provided a proficient solution on how to save AOL email attachments in bulk. Manual process requires time and efforts to export and save AOL emails one by one which is not an easy process. Thus, we have suggested a reliable tool named as AOL Backup Software that is efficient to download multiple attachments AOL Mail to computer instantly and effortlessly. With this tool, users can solve all the AOL mail attachment problems such as cannot open AOL email attachments and get the result in few simple steps without any data loss.