Fix Outlook Stays on Loading Screen Problem Here
Email communication is an integral part of most established organizations. And within this field, Microsoft Outlook needs no introduction. With its features and ease of use, Outlook is among the best email clients for desktops out there.
But, it has its own problems. Sometimes, you may open Outlook and it will get stuck on the starting screen. In this write-up, we will deal with this issue. So, let us find out how to fix the problem when Outlook stays on loading screen.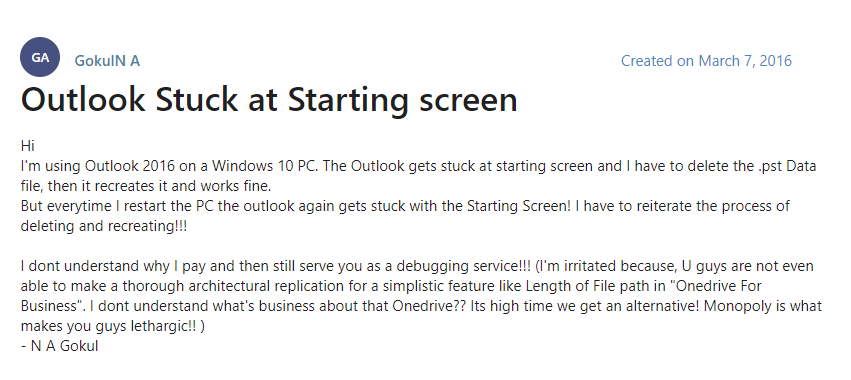 But first, let us find out the possible reasons behind this issue.
Possible Reasons behind Outlook Stuck on Profile Problem
There are several factors behind this problem. Here, we will discuss some of the more prominent ones.
Corruption is Outlook profile or database file (PST file).
Outdated Outlook application.
Outlook file is being used by another program.
A corrupt Add-in in Outlook.
Antivirus applications are in conflict with the Outlook program.
Bad Outlook shutdown
Now that we are aware of several issues, we can opt for solutions that target these reasons specifically.
Fixes to Resolve Outlook Stays on Loading Screen
The first and foremost thing for you to do is to start Outlook in safe mode. If the problem is not too big, Outlook will start in Safe Mode without any hiccups.
#1 Run Outlook in Safe Mode.
If Outlook does start in safe mode, then that means the fault is either in bad Outlook shutdown or via a faulty Add-in. Thus, you can choose to remove add-in methodologically one by one and run Outlook in a standard way to find if it is working.
The steps to run Outlook in safe mode are as follows:
Hit the R key while holding the Windows button on your keyboard.
Type exe –safe in the Run window and hit the Enter key.
Outlook will open in safe mode. Now, close it and open Outlook in normal way to see if the Outlook stuck at loading screen problem is fixed or not.
#2 Remove Add-ins in Outlook Methodologically
A faulty add-in often leads to Outlook stuck problems. It can get stuck on starting screen or while loading profile. To test which add-in is faulty, do the following:
Open Outlook in safe mode (steps in the previous method).
Click on File menu and select Options, then click on Add-Ins tab.
Click on the Go button beside the COM Add-ins
Here, de-select one add-in and click on OK button.
Then, restart Outlook is normal mode.
Keep doing this till the issue is resolved and Outlook is not stuck at loading screen.
Whatever add-in was removed prior to this result is most likely the faulty add-in.
#3 Repair Outlook application
Sometimes, abrupt shutdown can result in problems in Outlook. You can repair the MS Outlook program from the MS Office app to deal with these issues. It has been confirmed to fix the Outlook stays on loading screen problem along with the stuck at starting screen issue.
The steps are as follows:
Close MS Outlook and other Office applications.
Hit the Windows button on your keyboard to run the Start
Select Apps and Features from lower-left corner.
If not available, then click on the Settings button from the lower-left corner and search for Apps and features in the Settings
Select the Microsoft Office product from the list of applications.
Click on Modify, select Yes for confirmation
Select Repair option and click on the Continue
It will repair your Outlook program.
Now, check if Outlook is starting normally. If it does, then your Outlook stays on Loading screen or starting screen problem is fixed.
#4 Repair the Database File
If the problem is corruption of profile or PST file, then you will need to get rid of this corruption. This is a good solution for problems in POP accounts or imported PST files.
There are two ways to repair the Outlook profile database:
Using free ScanPST tool by Microsoft – for low-level corruption
Using professional tool – for high-level corruption
Let us understand the solutions below.
Location of ScanPST.exe: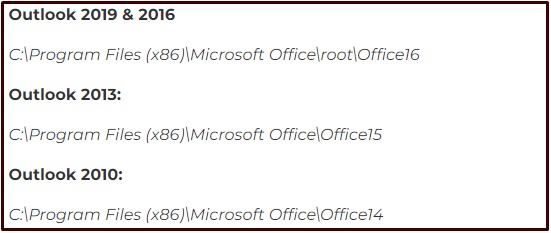 Steps:
Double click on the exe to run the tool.
Browse the problematic profile PST file.
Click Start to start the repair process.
If the tool finds corruption, it will repair it.
Once done, start Outlook to see if the Outlook stuck at loading screen/profile problem is fixed.
If the tool finds corruption, but even after repair, Outlook does not start. Then, the file may have high-level corruption. In such a case, use Outlook Recovery Software. You can view the complete process in the following video:
Download the free version of the tool to repair Outlook PST file here:
Final Thoughts
Email communication is a daily task. This makes not being able to open Outlook a very frustrating problem. Hopefully, with the solutions given in this blog, you will be able to get past the Outlook stays at loading screen issue.