Extract PDF Attachments from Outlook – Two Methods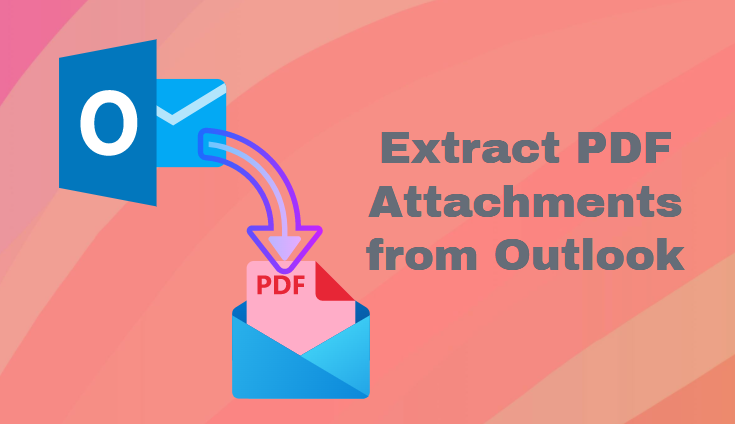 Summary: Do you want to extract PDF attachments from Outlook? But what if you don't know how to extract numerous pdf documents with a single click? If you answered yes, it's time to celebrate!
In this post, we will show you the easiest technique to remove certain attachments files from Outlook. So keep reading the site because you will soon be able to fix your problem in a very efficient method.
Outlook is one of the email applications that are available for both Mac and Windows operating systems, and both OS users rely on this email client to meet all of their email demands. This email client is also used by users to communicate papers, files, and other items. In fact, it is one of the most sophisticated systems of document and information sharing.
Nevertheless, there are times when users need to extract only particular files, such as when extracting PDF Outlook attachments.
Hello, I'm working on a project and need to turn in a report to my senior team. However, in order to collaborate on the project, we have sent a large number of files through email, all of which are in PDF format. Now I must attach all of the PDF files to the report. Now, I'm not sure how to extract many attachments from multiple emails at the same time, and the one-by-one way takes a long time. So, if anyone knows an efficient technique to perform this activity, please share it with me.
We now understand the consumers' situation as well as the reason why they wish to extract only specified files from Outlook. So, without further ado, let's get to the process of extracting multiple PDF attachments from Outlook.
How to Extract PDF Attachments from Outlook
The manual technique, on the other hand, is time-consuming if you wish to extract certain attachments from many emails. Since this manual method requires opening each email one at a time before you can download the attachments.
So, to make the work easier for this sort of user, we'll offer Outlook Attachment Extractor, one of the most trustworthy and tried apps available. This program allows you to extract attachments from Outlook in a short amount of time. The software also has a function that allows you to extract certain file formats from attachments. Extracting attachments from Outlook emails, calendars, tasks, and journals is also possible with this software.
Let's have a look at how the program extracts attachments from Outlook.
1. To begin, go to the above available mentioned download button to download the software.
2. Once the download is finished, just install and run the software.
3. Now, choose the Auto-Locate Outlook Default Storage Location radio button.
4. Select Folder Options to keep the folder hierarchy.
5. Choose the Destination location to save attachments.
6. Then select a category, such as Mail.
7. If you want to extract attachments from a certain period range, use the Date Filter option.
8. Then, from the Attachment File Type & Size Filter, pick File Type and input PDF in the provided field before clicking the Save button.
9. To give an attachment a name convention, select the Naming Convention box.
10 Finally, click the Export button to start the process to extract PDF attachments from Outlook.
Method to Get Free PDF Attachments from Outlook
You can use this option if you just have a few PDF attachments to extract for Outlook. Because, as previously said, you must extract individual attachments from each email one by one, which is inconvenient if you have a significant number of attachments to delete.
Now let's have a look at the manual steps.
1. First, open Outlook and browse to the email with the attachments.
2. Open the email by clicking the open button.
3. After you've chosen your attachment, click the Save All Attachment option.
4. Choose where you want to save the file now.
5. Finally, click the Save button to complete the extraction of PDF attachments from Outlook.
Why Should You Opt for an Automated Solution Rather Than a Manual One?
We are all aware that the manual method does not provide any features, however, the automatic method does.
The utility can extract attachments from Outlook PST, OST, OLM, OLK, and all Outlook profiles, as well as Office 365 profiles.
Provide a number of options for keeping the folder structure.
Allow users to name attachments and attachment folders according to their preferences.
You can adjust the file size based on your needs.
Support for all Windows Outlook versions as well as all Windows OS versions
Conclusion
Whichever the reason for removing an attachment from Outlook. The two best approaches for extracting PDF attachments from Outlook are mentioned in the article above. It is now totally up to you to decide which solution is best for you.