How to Download All Emails From Lotus Notes | Know Here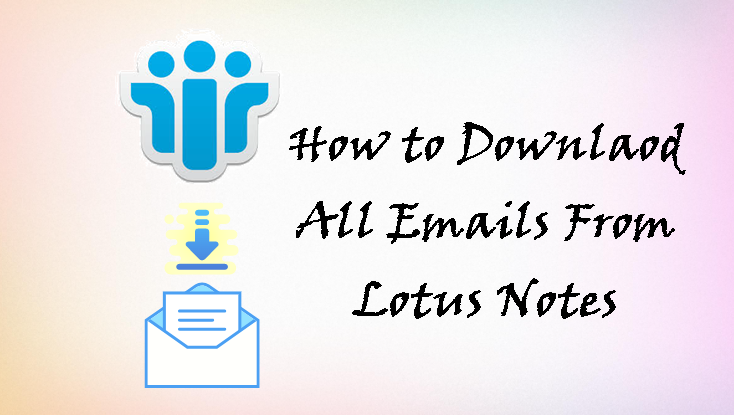 You have come to the right place if you are seeking a solution on how to download all emails from Lotus Notes. In this article, we will go through two of the greatest methods for downloading IBM Note emails without any difficulty.
We all know that Lotus Notes is an enterprise-level email client, and a large number of enterprises all over the world rely on it to meet all of their email demands. It is essentially a sophisticated email client that saves all of its data in the NSF file format, which is only accessible in Lotus Notes. To access an NSF file in another email application, you must first download all of the emails in multiple file formats.
But, before we begin the technique for downloading emails from IBM Lotus Notes, let's look at why consumers desire to download all of their emails.
Why Users Need Emails from Lotus Notes to Local Drive
As previously said, Lotus Notes is a somewhat difficult email client, and as a result, many users change their email client. So, if they want all of their mail in the new email client, they must download all of the emails from Lotus Notes.
It saves all of its data in NSF format and is only accessible through Lotus Notes. So, if you wish to open Lotus emails in another email client, you must first download all of them.
Many users wish to build a backup of their emails, therefore they must download all of their emails from Lotus Notes.
Users may desire to download emails from Lotus Notes to a local disc in order to free up space in their inbox.
Now that we've established the purpose, let's move on to the technique for carrying it out.
How to Manually Download all Emails from Lotus Notes
Yes, you can simply download emails from Lotus Notes, and in this section, we will cover how to download emails from Lotus Notes in EML file format for free. And to do so, simply follow the procedures below:
There are two ways to manually preserve IBM Notes emails, and we've covered both of them here.
Method 1: Download Single Lotus Notes Emails Individually
1. To begin, launch Lotus Notes on your machine.
2. Open the email from IBM Lotus Notes that you want to download.
3. From the menu bar, select the File option.
4. Select the Save As option from the drop-down menu.
5. To save the NSF file as an EML, go to the selected destination directory.
Method 2: Using the Drag and Drop Option to Download All Emails from Lotus Notes
1. First, navigate to the Lotus Notes Home page.
2. To begin, press the File button.
3. Then click the Preferences button.
4. Select the Basic Notes Client Configuration option from the Preferences window.
5. Go to the section under "Other Options."
6. Select the Drag and drop save as.eml file option from the Additional Options menu.
7. To save the changes, click the OK button.
8. After you've saved your settings, you can simply drag and drop to download all of your Lotus Notes emails.
The Manual Method's Limitations
The manual technique described above is free, but it has several restrictions, which we will discuss in this section:
The first restriction of the manual technique is that it only allows you to download one email at a time. Bulk downloading is not feasible.
The manual technique only allows you to download emails in one file format: EML.
The drag and drop approach is only compatible with Lotus Notes 8.5 and later. So, if you're using an older version, you won't be able to drag and drop emails.
The Most Effective Method for Downloading All Emails from Lotus Notes
As we can see, the aforementioned manual technique has several drawbacks and is also time-consuming. So, to make the procedure simple and quick, we'll provide a solution in this blog that can effortlessly extract all of your emails from Lotus Notes.
Lotus Notes NSF Converter is the most popular and widely used utility on the internet. While downloading Lotus Notes, this application provides many file formats to save Lotus Notes Emails like PDF EML, MSG, and MBOX. As a result, you may select the file extensions based on your needs. The application offers fantastic functionality for adding files from Lotus Notes; you can just drag and drop the NSF file from the correct spot. You can also include NSF.
Let's have a look at how the tool works now that we've learned about it:
1. First, you must install the tool on your PC.
2. Once the download is complete, install and execute the utility.
3. Now, choose the Select NSF File radio box and then Add Files or Add Folder.
4. You may also add files directly from the Domino Server; simply enter a valid IP address and password.
5. Select an export format such as EML, MBOX, MSG, MBOX, or CSV
6. After that, select the Advanced Conversion Option based on your needs.
7. Choose a location to save the resulting file.
8. Finally, select the Export option to download all emails from Lotus Notes.
Conclusion
Well, it's time to finish things up; if you're having trouble while download all emails from Lotus Notes, we've covered all of the various methods in this write-up. However, if you have a large number of emails to download, you can use the automated program mentioned above in the article.