Free Methods to Convert Outlook Email to PDF File
For those who want to convert Outlook email to PDF format, this blog is exactly what you are looking for. Read the complete blog to know how you can easily save Outlook email as PDF file for free.
Case Study 1: "Being an investigator, I need to submit some email in court. For this reason, I have to export Outlook emails to PDF. The manual method that I tried is time taking and it also does not allow me to save the attachment files into PDF. I am looking for smart software that can easily perform this conversion. Please suggest any application that will work on any size of PST file."

Case Study 2: "My Outlook Inbox is full but I cannot just delete all the emails without having any backup. Hence, I want to back up some emails in hard drive. I believe PDF format will be the most suitable format for backup that will allows me to open the emails on any platform. Suggest me any suitable method that will take less time and effort."
Like these people, many are in need to convert their emails from Outlook to PDF file. But to find the trustworthy method is difficult. Hence this write-up will explore some proven methods to convert Outlook emails to PDF format.
Read More- How to Export PST to MSG Files
Reasons to Save Outlook Email as PDF
There are some of the major reasons why Outlook users want to convert their emails in PDF format. Some of them are listed below:
PDF is the standard file format for legal submission
It is an independent file format that does not need any paid tool to be opened.
PDF files can be stored anywhere and shared with anyone.
It retains the email data in original format
PDF file offers maximum security and file size compression features.
Users can prevent copyright infringement by using watermark in PDF
How Can I Convert Outlook Email to PDF
There are many ways to save emails from Outlook into PDF files. This blog will guide the readers about two common solutions.
Convert Outlook Email to PDF using Microsoft Print to PDF Option
Microsoft Outlook enables user's to export single or multiple emails from Outlook dashboard to PDF file format. Follow the below listed instructions:
1. Start MS Outlook and click on the preferred email to open it.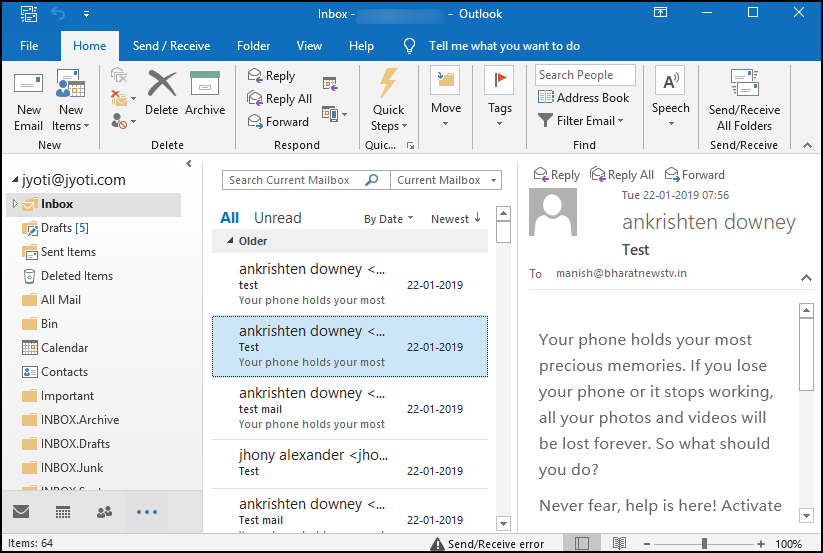 2. Navigate to the File tab and click on Print option. Under Printer section, the default printer option will be visible.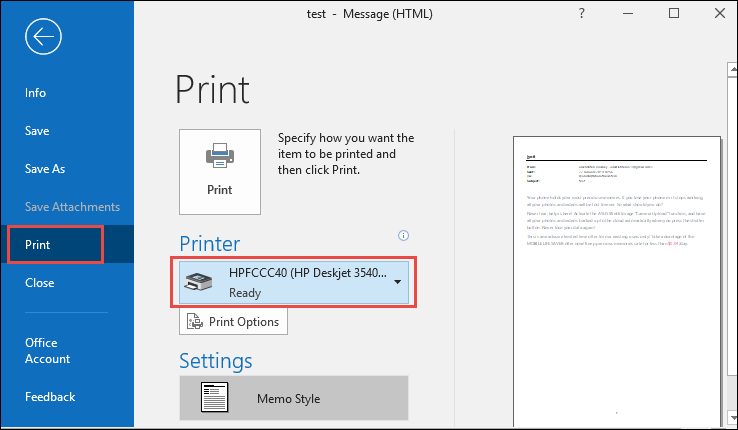 3. Open the drop-down menu and select Microsoft Print to PDF option.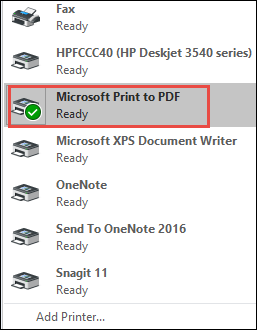 5. Click on Print Options to open a printing window. On that, click on Print button.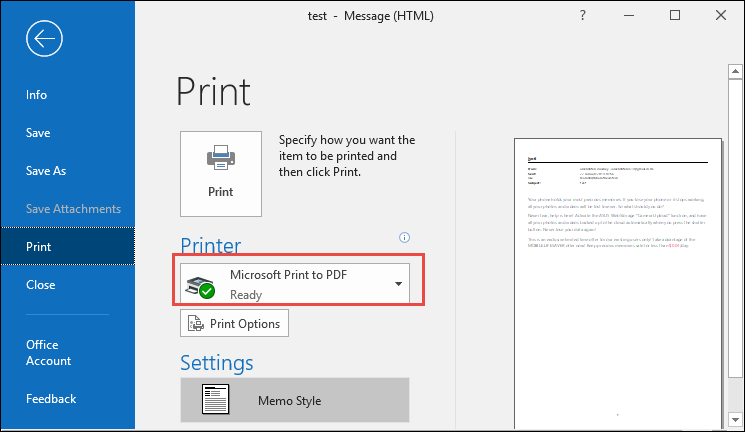 6. Select PDF as the Save as type option. Also, choose location for saving the PDF file and click on Save button.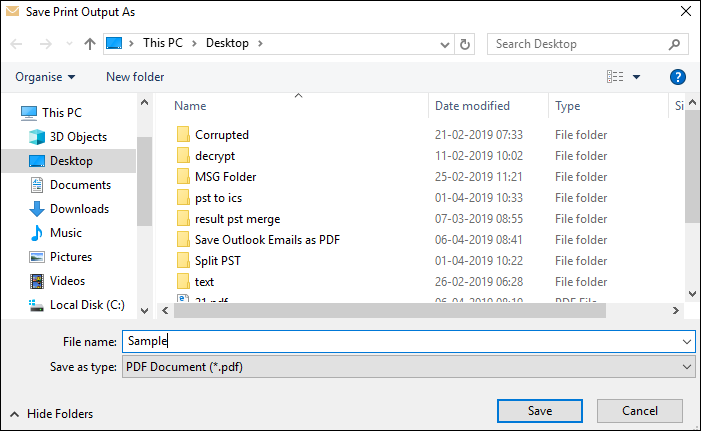 In a minute, the Outlook email will be in PDF format. Users can find it by visiting the provided destination folder.
Microsoft Print to PDF Option Has Certain Limitations
Before anyone opt for this method, they should know the disadvantages of convert Outlook email to PDF for free.
Though this method is perfect for a few emails, using this for bulk email conversion will become a hectic and tiring job.
A fully-functional Outlook application is needed to perform this method. Inaccessible Outlook or orphan PST files do not qualify for this method.
With this technique, only the text part of email can be converted into PDF. Images or attachments of the emails are not stored in PDF format
Software to Convert Outlook Email to PDF Format on Windows OS
If users need a quick but dependable method for saving their Outlook emails into PDF format, then  Outlook to PDF Converter is the right one for them. It can save Outlook email as PDF in a short time without missing any element. Here is how to use this software on any Windows OS computer. First of all, users have to download and install the software.
Click on Add Files button and add Outlook data file into the software panel.
2. After loading the file, the tool will show all Outlook emails. Hit Export button as highlighted in below screen. 
3. Select PDF radio button from Export options and apply Advanced Settings if needed.
4. Select location to save PDF files and hit on the Export button to convert Outlook email to PDF.
Top Features of the Outlook to PDF Converter Tool
This software is developed with many advanced features that allows Outlook users to manage their emails along with all associated attributes.
Save Outlook email as PDF with attachment and image
Advance scan feature to process corrupted and damaged PST
Save the email data in PDF along with or without header
Convert all items from inaccessible Outlook and orphan PST
Zero data loss while converting with original folder hierarchy
Selective email conversion based of date, folder, or email
Additional PDF file settings like Bates Number or Date Stamp
Select Page margin, paper size, paper orientation
Choose whether to keep the header message of Outlook emails
Can I Save Outlook Email as PDF for Free?
Yes. Users can try the manual method mentioned here for free Outlook email conversion. Or, they can download the free version of the suggested tool to convert the first 25 items of each folder located in the PST file.
Export Mac Outlook Emails to PDF Format on Mac Machine
Mac Outlook user can follow below listed steps and easily convert entire emails from Outlook mailbox to PDF format. 
Download and Install the Outlook to PDF converter for Mac 
Browse the Mac Outlook OLM File into Software Panel 
Select PDF Export Option and Apply PDF Settings 
Browse Path to Save Outlook Emails to PDF File Format 
Author Suggestion
Outlook users know that their emails lack portability in the original format. But, this problem can be easily resolved by converting the emails in some standard format that anyone can access. Hence they want to convert Outlook email to PDF for sharing or backup purposes. This blog described multiple methods that readers can try for free. Try the solutions and save/send the emails anywhere with ease.