How to Import PST Files into Office 365 Webmail? Quick Migration Guide
Nowadays, Office 365 comes under a superior email communication platform for delivering advanced services. One of the amazing features of Office 365 is Outlook 365 or OWA. It is an online version of the Outlook desktop program and can be accessed from anywhere in the presence of an internet connection. That is why many mid or large-sized organizations switch from Outlook desktop to Office 365 webmail. However, old Outlook emails will be required in Office 365 OWA. For this, users need to import PST files into Office 365 webmail.
This article will provide a solution for importing multiple PST files into the Office 365 account of all OWA users. Read a real-life situation for a better understanding of this problem.
User Query
"I am a technical engineer and recently my company purchased Microsoft O365 Enterprise plan. Now, it is my responsibility to import all the PST files into Office 365 webmail account. Already, my company has 100+ .pst file. And, it is impossible to migrate all the data files in Office 365 by using a manual approach i.e., Network Upload. Even I tried this workaround, but it takes the entire day to import half of the data of a single .pst file in Office 365 OWA.

Apart from this, it requires a long sequence of steps. We cannot afford to wait for so long for PST to O365 migration. So, we urgently need a solution that can import PST files into Office 365 Webmail in bulk, easily and accurately. Any relevant help would be appreciated."
As we see Network Upload method is not suitable for the Organization to import multiple PST files into Office 365 OWA. So, what should be the next option? The alternative solution for such a problem is professional software, which is going to discuss in the blog post.
Professional Solution to Import PST File in Office 365 OWA
Whenever an organization needs to import PST files of employees into their Office 365 account, the method that comes into mind is Network upload. However, this method takes too much time in importing even a few PST files and is also not available in all countries. Hence, we recommend an alternative solution for Network upload which is Office 365 Import Tool.
This utility allows the user to import multiple pst files into Office 365 accounts while maintaining the integrity & folder hierarchy of PST file data. During the export process, the tool provides various filtering options, for importing selected types of items from the PST file. Additionally, there will be no need for command-line knowledge for the execution of this software.
Simple import PST file into tool and provides destination account, the tool will take all the burden on itself and provides you an effortless import job.
Quick Steps to Import PST files into Office 365 Webmail
1. First, download and install Office 365 Import Wizard on your machine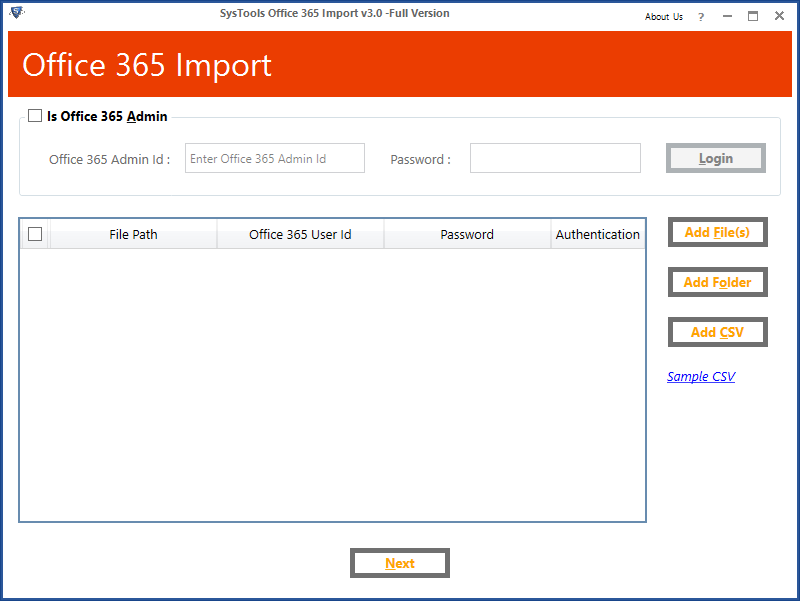 2. Login into the software using Office 365 Admin or User account credentials
Note: Login using Admin credentials allows user to import PST files into multiple Office 365 user account simultaneously as well as import PST file in Office 365 shared mailbox too. Whereas, User credentials allow importing PST files into their own O365 account.
3. Import the PST files using Add File(s) / Add Folder / Add CSV option (Map PST file and Users)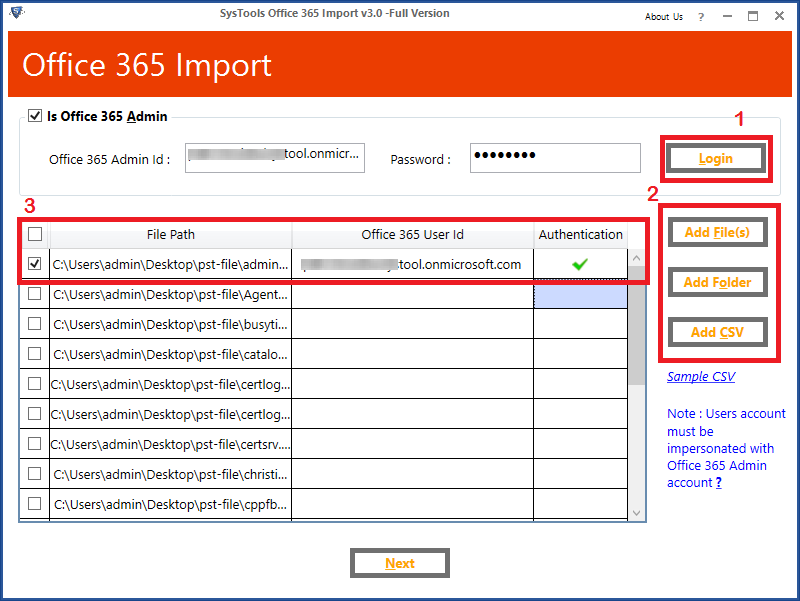 4. Select the Category of data you need to Import & Apply a Filter for each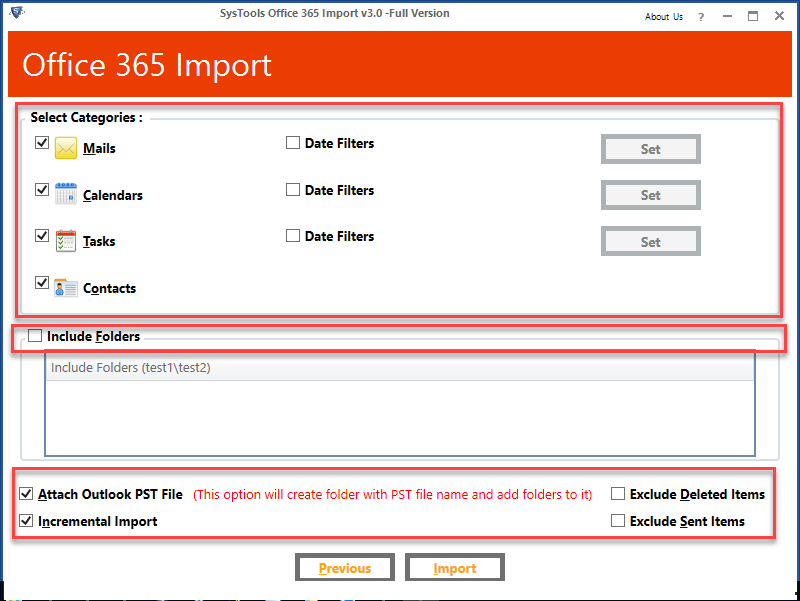 5. Click on the Import button to import PST files into Office 365 webmail.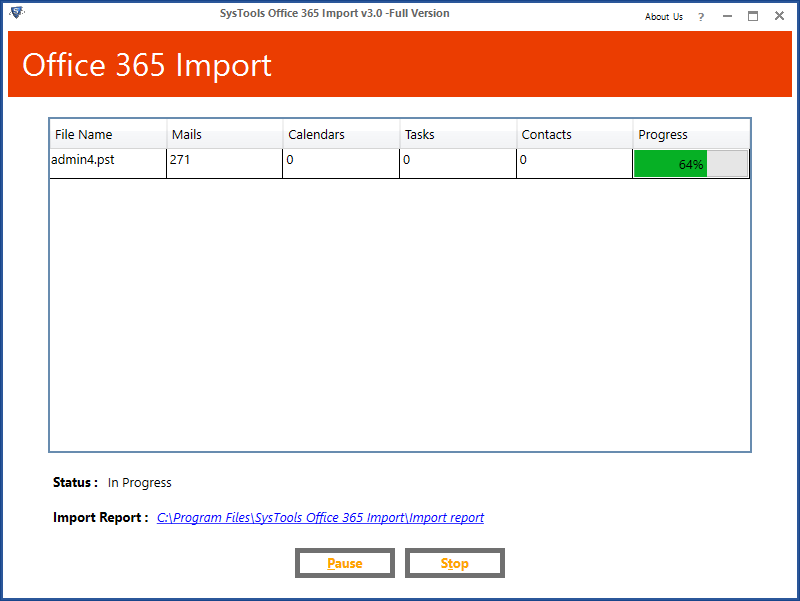 Also Read: How to Migrate Outlook Mailbox to Office 365?
Why Choose Import Software Over Network Upload Method?
In the following section, readers will understand the important features of the software. That is not available in the Network Upload method. And how much they important to import .pst files to Office 365 Outlook.
The network Upload method requires good technical knowledge about the procedure. Also, lots of permission is necessary to be granted by the admin before using the method. In case, when the admin left over any single permission, the process cannot be started. On the other hand, software needs Impersonation permission, and import PST files into Office 365 webmail procedure will start.
In the manual Network Upload method, you need to follow a long sequence of steps that seriously mind scratching. However, the automated software requires only a few clicks and the entire process takes place automatically without any error and interruption.
The manual procedure takes several hours to import each terabyte of PST data in Azure storage. Afterward, this data move to Office 365 mailbox from Azure storage at a speed of 24 GB/day. In case, if there will be a loss of internet connection during migration, the user needs to start the method again from the starting point.
On the other hand, software directly imports .pst in Office 365 webmail mailbox in the minimum amount of time. In case of loss of internet connectivity, the user can easily Pause the ongoing process and resume it again from the point where it was stopped.
Network Upload method cannot maintain 300 or above-nested folders hierarchy during PST to Office 365 Outlook migration. However, the software ensures to maintain the complete folder hierarchy of .pst mailbox folders after importing into Office 365 mailbox.
In a situation when the PST file contains a data item larger than 150 MB, then it will be eliminated in the Network upload method. Also, this method is only available in the United States, UK, India, Australia, East Asia, Canada, Brazil, the Republic of Korea, Europe, and Southeast Asia. On the other hand, Office 365 tools are available worldwide.
With the help of the Office 365 Import tool, one can remove Deleted and Sent Items folder while importing PST files into Office 365 OWA.
Also, Keep in Mind
Note: The alternative solution provided by Microsoft for Network upload is Drive Shipping to Import PST files. However, this method could take weeks or months in its execution and cost $2/ GB of PST file data for importing. 
Summing Up
Considering the organizations' query, "how to import PST Files into Office 365 Webmail" we have tried to solve this problem using the above-mentioned software solution. It is a reliable and result-oriented solution. Moreover, it provides various features that help a lot while importing multiple PST files into Office 365 accounts.