Errors Have Been Detected In The File – Outlook.OST ! What to Do Next?
" This article explains about a situation where errors have been detected in the file outlook.ost while synchronizing offline address book or OST file with Exchange application."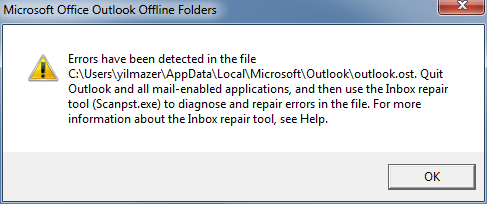 When Outlook application is used in collaboration with MS Exchange so as to access Exchange user account data in offline mode as well there is a possibility of synchronization errors. Error 0x8004010f code is one amongst such errors which is an MAPI error. Its occurrence depends on various factors like synchronization, managed send/receive execution, OST file integrity, etc. The errors completely restrict any further access to emails or any data from Exchange OST file. In fact, the data also stops synchronizing and the OST file becomes inaccessible and of no use once the errors have been detected in the file.
Exchange Offline Database Error Event
When the user tries to synchronize the offline address book or OST file in Outlook with Exchange account below mentioned error is flashed showing Sync issues. The error which is displayed is as below:
Microsoft Exchange offline address book Not downloading offline address book files. A server (URL) could not be located. 0X8004010F

When the synchronization is tried between OST file and Exchange account with Exchange being in a disabled state, following error message is displayed.

Task reported error (0x8004010F): 'The operation failed. An object cannot be found.

In case user after receiving the error (0x8004010F) tries to still transmit emails, again error occurs.

Task 'Microsoft Exchange Server' reported error (0x8004010F): 'The operation failed.
Do's and Don'ts for Such Erroneous Situation
It must be noted that MS Exchange at least takes 24-48 hours to update OAB for new accounts and hence if anyone tries to access or download OAB, this error is generated showing download failure. That is why users who have recently created an account should not attempt to download OAB or outlook address book. If still, this error persists, one can try following remedies to fix it:
View the Properties in Address list and go through the settings of the Exchange server System Manager. Verify if the address book is valid or not and if it is not, the new list is supposed to be added.

It can also occur if the client system in which Outlook is configured has proxy settings and Internet explorer browser is utilized. To stop this, start Internet Explorer, click Tools>>Internet Options. Click LAN settings coming under Connections tab and here select 

Bypass proxy server for local addresses

and click Advanced. Type FQDN of Exchange 2007 CAS server and click OK.
What If Errors Have Been Detected In The File Outlook.OST Still Persists?
In the beginning, it is recommended to you to use Microsoft Inbox Repair tool (scanost.exe) that is available free of cost. It will easily scan and resolve the issue "errors have been detected in the file outlook.OST". The procedure to use scanost.exe is very simple as shown below:
Go to the folder where 

scanost.exe

 is located and click on the tool

Browse

 your OST file and click on Next button

The tool will 

scan

 and view information about the OST file >> Click on the 

Repair

 button

The software repair and fix errors and it will take a while.
What is Scanost.exe fails to Resolve the Error?
In case after performing all these settings, errors persist to throw after synchronization your OST file must have been corrupted. In such situations, it is recommended to first recover all the existing OST data to PST file using third party tool like QuickData OST to PST so that the data is safely migrated to a secure location. This software has been built to tackle all types of errors and work on corrupted and orphan OST files as well. So, whenever errors have been detected in the file, go for this software to resolve the situation immediately.