How to Download All Attachments from Thunderbird – A Guide For You
Various professions demand numerous attachments sharing and receiving on daily basis. Eventually, users need to download attachments to their local system. In this blog, we will focus on one such query that is how to download all attachments from Thunderbird by maintaining data integrity. If you are looking for the same, you are in right place.
About Thunderbird and embedded attachments
Mozilla Thunderbird is an email client that uses MBOX files to store emails and other mailbox objects. These archives keep email messages and other mailbox objects intact. It is fairly typical for email sending and receiving to be a continuous operation, increasing the size of MBOX files. The attachment files that were added to the emails were the primary cause of the rise in MBOX size.
Users can connect several files to email messages, regardless of file type. However, there are times when users must extract attachments from Thunderbird. As attachments are the primary cause of increased mailbox size, this causes a variety of issues such as file corruption, impact on application performance, problems when exchanging large-sized MBOX files, data loss, and other issues.
User Query #1. The user seeks the automatic download of Thunderbird Attachment.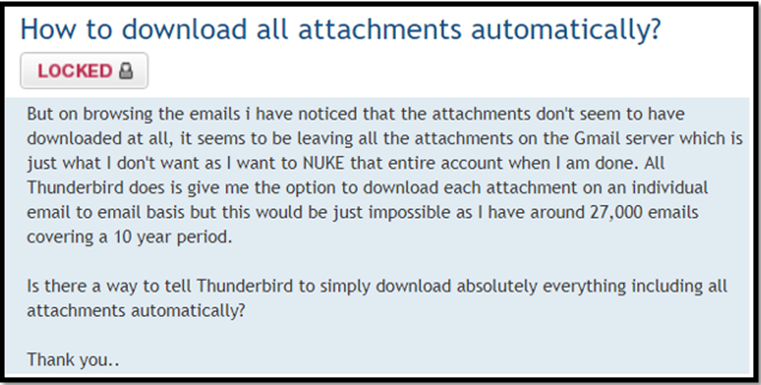 Approaches For How To Download All Attachments From Thunderbird 
Three methods are prevalently used by Thunderbird users.
Attachment download from a single mail
Using Thunderbird Add-on
Professional Thunderbird Attachment Extractor
Method #1. Attachment download from a single mail
Drawback – You would have to repeat all of the steps with each specific email message. As a result, it is a hectic and time-consuming process.
The native approach in Mozilla Thunderbird allows you to download attachments from each email message. The following are the steps to take:
Launch Thunderbird and log in.
Double-click on the email message that contains the attachment.
Locate the embedded attachment at the bottom of the prompt and press the Save button.

Choose the folder to save the file and click the Save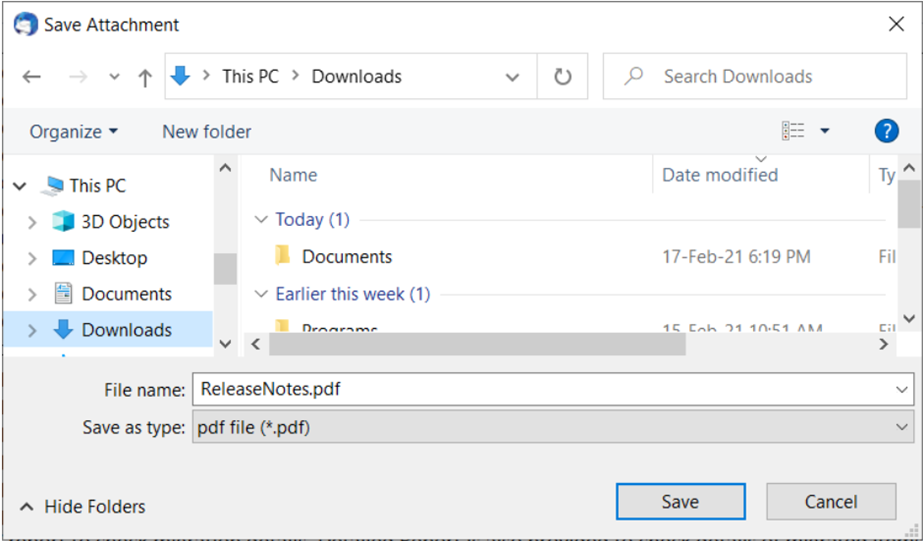 Method #2. Using Thunderbird Add-on
Mozilla Thunderbird offers a free add-on that helps users to download all attachments from Thunderbird. However, it reveals several limitations, including complicated procedures, time-consuming methods, the need for technical skills to conduct the extraction process. As a result, it is often advised to use relevant automatic tools to solve all of these complications.
Users should know that the add-on is only compliant with Thunderbird versions 60-68.*. And the most recent releases (78.*) edition is not compatible with the Add-on functionality. If you have the latest version of Thunderbird then it won't work for you.
Launch Thunderbird on your computer.
In Thunderbird, install the "AttachmentExtractor Continued" add-on.
After downloading the add-on, restart Thunderbird.
Right-click on the mailbox file (for example, Inbox) and choose 'Extract All Attachments to.'
Click Browse and navigate to the folder where you want to save Thunderbird attachments.
Let the process complete.
Method #3. How to Download All Attachments from Thunderbird – Reliable Approach
Using dedicated tools to retrieve MBOX attachments is the easiest and most reliable way to extract all attachments from Thunderbird emails. MBOX Attachment Extractor Wizard is a versatile application that allows you to save attachments from all MBOX files/folders. The method can extract attachments selectively by using a date filter. Furthermore, this program has a file naming feature.
This app is available for both Windows and Mac, so it can meet your needs regardless of your operating system.
Step 1. Open this attachment extractor wizard and click on Add File(s) /Add Folder(s) button.
Step 2. When files are added to the software. Then simply choose the required Folder hierarchy option.
Step 3. Provide the location to save the attachments. After processing, click on the Next button.
Step 4. Apply the filters accordingly, and click on Extract to start the extraction of attachment to the chosen location.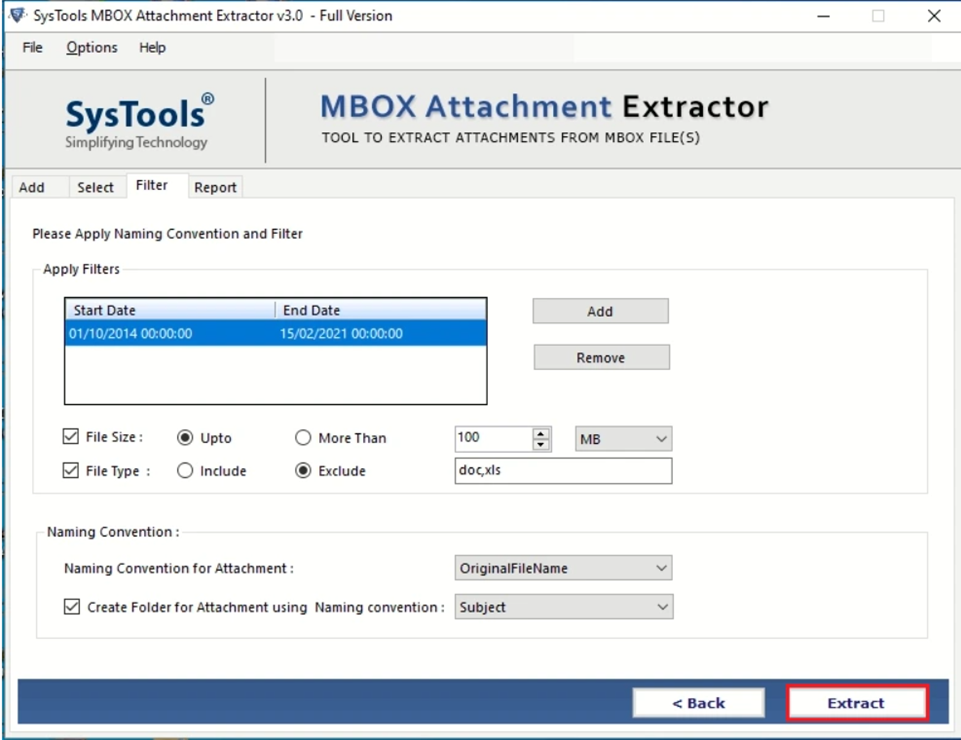 That's it now you know how to download all attachments from Thunderbird in bulk.
Untouched Hierarchy structure – Provide an option to Preserve the Hierarchy structure
High Level of Security-  It is completely safe and stable to download and extract attachments from Thunderbird, and it will not do any harm to the original files.
Powerful Functions – Its enhanced functionalities are designed to save attachments on the local computer.
Easy to use Interface – This app has an easy-to-use and intelligent user interface. As a result, even a beginner user can extract on its own.
Wide Compatibility – Program compliant with all versions of the Windows operating system and supports all email clients that store their data in MBOX files.
Free Demo version  –A free trial version of the app to extract all attachments is available for users to learn how the program works. So, to begin, you can use the software's demo version.
Final Verdict 
This blog focused on specific user-query about how to download all attachments from thunderbird. A simple activity will become time-consuming if you do not follow the proper procedure. Similarly, users who lack technical skills can encounter difficulties when extracting attachments using free attachment extractor Add-ons. The add-on is no longer supported by current versions of Thunderbird. As a result, we have addressed in depth the easiest and most reliable method for quickly extracting all attachments from Thunderbird emails maintaining data integrity.