Most Valuable Features of the OLM to PST Converter Tool

Migrate Outlook 2011 Data to PST
The software converts Mac Outlook to windows Outlook PST and along with all the data like; Email, Calendar, Task, Contacts, Notes into the PST, EML or MSG format. The tool can export any size of OLM file.

Preview All Data With Attachments
The software exports PST from Mac Outlook 2011 and generate a preview of the whole data items along with the corresponding attachment. Demo version shows a preview of the whole data.

Multiple OLM Files Can Be Exported
The OLM to PST converter software can export multiple Mac OLM files to be converted. This way you can reduce time and remove the overhead of converting multiple OLM files one by one.

Convert OLM file to PST/EML/MSG Files
It provides a beneficial function that helps us in moving OLM file emails into other desktop email clients by converting emails to EML or MSG formats. Thus, you can export the output files to supported clients.
Splits PST File Into Manageable Sizes
The tool converts and creates a backup of Outlook 2011 in PST, of any manageable size even if the size is exceeding the guaranteed limit. There is no file size limitation, you can export any size of OLM file.

Save Output PST in the Unicode Format
The utility offers to convert Mac OLM to PST file in Unicode format. Thus, the resultant PST file can be viewed, accessed or imported on any edition of Microsoft Outlook.

Doesn't Affect Originality of the Data
The software assures that original structure of the folders and sub-folder will remain the same as the hierarchy is maintained. Hence, the created PST file will have the same hierarchy.
Non-Compatible with Macintosh OS
OLM to PST Converter cannot be installed on the Mac OS. The conversion can be carried out only on a Windows based machine. The tool requires a Windows OS to perform Mac Outlook 2011 export to PST.

MS Outlook Installation is Required
Migrate Mac Outlook to Windows Outlook, the process requires MS Outlook installation for the connectivity purpose. In the Absence of MS Outlook, the process cannot be carried out.

Perform User Controlled Conversion
Outlook 2011 to PST Converter capably converts the OLM file data to ms Outlook PST in a user controlled manner. The software lets customize the conversion by using checkmarks to perform a selective data export.
Why User Needs to Migrate Mac Outlook to Windows Outlook?
All problems regarding Mac 2011 for Outlook comes to end when user import OLM to Outlook Windows. So, resolve issues & errors associated with Outlook for Mac and make a switch with OLM conversion tool.
Major Issues with Outlook 2011 for Mac
Mac Outlook doesn't support HTML & RTF format.
Issues are surfaced in opening hyperlinks to files residing on company server using Mac Outlook.
This version of MS Outlook doesn't open normally.
In Mac Outlook, a blank line appears in messages and contacts are not displayed accurately.
Information sometimes goes missing from contacts or calendars.
Outlook responds slowly after OLM file approaches 20 GB of size.
Some Manual Methods To Do The OLM to PST Conversion
There are some manual methods of the conversion, but it obviously requires extra technical skills and time. One of the manual methods is described as follows:-
For it, first create an IMAP (Gmail, iCloud etc.) account.
Then, add the account to the Outlook 2011 (For Mac) and MS Office for Window.
Now drag emails into the IMAP server and switch to the Window. Now drag the emails from the IMAP server and drop them into your email.
We can see how much time gets consumed in the process and how accurately you must perform it. So, to migrate Mac Outlook to Windows Outlook a third party tool becomes a necessity also, no end user efforts are required. OLM to PST converter can easily convert the OLM file into PST within a few clicks.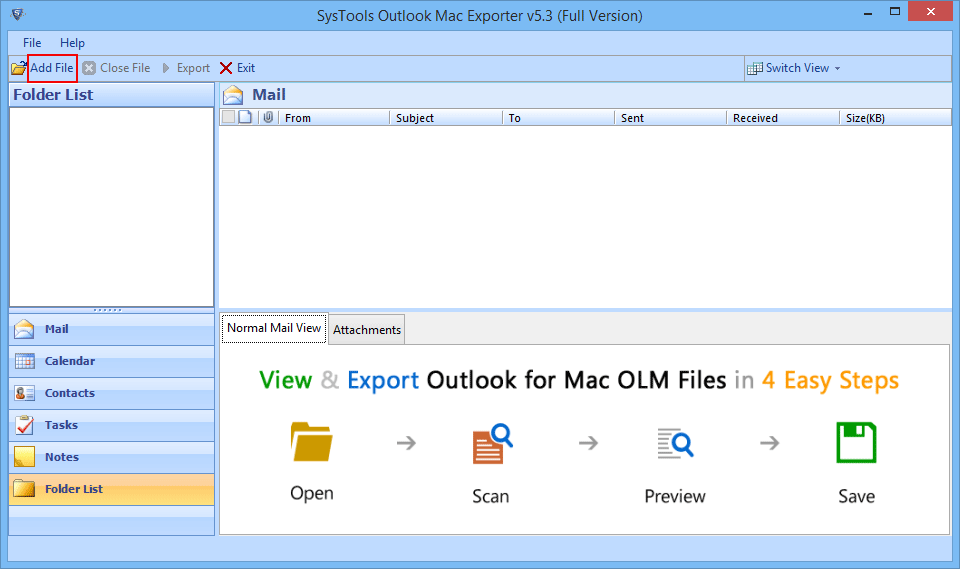 Switching to Windows 8.1 was my plan but just because of my Outlook data I couldn't be sure to make the switch. Thankfully QuickData OLM to Outlook made it possible for me to convert my data and allow me to make a switch to Windows from Mac.
- Doris Brown, Germany
Watch Live Video of Mac Outlook OLM to PST Conversion
Get Answer for All Doubts & Queries Related to OLM to PST
Can I convert multiple OLM files to PST format?
Yes, the software allows you to convert multiple OLM files at a time under the Personal License.
Will I be able to recover corrupted OLM file before conversion?
Yes, the software supports the recovery of corrupted OLM files before conversion to PST.
What if i do not wish to convert OLM to PST?
You can convert your OLM file emails into EML format file as the software supports conversion into three file types: PST, MSG, and EML respectively.
How can I know the working of the software before purchase?
The software comes as a freeware trial edition. Get the trial version downloaded to test the functionalities of software. However, a few limitations on the conversion may apply as part of the demo limitation.
Does the metadata remain as it is even after the conversion?
Yes, the software successfully maintains, the metadata of each email converted from Outlook for Mac OLM file to Outlook for Windows PST.
Feedback for OLM to PST Converter Software

At work I had been using Outlook for Mac since a very long time. Though the inability to use its data on my Windows based Outlook at home using was quite frustrating. However, coming across OLM file to Outlook PST Converter from QuickData saved me a lot of efforts I usually took!

— Elizabeth Smith, Queensland

I was so overwhelmed with the tools ability of providing selective folder conversion. I didn't want to convert the unneeded folders from my Notes database including the sent items. Thankfully this feature was at my rescue and a lot of time in the conversion got saved.

— Gloria Sanchez, US

I would like to appreciate the efforts of the developers for making such a thoughtful application. It comes as a great help and the best part is, I only had to purchase the application once without any subscription charges applied for future.

— Sandra Rivera, Spain

I would like to appreciate the developers for providing the free demo version with similar functionalities. It was very helpful as I got to test the software and all of its features beforehand. And making the purchase later on was quite convenient.

— Wayne Jones, California