A number of desktop email clients such as Eudora, Thunderbird, Windows Live, Outlook Express, Windows Live Mail etc maintain data in EML files. EML files are basically an email file associated with a single mail. Thus, each mail gets stored into the EML format. However, with the updated and advance features of Outlook, many users wish to switch from existing EML client applications to Outlook. However, the major concern of almost every user is to carry the existing emails into Outlook for future access. As we know that Outlook has its proprietary format i.e., PST. So, it maintains its entire data items in PST format. Thus, if one needs to access the emails from EML files, firstly EML to PST conversion is mandatory.
Benefits of Export EML to Outlook
The users can switch to most widely used email application i.e. Outlook
One can easily access emails from EML supported applications in Outlook
Outlook offers an interesting feature to work even in offline mode
How Does EML files to PST Conversion make Migration Easy?
The tool has been equipped with many advance features to let the users convert bulk EML files to PST. All the selected emails get imported within few seconds without altering the actual integrity of emails. Moreover, all the attachments also get extracted from the EML file to PST.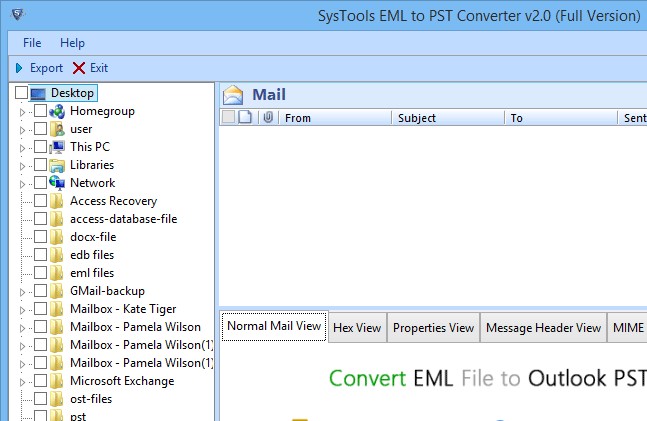 Easy to handle GUI, attractive and effective product with more advance features at affordable price. "All in One" kind of software with 24*7 customer support service. This EML to Outlook Converter helps to import EML to Outlook PST flawlessly with few clicks. Thanks a lot..!
- Kevin Thomas, Russia