Characteristic Features of the SQL Database MDF Recovery Software

Complete SQL MDF Recovery
The SQL Recovery software offers complete database recovery for all integrated components including tables, stored procedures, views, columns, triggers, rules, functions as well as Unique\ Primary keys.

Dual Scan Checks Available
The software is integrated with two scan modes that can be executed on SQL server database files as per extents of corruption. 'Quick' scan check allows faster recovery whereas 'Advance' check allows recovering data from higher corruption.

Batch NDF Execution
It provides the option to add multiple secondary database files (NDF) and then executes the selected files altogether. Either numerous database files or single folder with multiple files can be added to the tool panel to recover ndf file.

Dual Data Export Options
While exporting recovered database components, the data can be saved either as 'Schema & Data' or 'With only Schema'. This provides the flexibility to restore data items as per requirement and further usage considerations.

Auto Detect MDF Version
When an MDF file is uploaded to the tool panel, the SQL Database Recovery tool offers the provision to automatically select the corresponding SQL server version. This can also be selected manually, if known, as incorrect selection might lead to inaccurate output.

Recover Deleted DB Components
Apart from the facility to repair SQL database corrupted data from uploaded files, the tool also offers the provision to recover deleted data. Once the MDF as well as the NDF files are uploaded; 'Advance' scan option can be selected to recover deleted items.

Restore to Database & Script
After the corrupted or deleted database components are recovered; they can be restored back into their original formats either in SQL database or SQL Server Compatible SQL Scripts.

Auto\Manual NDF Upload
When the master database file is selected and uploaded to the SQL Recovery tool panel, the associated secondary files can be uploaded either by selecting them manually or by selecting the 'Autodetect the secondary database (.ndf) files' option.

Recover Selected Data from SQL Database
The MDF recovery tool offers exporting selected database components to either of the given options, once, recovery is done. This cuts- off the recovery time and offers faster processing as compared to the entire database recovery procedure.

Database Credentials Required
While exporting recovered data to SQL database, it requires providing username and password credentials along with Server name and Database name. This offers enhanced security as only authorized user can recover and export database components.

Additional Storage Benefits
While recovering data and restoring to Compatible SQL Scripts, the SQL Server recovery tool displays the accurate storage location along with the complete procedure to import the script into SQL database.

Supported SQL Server Versions
The software supports the latest SQL 2014 as well as all lower release. The version of the application would not affect the performance of the tool in any manner, however, it is a Windows-based tool and works upon all editions of the respective OS.
Why and How to Repair SQL Server Database?
SQL Server is an RDBMS (Relational Database Management System), developed for storing and retrieving data based on the request made by other programs from same or across the network. Developed by Microsoft for enterprise arena, the application uses MDF files, also known as master database files for storing primary data such as schema and other components.
NDF files are used by the program to store user data on the machine. Another major file format used by the application is the LDF that stands for the log database files and contains information about each transaction that took place in SQL Server environment. Logs such as insert, delete, update gets recorded in the log transaction files.
Why Does It Require to Restore SQL Master Database?
SQL database MDF, NDF and LDF files get corrupted due to many known and unknown reasons that includes:
Abrupt or sudden Server\ application shutdown
Storage media failure\ bad sector's issues.
Malicious virus attacks or bug infection.
Inaccessibility of any of the database components.
Failure of any of the hardware components.
Corruption in SQL database files turn the database to inaccessible or SUSPECT mode and the incorporated database elements needs to be repaired.
How to Recover Corrupted Database File .mdf .ndf?
To recover master database files as well as associated secondary files, it requires such a platform that offers complete recovery without negotiating with its internal components. The SQL Recovery software enables complete recovery of MDF and NDF components while maintaining the object's structure and data integrity.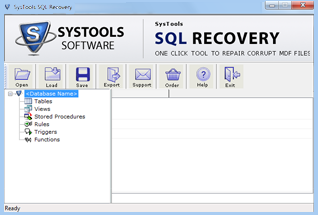 Quick recovery feature offered by the software makes the overall procedure quite faster. Also, the option to select and export limited items to the given formats helps saving time as well as storage space on the media. Thanks for the efficient performance and the accuracy while recovering MDF files.
- Jackueline Aloysius, Quebec
Watch SQL Database MDF Recovery Process Through A Video
Solve All Queries Related to SQL Server Recovery Tool
Can I recover multiple NDF files from individual database?
Yes, the tool supports batch recovery of NDF files and executes the uploaded files altogether. It also recovers data from corrupted master database files and restores it back on the machine.
Does it Require to Have a live SQL Environment for Recovery?
The SQL Server platform is not required as far as scanning of MDF or NDF is concerned. The recovered data can be extracted and saved to SQL Compatible scripts in the absence of active platform. However, to recover and export database items to SQL database, it is mandatory to have a live Server environment.
Does the Tool Support Latest Server Application?
Yes, the tool is well versed to work smoothly on all versions of the application including SQL Server 2014.
Can I Recover Corrupted Log Files with the Help of the Software?
The software is meant to recover NDF file as well as the master database files and does not help extracting data from corrupted log files.
Can I Restore Recovered Items Back to SQL Server Database?
Yes, the SQL Recovery software offers to restore the recovered data as SQL database file. For this, you need to provide Server credentials such as Server name, Database name, Username and Password with full admin rights.
Testimonials for The MDF Recovery Tool

The SQL database recovery software provides an absolute solution towards recovering data from MDF as well as NDF files. This is an ultimate recovery solution for enterprise platforms that deal and works with SQL Server database for business activities. The major benefit provided by the tool is that it helps restoring recovered data to SQL Compatible scripts when the live SQL Server environment is not available.

— Ashley D'Souza, Austria

As a DBA, my main concern was to repair table in SQL 2008 version existing in a large volume database but I could not afford to make compromises with the integrity of the tables. SQL Database Recovery tool helped me recover corrupted tables as well as restoring recovered data to SQL Server 2008 that manage to save the data elements into its original structure.

— Chloe Matt, Singapore

Integrity and accuracy are the two features that makes SQL Recovery an absolute solution. Data recovery is one of the major task that requires additional consideration as well as efforts; but the tool made the task, so easier and the database components get recovered in no time and in just a few clicks. Thanks a lot for such performance!

— Wan Dorothy, Thailand

Recovering and restoring corrupted items to their original format is something that every individual who deals with data loss thinks of. The SQL Server NDF Recovery tool, not only supports all the versions of the Server application, but also ensures complete recovery while maintaining formatting and actual data structure.

— Amaya Samuel, Norway