Top Rated Features to Convert OST to Outlook PST Format

Dual Scanning Modes to Migrate OST File
The OST to PST converter software offers dual (Quick and Advance) scanning options to migrate corrupted OST file. Quick scan mode can be used in minor corruptions since Advance mode allows recovering data from severe corruption cases.

Preview Entire Mail Items After Scanning
After scanning, the software shows a complete preview of entire data, including emails, contacts, tasks, journals, notes, and calendars, etc. So that you can view and select important emails before Office 365 OST to PST conversion.

Export OST to PST, EML and MSG
Office 365, Hotmail & Microsoft Exchange OST to Outlook PST Converter works as a multi purpose tool and saves migrated data into 3 more reliable formats like: PST, EML, and MSG. These functions help in moving email from Exchange, Office 365 & Hotmail OST to PST or other email clients.

Exports Selective Mailboxes and Folders
In case if any one desires exporting a few filtered items instead of the whole OST file, then this feature of the tool will come as a great help. The tool allows selecting / deselecting the required mail items in a single click.

Different Naming Options to Export Emails
In Exchange Server a user can recover emails from OST file after hard deletion within the retention period. Once the retention period gets over then those lost items can be recovered using this Migrate OST file solution.

Restore Permanently Deleted Mail Items
The application preserves entire email header information like: to, from, cc, bcc, appointments and email attachments during the extraction. So convert Hotmail OST to PST file in the actual email formatting as previous.

Split Resulting PST File by Selecting Date
Using this specific function of Exchange OST to Outlook PST conversion utility a user can divide or split resulting PST file in a required size. The migrate Office 365 OST to PST utility allows splitting PST file by size (1 to 100 GB) during the extraction process. Thus, creating several PSTs from an OST file.

Filter And Export Calendars
You can apply the date wise filter on Lotus Notes calendars to export calendars within a specific date range. The OST file to PST converter software will exclude the calendars 'of' selected dates and export them to an Outlook PST format.

MS Outlook Installation is Compulsory
Microsoft Outlook installation is required to recover deleted emails from an OST file through conversion method. The software supports all latest and older editions of MS Outlook including the latest version of Microsoft Outlook 2013.

Maintain the Actual Folder Structure
Everyone wants to export offline Exchange OST to Outlook PST in there actual folder structure. So the tool automatically maintains the same folder mapping and retains sequence in the output as previous; including all folders, sub-folders, and custom folders.
What Is An Exchange OST File and Why Is It Important?
OST file is Offline Storage Table file which is used to access and send emails in Offline mode. "Cached Exchange Mode" configuration introduced by Microsoft, saves a copy of Exchange mailbox in local computer using Offline Folder files. Or if user configure their Hotmail and Office 365 account in Microsoft Outlook then it will save all the data of these mail clients in OST file. This way users can work Offline even if the internet is not available.
Main Causes for OST to PST Migration
Some most common aspects of this conversion is mentioned below:
Under certain situations, Exchange Server is forced shutdown either by virus attack or server overload, that time this conversion can be performed to access emails.
To recover corrupted OST files as well as permanently deleted emails, contacts, calendars, and tasks from an Exchange OST file, user can use Exchange OST to Outlook PST converter tool.
However, direct access to OST file is not possible due to security on an OST works to eliminate Windows NT authentication when you work offline.
In case if the original Exchange profile is modified or default location of OST file is changed, that time OST file turns orphan and needs a conversion solution.
In the case of Hotmail and Office 365 OST file, the direct access of data is not possible. Hence, if the file get corrupted it will require to Hotmail or Office 365 OST to PST conversion.
How to Convert an OST File into a PST File?
There are two different methods using which a user can create PST from OST file.
1) When A User gets connected to Exchange Server Properly:
If you are able to sync data from the Exchange database that time you can directly Export OST file to a PST file.
In case you have an orphaned OST file and still connected to Exchange server then you can open that OST file and export to PST by following these steps:
Create a new user profile (use same MAPI details)
Open orphaned OST file in the newly created profile
Once a file gets opened, migrate it to PST manually
File >> Import >> Export to a file >> Outlook data file
2) Use A One Click Solution
If your Office 365 or Hotmail OST file is corrupted or you are not connected to the Exchange server that time the above mentioned methods may not work. This necessitates OST to PST conversion tool to export offline corrupted, damaged, or orphaned OST file to a healthy Unicode PST file. This tool also helps users to recover damages OST file of Office 365 Outlook account or Hotmail database.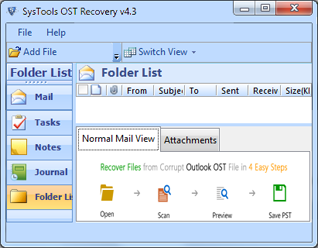 My OST files had been giving me a hard time with all those messed up synching errors which got on to my nerve! This time I finally decided to make a switch to Outlook and work in peace. Thanks to Google for listing Convert Exchange OST to PST software on the list while I was in search for a solution just like it!
- Carol Perry, Rome
Screenshots of OST to PST Converter Tool
Watch Exchange OST to Outlook PST Online Video
Get Clear All Doubts & Queries Related to Product!
Does this OST to PST converter software support recovery of permanently deleted items from OST file?
Yes, if the items are permanently deleted from the OST file, the software supports its recovery. For this, choose the 'Advance Scan' option in the tool.
How many times can I use this tool to convert Exchange OST to Outlook PST?
Once you invest in the tool, it can be used as many times as you want. The software migrate unlimited number of OST files into PST.
I cannot enable the naming convention option in the tool. Why?
The naming conventions are applicable only for MSG and EML files. If you cannot enable this option, possibility is you have selected 'PST' as the output data file.
Do I need Exchange Server set up for OST to PST?
No, for recovering data from an OST file to PST, the software does not require Exchange Server installation on machine. However, MS Outlook installation is mandatory to run the tool.
I am using Outlook 2010 on Windows 8. What is the location of OST file?
For Windows 8 and Outlook 2010, the location of OST file is C:\Users\%username%\Documents\Outlook Files\
Does this software also convert the OST file created by Office 365 & Hotmail Outlook account?
Yes, this tool is proficient enough to convert Hotmail OST to PST or Office 365 offline created database file. Just save the file in local machine and migrate them in the required file format.
Client Reviews for Exchange OST to Outlook PST Converter Software

Using QuickData OST to PST Converter at first was a risk I had taken. But I am glad after taking the risk. The software worked exactly the way I wanted it to. There were no hassles faced and the least amount of end user efforts were involved to my surprise. Thanks to the entire team of QuickData for this tool.

— Scott Carter, US

OST files on my system were of no use anymore as the project I was working on was finished but I wanted to make sure that they are archived properly, I wasn't able to trust OST for that job! Luckily a client of mine suggested this convert Hotmail OST to Windows PST application and that's how i turned into one more happy customer of QuickData!

— Joe Ward, Berlin

There had been a lot of confusion as to how do I get rid of this Exchange connectivity issues that I was facing since a few days. I was planning to switch but didn't quite know, how to proceed. Thanks to Office 365 OST to PST conversion for being an apt rescue. I was just looking for a tool like this, no dependency!

— Shirley Murphy, Tunisia

As I had switched my job, I wanted things to work my way. OST files were one of the issues I had been facing amongst many others. However, getting migrate Exchange OST to Outlook PST tool trial was probably what I needed to trust the potential of this tool! It worked, and I purchased!

— William Lopez, California