Features Set of Lotus Notes to Outlook Converter Software

Convert NSF (Database.nsf & Names.nsf) to PST
The NSF to PST converter software supports to export Lotus Notes Emails to Outlook and also converts Lotus Notes contacts to PST. Tool exports all items into PST file as well as offers to create a separate PST file for address book (names.nsf) file & emails.

Move Complete Mailbox Items to PST
Import Lotus Notes NSF to Outlook PST with calendars, emails, Notebook, to-do list, contacts, notes, and tasks. Users can choose one item or even a combination during the conversion process.

Read and Remove NSF Mail Encryption
Encrypted NSF mail is supported by NSF to PST converter software. Further this encryption can be removed from encrypted emails to proceed with the conversion into .pst file. Also has provision to keep HTML formatting exactly.

Maintains Meta Properties & Attachments
Entire Meta data (To, Cc, Bcc, From, Subject, Received & Sent date and time of email creation & modification, etc) are maintained exactly as it was in the source file while migrating from lotus notes to outlook 2016.

Bulk Migration To Live Exchange
Switch from Lotus Notes to Live Exchange Server environment directly using Technician and Enterprise License edition of Export Notes. The NSF to PST converter can export bulk data from NSF to Exchange Server mailboxes.

Set Email Filters for Customized Migration
The filters provide facility to exclude emails between a specified date-range and Skip Selected Folders. Either mark the option to exclude 'Deleted Items' & 'Sent Items' or enter the name of specific folder(s) to be excluded.

Conversion of Selected Folders
Convert NSF to PST along with all selected folders. Check or uncheck folders that will let you export data from all required email folders of an NSF file except from unchecked folders. Using this feature lowers the consumption time in the migration of data.

Filter And Export Calendars
You can apply the date wise filter on Lotus Notes calendars to export calendars within a specific date range. The NSF to PST converter software will include the calendars 'of' selected dates and export them to an Outlook PST format.

Split Resulting PST File by Size

It's totally depends on your need, you can create the PST file from 100 MB up to 50 GB as per your requirement. So check the box "Split options for Outlook data file" and choose size limit to apply the function.

Supports All Exchange Server
Entire editions of IBM Lotus notes and Exchange Server are supported by the tool for migrating from Lotus Notes to Outlook. Import NSF file to Exchange (2010, 2007, 2003 etc.) and MS Outlook.

Support Outlook 2016 (32 & 64 bits)

MS Outlook installation is required for the migration of lotus notes NSF to Outlook PST format. Microsoft Outlook 2016 and other all older editions of MS Outlook (32 & 64 bits) are supported by the tool.

Canonical Name Customization

It is a unique feature of the tool which helps us to convert the canonical name format set in a selected format. The NSF to PST tool allows to set one SMTP name for all canonical values or individual for each using CSV file.

Exclude Duplicate Contacts

By using this function you can select a few contacts fields to exclude duplicate contacts from the list while exporting to PST file. It helps to avoid the import of duplicate contacts from NSF file to MS Outlook.

Apply Journal Filter

Recently this feature has been added in the tool which help users to filter and export a few required journals. Check include date box and select date range from & to that will filter journals of selected date range.
An Overview Of Lotus Notes and NSF Files
Lotus Notes is a desktop mail client developed by IBM it downloads emails and stores them in database.nsf and saves contacts to a names.nsf file. Lotus Notes and Domino Server presents a great example of client server architecture, but it is highly cost & effort demanding. Continuous error pop-up & complexities of Lotus Notes sometimes becomes a problem beyond tolerance for users, which makes them look for a solution like the NSF to PST converter.
Reasons Behind NSF File to Outlook PST Conversion
IBM Domino Server provides a complex secure structure that prompts miscellaneous errors such as: 'Database has not been opened yet', 'Errors creating product object', 'You are not authorized to database' etc. Apart from these issues, a few more concerns have been listed below that necessitates the need to import Lotus Notes NSF to Outlook PST File:
Cutting down the maintenance cost & reduce server management overhead
Remove database security & authentication issues and unwanted password prompts
Increase data-accessibility over Outlook & Exchange platform by removing limited roaming capabilities
These issues generate an urge to switch the platform by migrating from Lotus Notes to Outlook. For accurate and secure migration, use NSF to PST conversion software. The product gives 100% safe, simple & faster process for the intact conversion of data from NSF to Outlook PST file & MS Exchange. It also export notes contacts to Outlook data file that can be imported into Address book.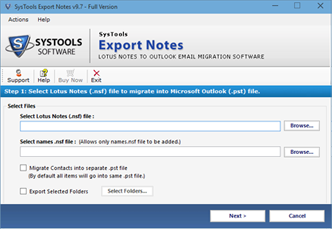 Huge fan of the notes to Outlook migration tool for its email filter facility. I was so worried since I was in need of downloading all emails from my Notes client to Outlook. But this filter saved a bunch of time and made it all so simple!
- James Nisham, USA
Watch NSF to PST Conversion through a Video
Solve Queries Related to Lotus Notes to Outlook Conversion
Is it possible to make a switch of All Documents folder particularly?
Yes, you can select the All Documents checkbox from the Select Criteria screen of the software and convert notes to outlook from your All Documents folder straightaway.
I just want a limited number of emails to be converted. Is it possible?
Yes, you can make such customization in your conversion process. Just select the Mail Filter option and provide the From and To dates respectively, emails of which have to be downloaded into an Outlook PST format file. Note that the 'selected' dates will be included and emails under the dates between the provided dates will be converted. Kindly, select accordingly.
Can I convert multiple numbers of NSF files?
You will have to purchase the software in Business or Enterprise License to perform bulk NSF file conversion. Further, the licenses also support migration to Live Exchange Server along with Outlook PST. The tool is capable to convert nsf to pst without lotus notes even if lotus notes is not installed in machine.
What if I want to test the software before i make a purchase?
You can download the free trial version of the software that lets you test the functionalities in the tool by letting you convert the first 25 items from each folder within the selected NSF file to PST.
Which version of Outlook is supported by this software?
The software supports Outlook 2016 and all below versions.
What Our Customer Say's About The NSF to PST Software

March-08-2017:I would like to thank the support department of QuickData for helping a novice user like me to work out the conversion of data from NSF data file to Outlook PST. They consistently stayed on the line and helped me throughout the conversion! Thanks a lot!

— Randy Richardson, Adelaide

March-07-2017:I recently updated my Lotus Notes to IBM Notes client, however, I wasn't aware regarding switching of my job where only Outlook was functional. Thus, I searched all top search engines for a suitable solution. And came across NSF to PST Converter from QuickData, glad i did! Great Tool!

— Fred Gonzalez, Brazil

March-06-2017:We had recently installed a trial edition of IBM Notes on our machine at home to try how the application works. But not being quite comfortable with its working we decided to make a switch to our Outlook but of an updated version. Lotus Notes to Outlook Converter helped greatly in making things possible for us!

— Julie Bryant, London

March-03-2017: After working with IBM Notes for more than a decade, our organization noted that switching to MS Outlook would be more economical looking at our current sale status. I also came to know that It supports Outlook 2016. After that, we got a quick hold of the NSF to PST Converter and made a switch immediately and quite easily.!

— Ruby Garcia, Italy