Top Features List of MBOX to Outlook PST Converter Software

Quick Scanning to Analyze MBOX File Data
Once you browse an MBOX file, the tool automatically starts scanning that file and generates a preview of emails and attachments. So you can also analyze a particular email or attachment by clicking on it.

Supports Multiple MBOX File Conversion
If you have more than 1 MBOX files and desire exporting them all to Outlook, then MBOX to PST converter can be used. This feature of the tool allows exporting multiple MBOX files to PST that will save your time.

Emails Converted to PST/EML/MSG
The application has multiple options to save exported data and migrate MBOX file to PST/MSG/ EML format respectively. Using this function, you can export mbox to Outlook 2010, 2007 or 2013 with selected emails and other items.

Supports MBOX of Multiple Origins
MBOX file is supported by many email clients, so the tool allows converting Thunderbird MBOX to Outlook PST and import Mac or Apple Mail MBOX files in Outlook too. The software also supports MBOX files without extension.

Save Seletive Items and Folders
MBOX to PST converter tool allows complete data preview of MBOX file so a user can save a few selected folders of items by clicking on the check/uncheck box. This option is mostly used in case of email investigation.

Create Single / Multiple PST Files
If you have selected multiple MBOX files for the conversion, then the tool will provide an option to create a single PST file for all MBOX files. By default the utility generates separate PSTs for every MBOX file.

Split Resulting PST File by Size
The tool provides Split PST function to break a large PST file into smaller parts during MBOX to Outlook conversion. Select a size (100 MB to 45 GB) to split PST file after exceeding the selected size limit or otherwise.

Convert Gmail / Google Vault to PST
Several times Gmail & Google Vault users wonder how to convert .mbox files to Outlook PST the most used format. Both; Google Apps programs create mail backup in an MBOX file that is also supported by this tool.
Several Naming Opions to Export Emails
MBOX to PST Converter provides more than 7 naming conventions to export and save MBOX file emails. Naming formats will be available when you select EML or MSG format to export emails and not PST format.

MS Outlook Installation is Not Compulsory
MS Outlook installation is not required to proceed with the conversion. The tool creates Unicode format of PST file that is acceptable by all Outlook editions. All Windows (32 & 64 bits) OS are supported by the tool.
Why MBOX Conversion to PST is Needed?
MBOX is one of the most common email storage formats generated and supported by different email clients such as: Mozilla Thunderbird, Sylpheed, Eudora, Apple Mail, Entourage, Claws Mail, Evolution, Turnpike, The BAT, Mutt, Pocomail, SeaMonkey, Earthlink, Gnu Mail, Opera Mail, Berkeley, Spicebird, MailCopa, Chaso Intellect, Cone, Mulberry, etc. It is basically a collection of emails or a mail folder of the user account.
But when users require accessing MBOX file data with MS Outlook they get puzzled as to how do I convert mbox to pst as both are entirely different from each other.
Benefits of MBOX to Outlook Conversion
Users can switch to one of the most widely used client without missing out on a single email.
MS Outlook is widely used email client preferred by many professionals for an organized emailing experience.
Microsoft Outlook provides many features such as: Tasks, calendars, Journals, contacts, etc.
How MBOX to PST Converter Tool Play's A Vital Role?
As we all know that .mbox and .pst both are different formats that can only be accessed using the respective email clients. So by using the software one can import Apple Mail or MBOX of any origin to Outlook as well as convert mbox folder to pst created through any desktop email client.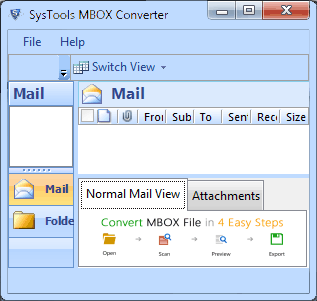 I had gone through the torture of many tools in the market promising they could provide me with a successful conversion. Unfortunately they all ended up to be unreliable, too pricy or just not good enough. Luckily I came across MBOX file to PST file Converter. This Software supports both Mac & Windows OS!
- Lula Harper, Ghana
Watch MBOX to Outlook Conversion Through Video
Solve Queries Related to MBOX to PST Converter Software
Is it possible to convert an MBOX file belonging to Apple Mail?
Yes, You can convert MBOX files of any origin as the software supports most of them. Simply get the file and the software on a Windows based machine and proceed with the conversion.
How to find out where Thunderbird stores its MBOX file?
You have to create an MBOX file for Thunderbird. The client provides add-ons for the same namely; ImportExportTools. Select the folder you want to create an MBOX file of and using the add-on export the folder as an MBOX file.
Can I run the software on my Apple Machine to convert my Apple Mail MBOX?
Yes, the software is supported by both Windows and Mac OS. So, you can use this software on Mac OS as well and convert Apple Mail MBOX. You no need to transfer your Apple Mail MBOX file to a Windows machine and perform the conversion using the tool on it.
Is there a way to get an entire folder of MBOX file converted?
Yes, you can convert only the MBOX files from an assortment of files in a folder. Select the folder in which you have the MBOX files and the software will sort and scan only the MBOX files from it.
What type of Outlook PST File does the software create after conversion?
The software happens to follow updated algorithms and automatically creates a Unicode type PST file as an output of the conversion. This file can be used on all latest and older version of Outlook.
What Our Client Say's About The MBOX Conversion to PST Tool

Thankfully a client recently suggested that I consider using the QuickData MBOX to PST Converter as it has a number of great features. Luckily I did find the tool quite useful and feature rich, especially the way sorts MBOX files particularly.

— Nora Mendoza, Argentina

With the help of a very patient support department executive I was able to get through with the conversion of MBOX files into PST. I was a little confused as to how would i perform conversion on an Mac machine with a this tool. But the execute got it all handled well!

— Kelly Morgan, Oklahoma

We were having a lot of trouble transferring from Thunderbird client of ours to MS Outlook on a bulk number. Gladly the MBOX to Outlook Converter Enterprise License is all we needed for a good start. Thanks QuickData!

— Beverly Pearson, Adelaide

There were lots of MBOX files that I collected into a folder. But the folder also contained files of other formats. Nevertheless I was able to convert the files easily without putting in any efforts from my end with the help of MBOX filter of QuickData MBOX to PST Converter.

— Louis Estrada, Italy