The Backup Windows file with .bkf file extension is a backup file that is mainly created for Windows backup. The BKF files used by Windows operating system to maintain the backup of data stored on the computer. Therefore, when the data on the user's computer is corrupted, deleted or overwritten, the first thing that a user do, access the BKF file to restore the information on the computer. The main purpose of BKF file is to protect, backup and restore data stored on the local machine. It is also known as NTBackup File.
Need to Restore Corrupt Windows Backup File
BKF file is the most important file on any computer, as it maintains backup of all the data stored on the computer. Therefore, in case of any data corruption or loss, one can restore it again with the help of BKF file. However, if the Backup Windows file got corrupted it is very important to restore it. Moreover, there are various reasons of corrupt Windows backup file and are mentioned below:
Due to some malicious virus attack on the system
If there is an internal hard disk crash then it also possible that backup file gets corrupted
If there is any hardware components failure, then also BKF file gets corrupted
Hence, there is a need to extract damaged Windows backup file, to have an access to backup data in case of any failure. Therefore, one can use BKF Extractor tool to repair damaged Windows backup file. It can easily recover and restore BKF file data from any type of corruption.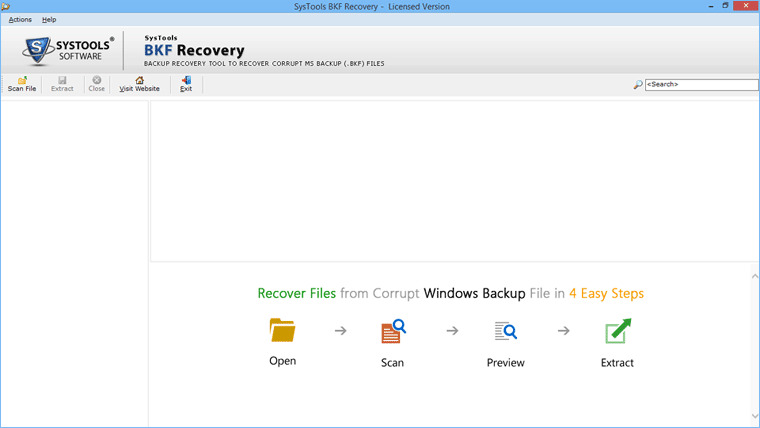 Amazing utitlity.. The entire folders of important data and BKF file backup were lost due to severe worm infection. I was not able to view my useful database files and I got panic. Suddenly I came across the Repair Backup file tool, It repair Symantec backup exec database within a minute. After words I took a breath of Relief. Thanks Alot to QuickData Team....!
Carry Jason, Canada